• This week, we take a look at Kuala Lumpur's Mont'Kiara suburb.
• Prices for non-landed properties in the area rose slightly faster than the Kuala Lumpur average for the 12 months to 3Q2014.
• Based on theedgeproperty.com's analysis of transactions completed in that period, average prices rose 7.8% y-y from RM635 per square foot (psf) to RM685 psf. This was above the increase of 7.0% for Kuala Lumpur, according to Napic statistics, and follows an 8.3% y-y growth in 2013.
• Prices in Mont'Kiara appear to be picking up momentum following a slower growth in preceding years, with the earlier large supply now digested by the market and limited new projects due to scarcity of land. New projects are mostly located in the neighbouring Dutamas and Segambut areas.
• Total transactions for the 12 months to 3Q2014, however, fell 24.8% from 955 to 718 units.
The Analytics are based on the data available at the date of publication and may be subject to further revision as and when more data is made available to us.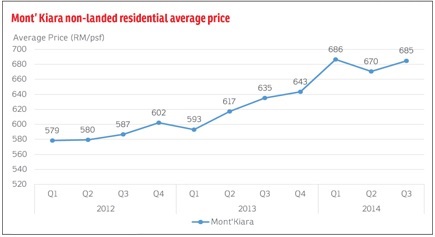 Source: theedgeproperty.com

Source: theedgeproperty.com
Editor's note: Property Snapshot appears every Monday through Thursday beginning May 5, both in The Edge Financial Daily and on theedgeproperty.com. Every week, we will give you a quick and brief analysis of a certain section of the property market in a specific area. This daily series will be followed by a deeper analysis and focus of the particular area in The Edge Property pullout of The Edge Financial Daily on Friday. The analysis is done by theedgeproperty.com's research team. We hope that the information you get here will benefit you.