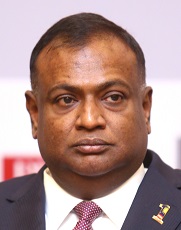 KUALA LUMPUR (April 29): Deputy minister of Federal Territories Datuk Dr Loga Bala Mohan (pictured) said work on Plaza Rakyat is expected to commence in June next year, Bernama reported yesterday. It has been two decades since the project was abandoned.
The Plaza Rakyat project was abandoned in 1997 during the Asia-Pacific financial crisis and after developer Plaza Rakyat Sdn Bhd ran into financial problems.
"Before this [redevelopment] can happen, we have to settle the claims made by all depositors of the project.
"We have advertised this on April 15 and the depositors have until May 7 to respond. Only then can we take action," he told reporters at the parliament lobby, here yesterday.
Loga said beneficiaries of the depositors who have passed away can make claims via the sale and purchase agreement of the business lots.
The depositors are then allowed to either make the claims or own lots to be redeveloped by another developer.
Do not ask your taxi driver about the value of your home. Go to The Edge Reference Price to find out.