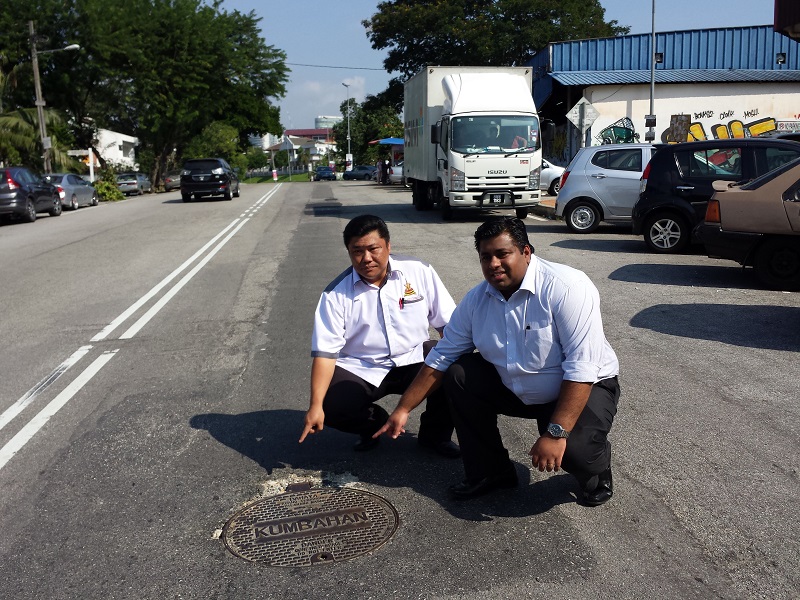 Government agencies should freeze the payment of contractors who do shoddy patching up work that causes potholes in Petaling Jaya, Selangor, says Bukit Gasing assemblyman Rajiv Rishyakaran.

Rajiv said that the Sewerage Services Department (SSD) contractors are currently carrying out piping work around the Petaling Jaya area and the work had resulted in potholes in some areas.
"The SSD contractors have been doing a very bad job in patching the roads after the completion of their work.
"We want SSD to stop payment until the contactors rectify all the damaged roads," he said this morning during a site visit to Jalan 17/21 near the Rothmans traffic light junction.
Rajiv said that he had written a letter to SSD and is waiting for their reply on the matter.
"SSD should not approve work orders if the contractors continue to perform badly," he said.
Rajiv also said that utility companies are to be blamed for 80% of potholes in Petaling Jaya.
"The contactors hired by the utility company are to be blamed for the poor patching up work.
"When the contractors dig up the road to lay the piping or cables they don't do a proper job in covering up the holes.
"There were incidents where potholes start to appear a couple of days after the patching up work," he said.
Rajiv said that this year, the Petaling Jaya City Council (MBPJ) had issued four stop-work-order to the contractors for doing a poor job on the roads.
"However, it doesn't make any difference because after the contractors rectify the damaged roads, MBPJ will lift the stop-work-order but the problem still persists.
"In Singapore, they dig up the roads 12,000 times a year for various projects, but the roads there are in good condition.
"MBPJ and the government must find a solution to the problem," he said. -- The Malaysian Insider