Sunway Construction Group Bhd Oct 13 (RM1.23)
We hosted Sunway Construction Group (SCG) at our regional conference and understand that some foreign fund managers are beginning to warm up to SCG as it is one of the key beneficiaries of the increase in infrastructure spending by the government.
One of the key questions posed by fund managers pertains to SCG's strategy to increase its construction order book in the near term. SCG trades at a trailing per earnings (PE) of 12.5 times, with a decent yield of 3%.
SCG is the largest pure play integrated construction company listed on Bursa. SCG has extensive experience in handling public and private infrastructure jobs, including railway jobs such as the Light Rail Transit (LRT) and the Mass Rapid Transit (MRT) systems.
It also runs a highly-profitable precast concrete manufacturing division in Singapore and Johor. SCG is also registered as a "Grade 7" (the highest classification) contractor with the Construction Industry Development Board, which allows the company to bid for contracts with unlimited value in Malaysia.
As at Sept 15, SCG had an outstanding construction order book of about RM4.3 billion (or 2.3 times its financial year 2014 [FY14] revenue). Its order book includes the recently-won Putrajaya Parcel F building job (RM1.6 billion) and the ongoing MRT1 construction and LRT extension jobs worth a total of RM497 million.
Year to date, the company has secured about RM2.2 billion in new order book replenishments, including internal jobs worth RM340 million which were awarded by its parent, Sunway Bhd.
SCG would be one of the primary beneficiaries of the government's focus on the further expansion of railroad connectivity within the Klang Valley via the construction of MRT and LRT systems.
Given its experience in handling these jobs, SCG could again emerge as one of the key contractors for this project. In mid-2016, we expect the roll-out of the MRT2 and LRT3 contracts, with construction value of RM25 billion and RM9 billion respectively, to begin.
Its tender book, excluding the mega construction jobs such as the MRT, LRT and highways, still stands at about RM10 billion. Most of the jobs that they have tendered for are local, with Johor-related jobs accounting for about 10% of its tender book.
We understand that SCG is targeting to achieve construction order book replenishment of at least RM2 billion a year, which we believe is conservative.
Sunway Bhd will also be awarding property development contracts worth RM500 million to RM800 million on a sustainable and yearly basis to SCG.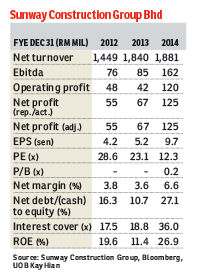 SCG is also involved in the manufacturing of precast concrete products, which are mainly used for building construction, particularly for high-rise residential properties.
It operates three main plants, located in Tampines (Singapore) and Senai (Johor). The group is also setting up a new plant in Iskandar, which is expected to be operational from the first quarter of 2016.
For first half of 2015, the precast division accounted for about 14.4% of total revenue, with a profit after tax margin of about 22%.
As of Sept 15, SCG's foreign shareholdings stood at about 4% (up from 2%).
SCG currently trades at a trailing 2014 per earnings of 12.5 times, while consensus expect SCG to deliver a profit after tax and minority interest of RM168 million, RM130.8 million and RM131 million for 2015, 2016 and 2017 respectively.
SCG plans to distribute at least 35% of its core earnings as dividends. — UOB KayHian Research, Oct 13
Interested in investing in condos in Johor? Click here.
This article first appeared in The Edge Financial Daily, on Oct 15, 2015.
Stay on top of trending Narratives
Use Location Scan to view project options and price trends near your preferred location, including MRT3 stations
Check your loan eligibility on LoanCheck, or use LoanReport to get a FREE credit report