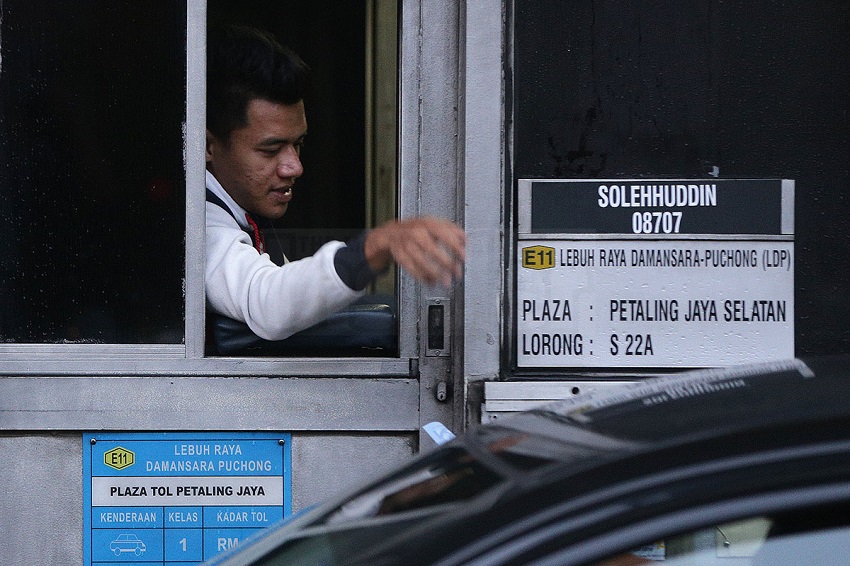 KUALA LUMPUR (Nov 30): Projek Lebuhraya Usahasama Bhd (PLUS) is entitled to increase toll rates on highways under its concession by 5% every three years from next year, Putrajaya said today.
The hikes will last until its concession period ends in 2038, Deputy Works Minister Datuk Rosnah Abdul Rashid Shirlin said today.
She clarified this with reporters after answering a supplementary question in the Dewan Rakyat from Datuk Ahmad Fauzi Zahari (BN-Setiawangsa), who asked if an extended concession period meant there would be no toll hikes until 2038.
"Based on the supplementary concession agreement signed in November 2011, the government and PLUS agreed not to increase toll rates for five years between 2011 and 2015.
"The hike will be implemented in 2016, except for the Penang Bridge, where the toll rate will not be increased until the end of the concession period in December 2038.
"The toll increase is set at 5% every three years until the end of the concession period in 2038," she said.
The last exercise to streamline PLUS's concession agreement was done in 2011, where the concessionaire was allowed to increase toll by 5% every three years.
Rosnah said however there had been no increase from 2011 until now.
She then confirmed to reporters that the hikes would set in next year.
PLUS is owned by federal strategic investment fund Khazanah Nasional Bhd.
The 2011 to 2015 period during which the highway concessionaire did not raise toll rates covered two years before and after the 13th general election in May 2013, during which the ruling Barisan Nasional had pledged not to raise intercity toll rates.
At the Parliment lobby, Datuk Mahfuz Omar (PAS-Pokok Sena) criticised the move to increase toll rates next year, and said when the concession period was increased to compensate PLUS, the rates should not be allowed to go up.
"If they have extended the concession period from the original 2018 to 2038, why are they increasing the toll rate?" he asked.
The last toll hike for motorists was enforced last month for 12 highways, but did not include those under PLUS.
PLUS is the concessionaire for the North-South Expressway, New Klang Valley Expressway, Federal Highway Route 2, Seremban-Port Dickson Highway, North-South Expressway Central Link, Malaysia-Singapore Second Crossing, Butterworth-Kulim Expressway and Penang Bridge. -- The Malaysian Insider