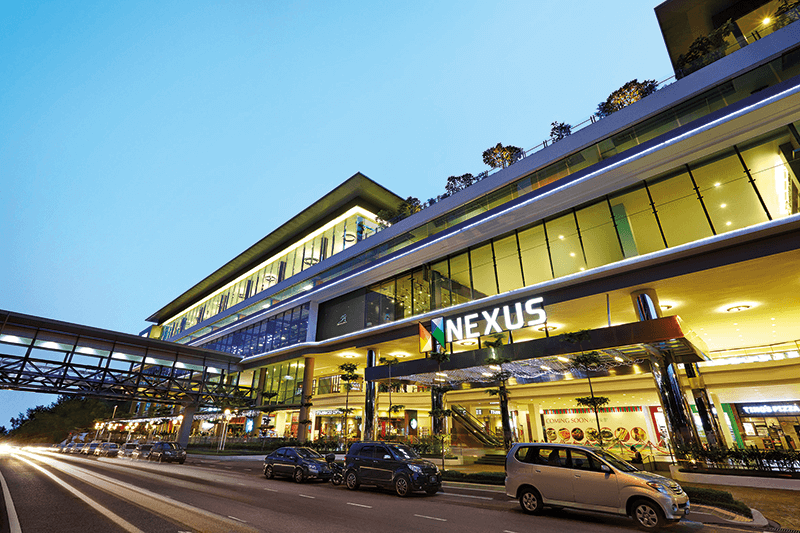 The interview with C S Kong, the media-shy managing director of UOA Development Bhd, takes place in a corporate club at the company's 60-acre flagship integrated development Bangsar South. Calling itself a city property developer, the company has caught the attention of many with this project in Kuala Lumpur that borders Petaling Jaya, Selangor.
In 2005, UOA Development bought the parcel, which was once known as Kampung Kerinchi, and turned it into a landmark that many now see as a location for the upper-middle to high-income groups. Bangsar South currently consists of modern office towers, mid to high-end high-rise residences and retail spaces. It is accessible via two light rail transit stations.
Last year, corporate club The Oak Room became its latest addition. Membership is for a select few.
UOA Development is ranked in the Top 10 of The Edge Malaysia Top Property Developers Awards 2015. It was last in the Top 10 in 2013. In 2012, the developer was the recipient of The Edge Malaysia Notable Achievement Award.
The development arm of UOA Group, UOA Development was listed on Bursa Malaysia with a market capitalisation of RM3.1 billion in June 2011, making it one of the largest property developers in the country.
UOA Development has long remained focused on property projects in the Klang Valley. While its projects have been rather niche medium to high-end residential and commercial developments, Kong reveals a different strategy for next year, amid the government's cooling measures as well as weak market sentiment in the property market in Malaysia.
The company is going to focus on products in the affordable segment, which are priced at less than RM500,000. It will also be looking at growing its investment income. "The market is experiencing a slowdown for investments above RM1 million. Hence, we are focusing on properties in the affordable range of RM500,000, which require efficient and careful planning as the margin is lower for products in this segment."
In the next 12 months, it will have launches in Kepong and Sentul for homes in this segment of the market.
Meanwhile, its investment portfolio includes three lifestyle and retail precincts in Bangsar South, namely The Sphere, Nexus and The Village. Its other investment properties are The Horizon Boutique Office, Camellia Serviced Suites and car parks — all in Bangsar South — as well as integrated residential and commercial suites at its Plaza Menjalara project in Bandar Menjalara.
Kong disclosed that in 2017, UOA Development will be replicating the success of Bangsar South on a 30-acre tract near Jalan Ipoh, taking advantage of the location, existing and new public transport system in the area as well as accessibility to various highways.
The project is located between Jalan Kuching and Jalan Ipoh, and is 1km from the Duta–Ulu Kelang Expressway (DUKE). It is 150m from the Batu Kentonmen KTM Komuter station and an upcoming station under the Mass Rapid Transit Sungai Buloh-Serdang-Putrajaya Line (Line 2).
During the interview, Kong answers questions on the company's performance and his strategies going forward.
The Edge: How has your brand evolved and how do you differentiate yourself from the other developers?
C S Kong: Our focus is within the Klang Valley, in line with our objective to be a 'city property developer'. We are also committed to delivering quality developments in an efficient and timely manner. In fact, our projects are completed ahead of schedule, which benefits our customers in the form of capital appreciation.
Is the brand and business currently at the level you envisioned?
We are proud of the quality and timely delivery of our products. Our brand signifies our strong commitment to excellence in development. For example, when we develop a residential project, we conceptualise the design from a viewpoint of how we would like our own homes to be. And, our dedicated in-house customer service personnel are very focused on understanding the needs of our customers based on their feedback, which in turn helps us to provide them with a better service.
In terms of products, we are committed to developing quality properties with distinctive concepts. For instance, we created a stunning man-made beach pool with Le Yuan Residence in Happy Garden and a jungle bridge for [email protected] Kiara Hills. Our aim is to create lifestyle-inspired developments that will enrich and add value to the lives of our customers.
We would like to express our appreciation to our customers for their support and confidence in our products and services throughout the years. Credit should also be given to our great team of more than 1,200 personnel who have contributed to our success. Without their hard work and commitment, the company would not be where it is today.
How has the weakened ringgit impacted the company's profitability?
We anticipate a price increase in things such as mechanical and electrical equipment, and lifts.
Some developers have reported slower sales this year due to the government's cooling measures as well as weak market sentiment. How do you ensure that the company maintains its profitability?
We do expect sales for this year to be weaker than last year in the light of the current market situation. Nevertheless, we will continue our efforts to remain competitive not only by maximising efficiency in project execution but also capitalising on our in-house construction capabilities that adopt the correct method of form and system.
We also expect our investment income to increase in the future from our investment properties and hospitality divisions. Although both divisions are expected to generate revenue of about RM100 million, we expect this to grow with the completion of The Vertical Corporate Tower and a hotel in Bangsar South next year.
Given that most of your projects are in the high-rise segment, how does UOA Development overcome the challenge of drawing sufficient demand in the current market condition?
We will be focusing on offering products in the affordable segment that are priced at less than RM500,000, based on efficient space planning and optimal design in targeted areas within the Klang Valley.
What challenges do you foresee for the property market and UOA Development in the coming year and how will you deal with them?
We will continue to focus on the affordable segment to tide us over the slowdown.
UOA Development had said it plans to emulate the success of Bangsar South in its new Jalan Ipoh development. When are you going to launch it? What impact do you think this project will have on the area?
For an integrated development to be successful, it requires key elements such as a strategic location, catchment and population, seamless transport, and facilities.
Our 30-acre Jalan Ipoh development meets all the above criteria. With an estimated gross development value (GDV) in excess of
RM6 billion, the development will comprise residential, office, medical, hotel and retail precincts. There will be seamless connectivity to an MRT station and KTM Komuter station, as well as a direct link to DUKE. Facilities will include a shopping mall, school, medical centre and childcare centre. In addition, priority will be placed on easing human mobility, including the introduction of driverless shuttles that could ferry the community from point to point within the sprawling development.
With a population catchment of 300,000 within a 2km radius, it aspires to be the next Bangsar South — our award-winning flagship integrated city development. UOA Development received the inaugural The Edge Malaysia Notable Achievement Award in 2012 in recognition of its significant achievements in raising its profile as a leading developer in Malaysia through its projects, notably Bangsar South.
By leveraging our experience and success with Bangsar South as well as the lessons learnt, we are confident of doing an even better job with the Jalan Ipoh development. It will become a vibrant lifestyle and business hub of tremendous potential with the winning ingredients for a successful integrated project. We expect to commence this project in 2017.
What are some of the projects to be launched in the next 12 months?
We will have two launches in the next 12 months. The first one is what we refer to as the Kepong 5 Land Development, which will cover about 10 acres. The GDV of this project is in excess of RM1.5 billion.
It is a mixed-use development that will comprise three blocks of apartment suites and more than 130 retail shoplots with direct access to a new KTM Komuter station with park-and-ride facilities. The development will also have direct connectivity to Phase 2 of DUKE, which is currently under construction and is expected to be completed in 2017.
Another project is Phase 2 of our development in Sentul. It is a freehold nine-acre mixed-use development with a GDV of RM1.5 billion. It will comprise three blocks of apartments, a commercial block and 140 retail shoplots. It is set to transform the Sentul skyline with an urban concept that gracefully combines both convenience and serenity.
What has contributed to UOA Development's success?
Most importantly, we are focused on one key business — property development. This is complemented by a combination of passion, dedication, hard work and continuous learning.
We are passionate about what we do because we believe that when you have a strong interest and heart for your business, you will be able to produce the best results. Teamwork is also crucial and at UOA Development, we treat our staff as equals irrespective of their positions. This approach fosters harmony and creates unity in our workplace. It also cultivates a sense of pride, loyalty and belonging. TEPEA 2015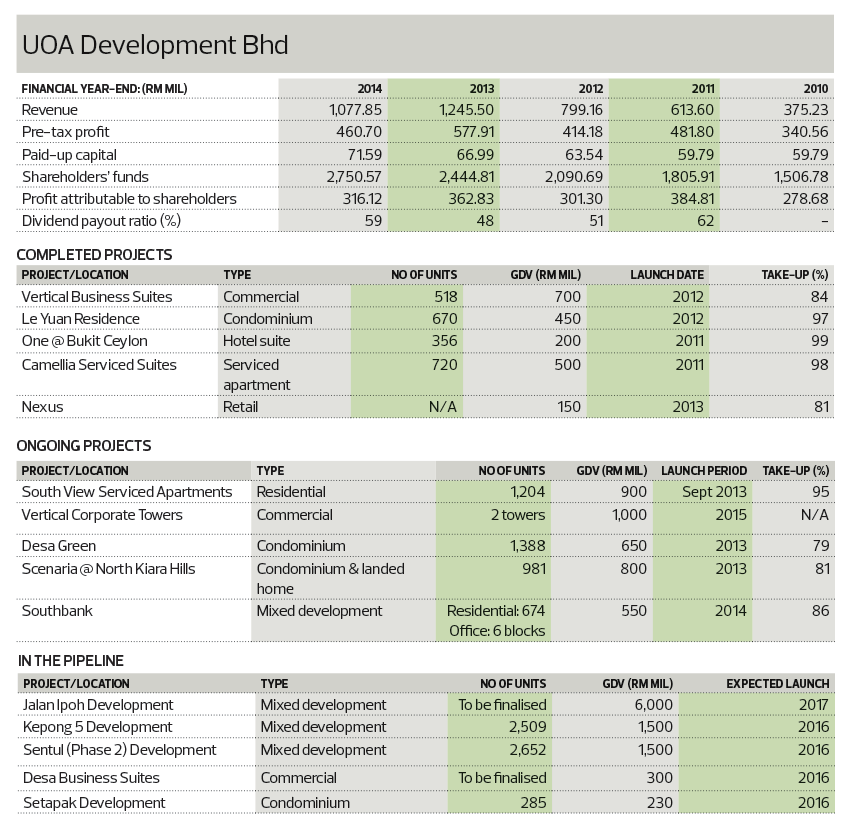 Do not ask your BFF about the value of your home. Click here at The Edge Reference Price to find out.
This article first appeared in City & Country, a pullout of The Edge Malaysia Weekly, on Dec 7, 2015. Subscribe here for your personal copy.