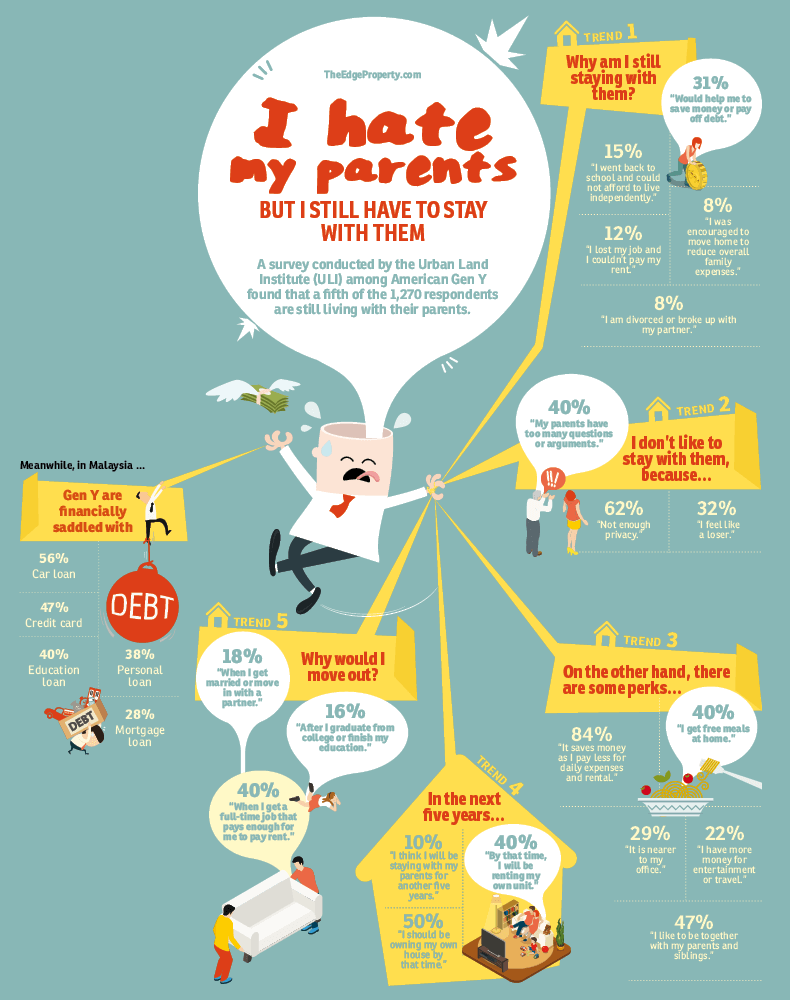 MOST young adults in the US will leave the nest when they graduate from college or university (in their 20s), if they have not done so after high school (around 18).
However, a survey on the living and property investment habits of this segment shows that a fifth of the 1,270 Gen-Y respondents (who are 20 to 38 years old) are still staying with their parents or relatives even after they have started working.
This survey was conducted by the Urban Land Institute (ULI), a non-profit research and education organisation, in November 2014 and announced to the public on February 2016.
The proportion of respondents who stay with their parents is still the same as the results of a survey done in 2010. This means even though the economy is improving, many Gen Y have chosen to move back home over the past four years.
In Malaysia, according to the Asian Institute of Finance's report in 2015 titled "Understanding Gen Y – Bridging the Knowledge Gap of Malaysia's Millennials", 75% of the 1,011 Gen Y interviewed have at least one source of long-term debt (anything longer than a year) and 37% of them have more than one long-term obligation, which include car loans, education loans or mortgages.
Among them, 28% have mortgage loans, which means that they are property owners, while 56% of the respondents are financially saddled with car loans, credit card loans (47%) and education loans (40%).
The findings showed that Gen Y have higher debt obligations which may not allow them to own a property or move out from home due to higher living costs.
Do not ask your driver about the value of your home. Click here at The Edge Reference Price to find out.
This story first appeared in TheEdgeProperty.com pullout on March 4, 2016, which comes with The Edge Financial Daily every Friday. Download TheEdgeProperty.com here for free.