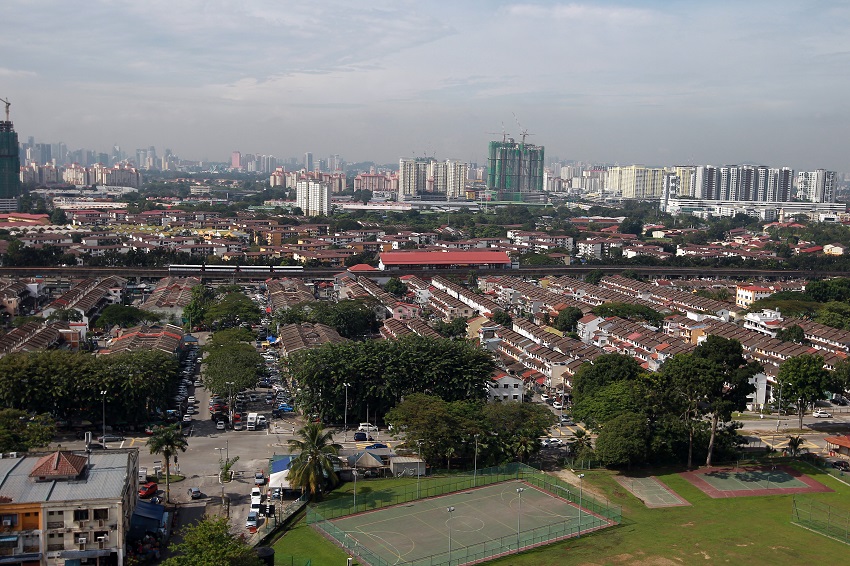 WANGSA Maju has seen tremendous changes over the years. Its affordable rents, wide range of amenities and proximity to the pioneering Tunku Abdul Rahman College (as it was then known) has made it a hotspot for student housing.
According to CBD Properties (Cheras) Sdn Bhd senior real estate negotiator Angeline Choong, Wangsa Maju's demographic profile has more recently come to include professionals who work in the city centre and its outskirts, as well as expatriates looking for accommodation with good public transport — Light Rail Transit (LRT). The strong demand for high-rise residences has pushed up property prices in the area.
Data from theedgeproperty.com shows that the average price of non-landed residential units in Wangsa Maju continued to appreciate steadily over the last two years. The average price reached a new high of RM356 per square foot (psf) in the 12 months to 1Q2015, a 17.7% y-o-y growth from RM302 psf in 1Q2014.
However, transaction volume receded since the beginning of 2014, declining 36% in the same period, from to 275 units from 430 previously.
The tertiary educational establishments nearby include Tunku Abdul Rahman University College on Jalan Genting Klang, about 2km away from Wangsa Maju LRT station, the Malaysian Institute of Art in Taman Melawati and Dasein Academy of Art in Seksyen 5 of Wangsa Maju itself. While new developments on Jalan Genting Klang and Taman Melati (near Wardieburn Camp) now offer more choices that suit student budgets, Wangsa Maju remains a popular address.
This is yet more true for working people. Choong says it was the neighbouring Jelatek that first drew professionals to the area, but the lack of new supply in Jelatek meant that attention has shifted to Wangsa Maju.
"Wangsa Maju has emerged as the new choice for working people who do not want to spend too much time commuting from home to office," she says, adding that the convenience of public transport has enhanced Wangsa Maju's appeal. She notes that some companies in the city centre lease high-rise residential units in Wangsa Maju for their employees .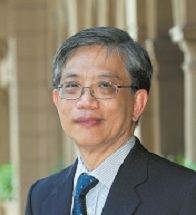 Served by the Wangsa Maju and Sri Rampai LRT Stations, Wangsa Maju offers a relatively green environment only six stops away from KLCC station. The distance between the two LRT stations is about 3.5km.
Henry Butcher Malaysia chief operating officer Tang Chee Meng (pictured, left) agrees that location and accessibility are the greatest advantages of Wangsa Maju.
"It is located only about 8km away from KLCC (Kuala Lumpur City Centre) and being a mature township, it can be easily accessed via several highways — Kuala Lumpur Middle Ring Road 2, Duta–Ulu Klang Expressway (Duke) and Ampang–Kuala Lumpur Elevated Highway," he says.
Wangsa Maju grew rapidly in the mid-1980s as part of the Kuala Lumpur Structure Plan 1984.
While Wangsa Maju has numerous older, affordable walk-up flats concentrated in Sections 1,2,4 and 10, more recent developments are increasingly upmarket and are clustered close to the commercial hub around Wangsa Walk, Sri Rampai LRT station and also Section 10.
Residents have their pick of several shopping centres located 10 to 15 minutes' drive away, such as Aeon Big hypermarket, Aeon Alpha Angle, Wangsa Walk, Giant hypermarket, Setapak Central and Ampang Point.
There are also several government schools in Wangsa Maju and a number of international schools such as Fairview, Sri Utama and the International School of Kuala Lumpur (Melawati Campus).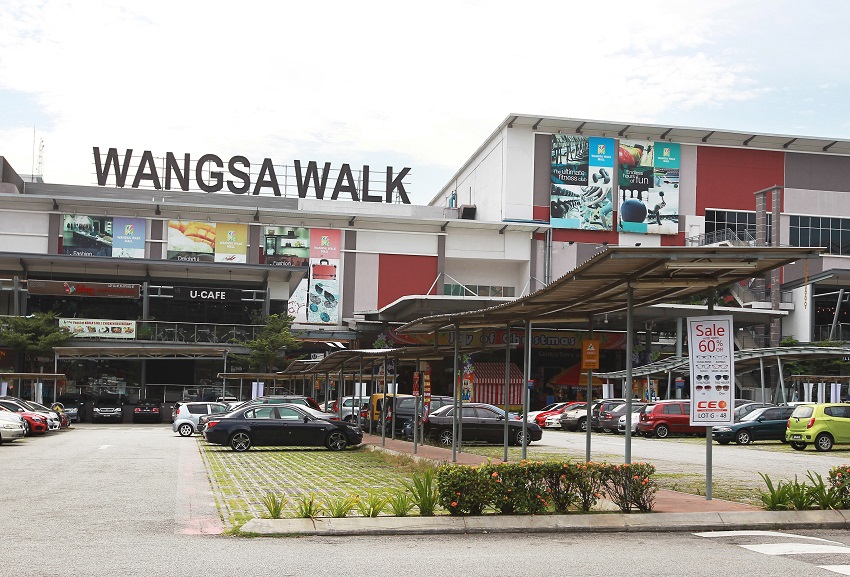 "Wangsa Maju is a well-connected, self-contained township providing a comfortable lifestyle for its residents," says Tang.
Tang adds that another important difference between Wangsa Maju and other mature townships such as Subang Jaya and Petaling Jaya is that Wangsa Maju is still surrounded by hills and greenery, which makes for a more pleasant living environment.
He notes that in the early years, residential developments in Wangsa Maju were of the low-medium and medium cost type but recent developments are pitched upmarket.
Due to increasing demand, Choong notes that the average property price in Wangsa Maju has exceeded RM600sf. For example, the average selling price for Infiniti 3 Residences by Setapak Heights Development is about RM630 psf.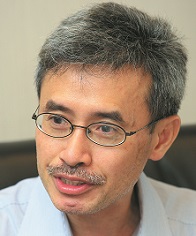 DTZ Malaysia executive director Brian Koh (pictured, right) says recent transactions of new developments in Wangsa Maju range between RM500 and RM700 psf.
According to Tang, new launches have boosted prices to between RM600 and RM700 psf. "However, this is still lower compared with Kota Damansara, where new project selling prices average between RM800 and RM1,000 psf," he says.
Stable rental growth
DTZ Malaysia's Koh says strong demand has supported rental yield growth in Wangsa Maju, especially for mid-end apartments, which have enjoyed higher than average yield.
"The rental yield rate has remained stable, as the monthly rental in this area is still reasonable, and the excellent access to city make [Wangsa Maju] quite desirable for mid-end demand," he adds.
Koh says the mid-end projects at Setapak such as as Wangsa Metroview and Menara Alpha condominium cater to the student population while projects like Riana Green East have a strong diverse expatriate population.
According to theedgeproperty.com, as at June 2015, the annual indicative rental yields in Wangsa Maju range between 5.3% and 6.6%.
The data shows that the highest asking annual rental yield is in Menara Alpha, at 6.6%. This condominium has an average asking monthly rent of RM1.71 psf and a transacted capital cost of RM313 psf. It is located within walking distance of Wangsa Maju LRT station and shops in Taman Sri Rampai.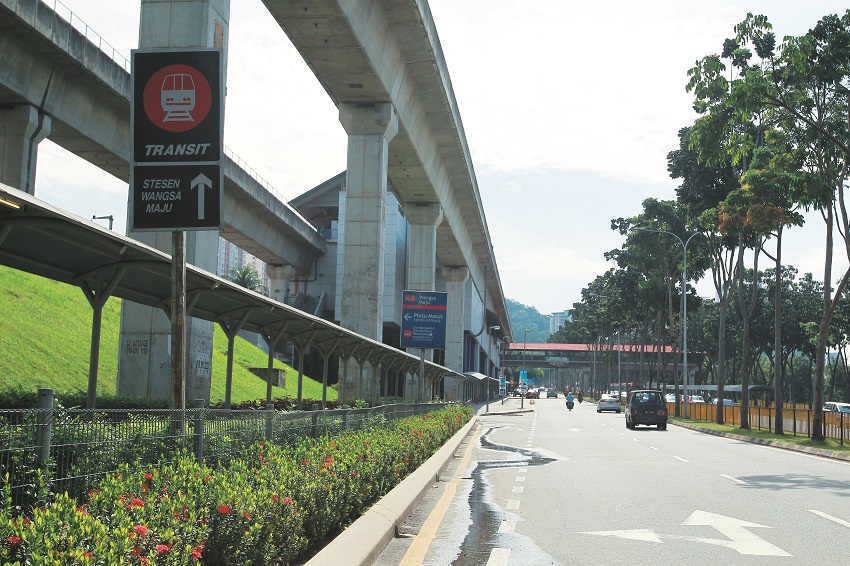 According to Rina Properties, the average monthly rent for the walk-up flats in Seksyen 2 are between RM650 and RM800, whereas high-end condos such as Riana Green East can fetch between RM2,300 and RM2,500. Desa Putra, which is a stone's throw away from Sri Rampai LRT station, fetches RM3,000 for a fully furnished unit.
Tang says most students living in Wangsa Maju are renting units in low medium and medium cost apartments and older condos as they are more suited to their budget.
"Due to its proximity to the city centre and the availability of LRT, the condominiums and apartments will be attractive to those with families and who work in the city centre, particularly those who cannot afford to rent in more upmarket places such as Bangsar and Mont' Kiara," he adds.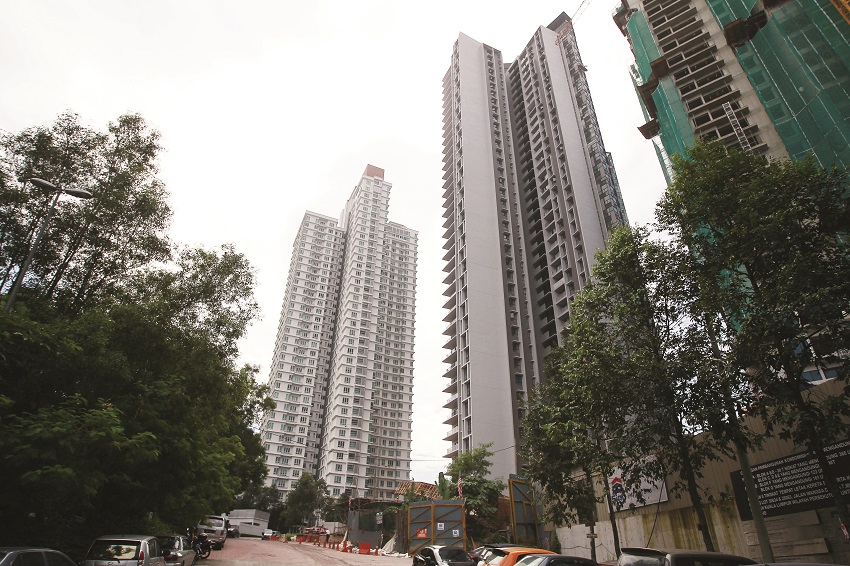 Looking forward
Property consultants concur that the property prices in Wangsa Maju still have room to grow as it has historically under-performed compared with locations such as Kota Damansara and Bukit Jalil.
According to Koh, the Wangsa Maju market is for owner-occupiers with a fairly solid rental market for budget and mid-end residential units. "The [Wangsa Maju] housing market is fundamentally solid and not susceptible to wide market swings," he emphasises.
Tang notes that several road improvement projects are underway — Jalan Genting Klang has been widened and Jalan Pahang is being upgraded — and new highways are being built that will theoretically ease traffic conditions for Wangsa Maju residents travelling to and from KL and Petaling Jaya.
These highways include the proposed Sungai Besi-Ulu Kelang Elevated Expressway (Suke), which connects Sungai Besi to Ulu Klang, and Duke Phase 2, which links to Sri Damansara and Jalan Tun Razak.
"The outlook for Wangsa Maju is bright. Its proximity to the city centre, good accessibility, availability of a wide range of amenities and facilities, as well as the development of higher quality properties will continue to boost property prices here," says Tang.
Check out the price trends at Riana Green East.
Related stories:
PROPERTY SNAPSHOT 1: Development activity intensifies in Wangsa Maju
PROPERTY SNAPSHOT 2: What's affordable in Wangsa Maju?
PROPERTY SNAPSHOT 3: What are the prices of developments in Wangsa Maju?
PROPERTY SNAPSHOT 4: What's hot in Wangsa Maju?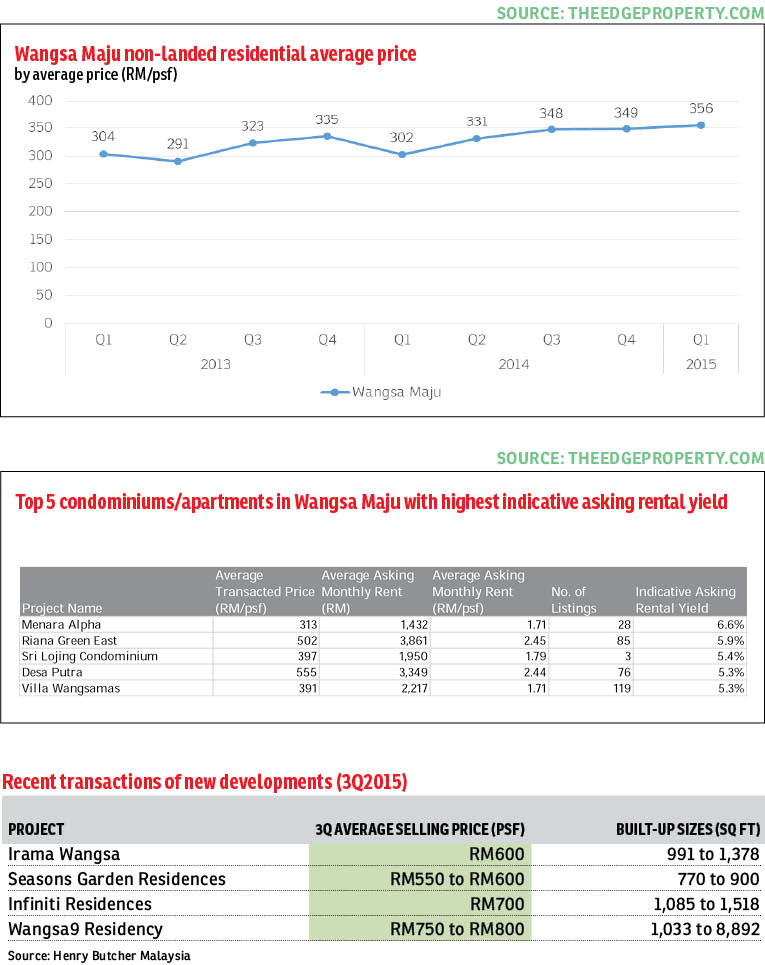 This story was first published in The Edge Property pullout, Dec 18, 2015, that appears every Friday with The Edge Financial Daily. Tap here to download your personal copy of The Edge Property pullout for free.