THOUGH the market offers numerous quick fixes for every problem, from indigestion to removing rust, at a certain price of course, most remedies can be found at a mere fraction of the cost of the commercial ones.
For instance, to make our homes smell pleasant, we turn to air fresheners or scented candles. But do you know that some garden plants do the trick just as well?
University of Malaya coordinator of Rimba Ilmu Botanic Garden and plant taxonomist Sugumaran Manickam shares with TheEdgeProperty.com some plants which can contribute to home fragrance naturally.
"Some plants emit whiffs such as the pandan which may be pleasant for some but unpleasant for others. Certain smells from leaves, flowers, barks and roots may act like aromatherapy and may help in promoting relaxation," he points out.
Sugumaran also shares some tips on how to care for these plants.
"Generally, soil with good drainage will be suitable for any plant unless it is a plant that loves waterlogged areas. The 3-2-1 technique generally works for many plants — 3 parts sand, 2 parts organic matter (such as garden soil mix) and 1 part general soil (sometimes called burnt soil by the local nurseryman)," he explains.
Here are seven plants to help your home smell good naturally.
1. Pandan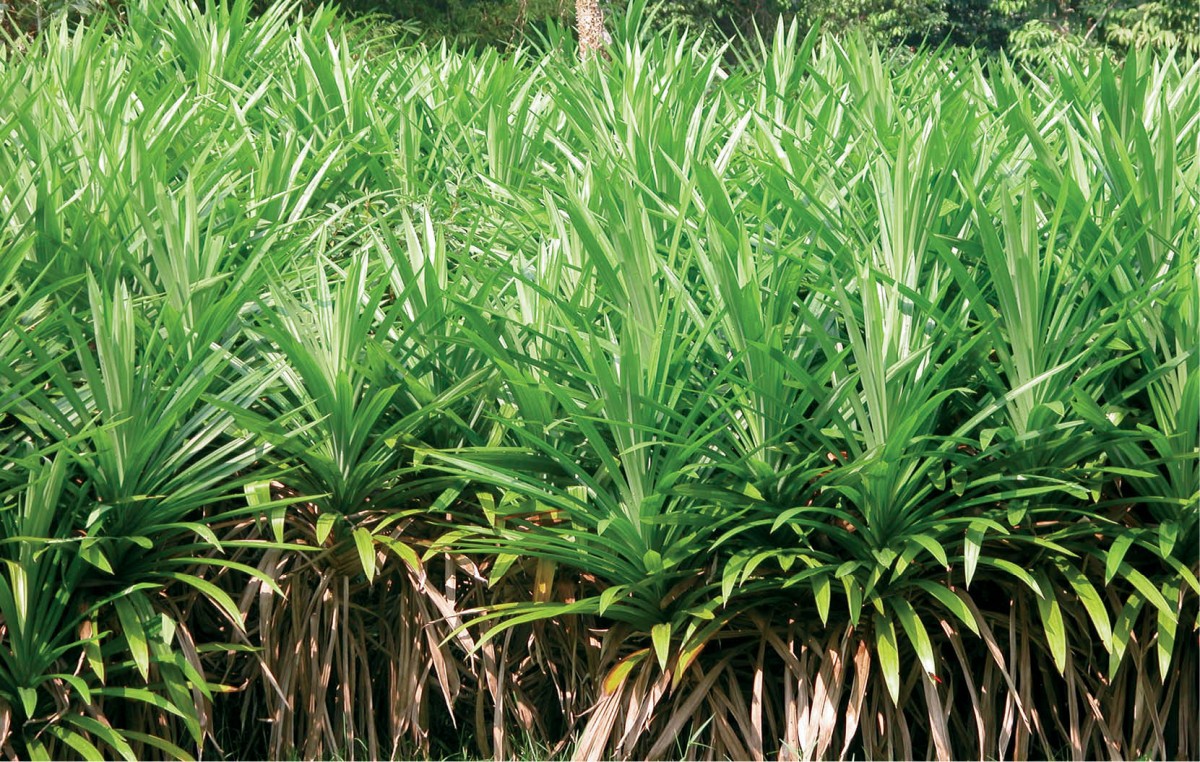 Pandan is a common plant which is used widely in South Asian and Southeast Asian cooking as flavouring for food such as rice, pandan chicken, pandan cake or pandan drinks. It is also placed in cars or enclosed spaces to act as a natural fragrance as well as to repel pests such as cockroaches. Pandan plants require full sunshine without much soil. The pot needs to be deep enough for the roots to grow.
2. Cempaka (Michelia chempaka)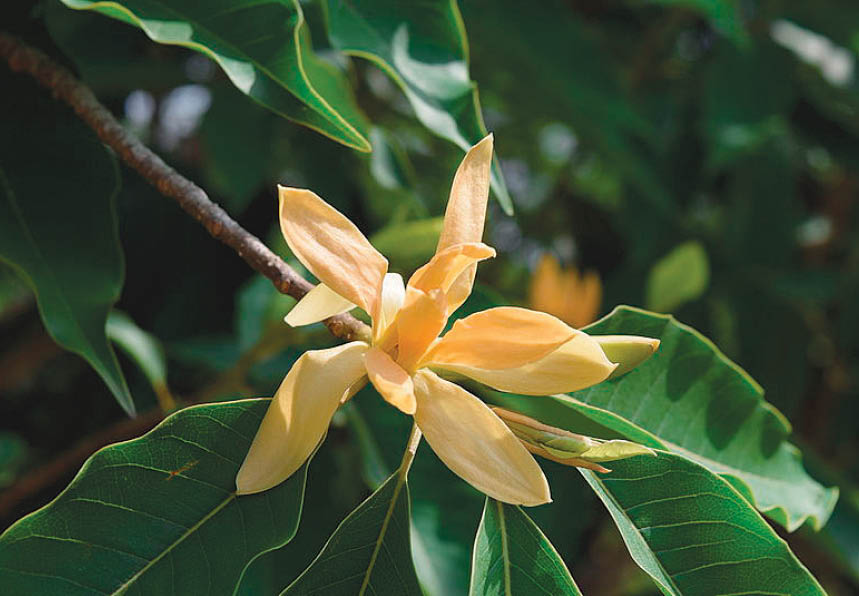 Cempaka is frequently used at temples for worship and is worn by women as an accessory or natural perfume. The flowers can also be floated into bowls of water as scent for rooms, as well as for decoration on bridal beds and for garlands. The seeds can be harvested from the ripened fruit of an existing tree and then placed in a pot with potting soil and seed starting soil. They can also be transplanted from existing trees. The plants need to be in a warm environment and be given sufficient water.
3. Kemuning (Murraya paniculata)
The white flower plant or more commonly known as orange jasmine is usually placed near the window and emits smell like frangipanis. The petals do not last long, but are usually replaced as soon as the old ones die. Its smell also attracts butterflies and hummingbirds. The plant requires strong sunlight and regular watering.
4. Jasmine (Jasminum sambac)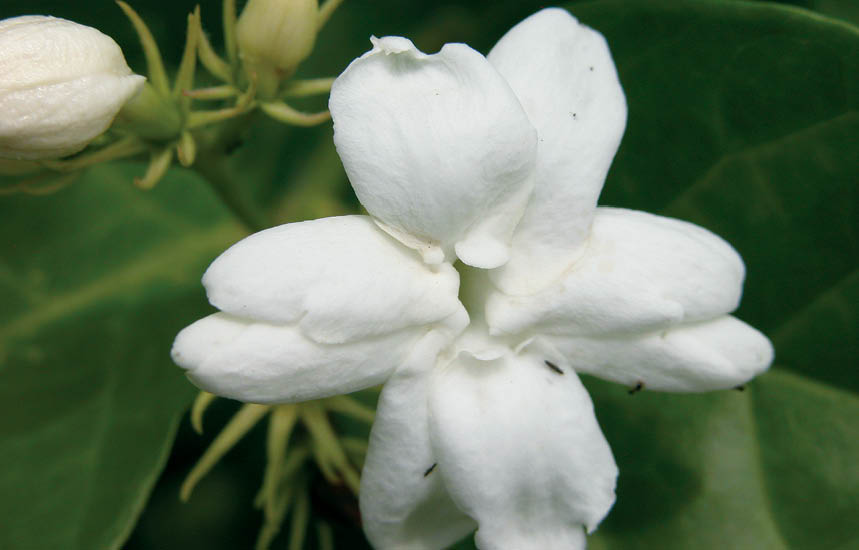 The jasmine plant is no stranger to many as it is used to make perfumes, jasmine tea and essential oil. The name "jasmine" is believed to have been derived from the Persian word "Yasmine", meaning fragrance. The shrub can grow from 0.5m to 1m high. The plant requires full sunlight but can grow in partially-shaded conditions. It needs sufficient watering until water comes out from the draining hole but the drip tray should be kept empty.
5. Tree of sadness (Nyctanthes arbor-tristis)
This plant is known as the tree of sadness because the flowers lose their brightness during the day. It is also known as the night-flowering jasmine. It is believed to produce a scent similar to honey. This plant requires a good amount of light, air humidity, air circulation and moderate warm temperatures.
6. Bunga tanjung (Mimusops elengi)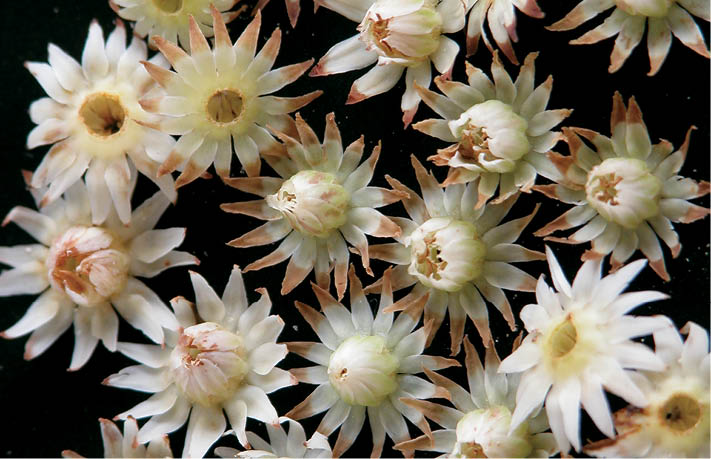 The essential oil from the Ylang Ylang plant is often used in aromatherapy and is said to act as an antidepressant and antiseptic. The yellow colour plant is also used in perfume due to its pleasant scent. The plant needs a sunny spot and a good humidity level to produce aromatic flowers.
7. Ylang Ylang (Cananga odorata)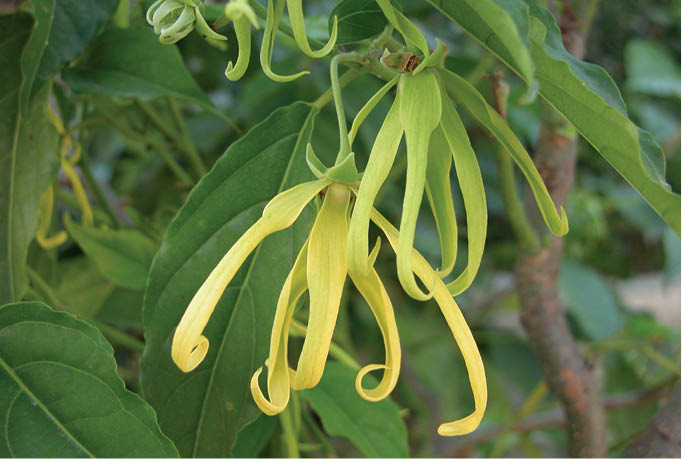 The old Sanskrit name for the plant is Bakul. It is often planted for its fragrant flowers which are used to make garlands. The flowers retain their fragrance for a long time even after drying and are sometimes used for stuffing pillows. The tree can grow up to heights of 30ft to 59ft and requires plenty of sunlight and water to thrive.
This story first appeared in TheEdgeProperty.com pullout on Dec 23, 2016, which comes with The Edge Financial Daily every Friday. Download TheEdgeProperty.com pullout here for free.