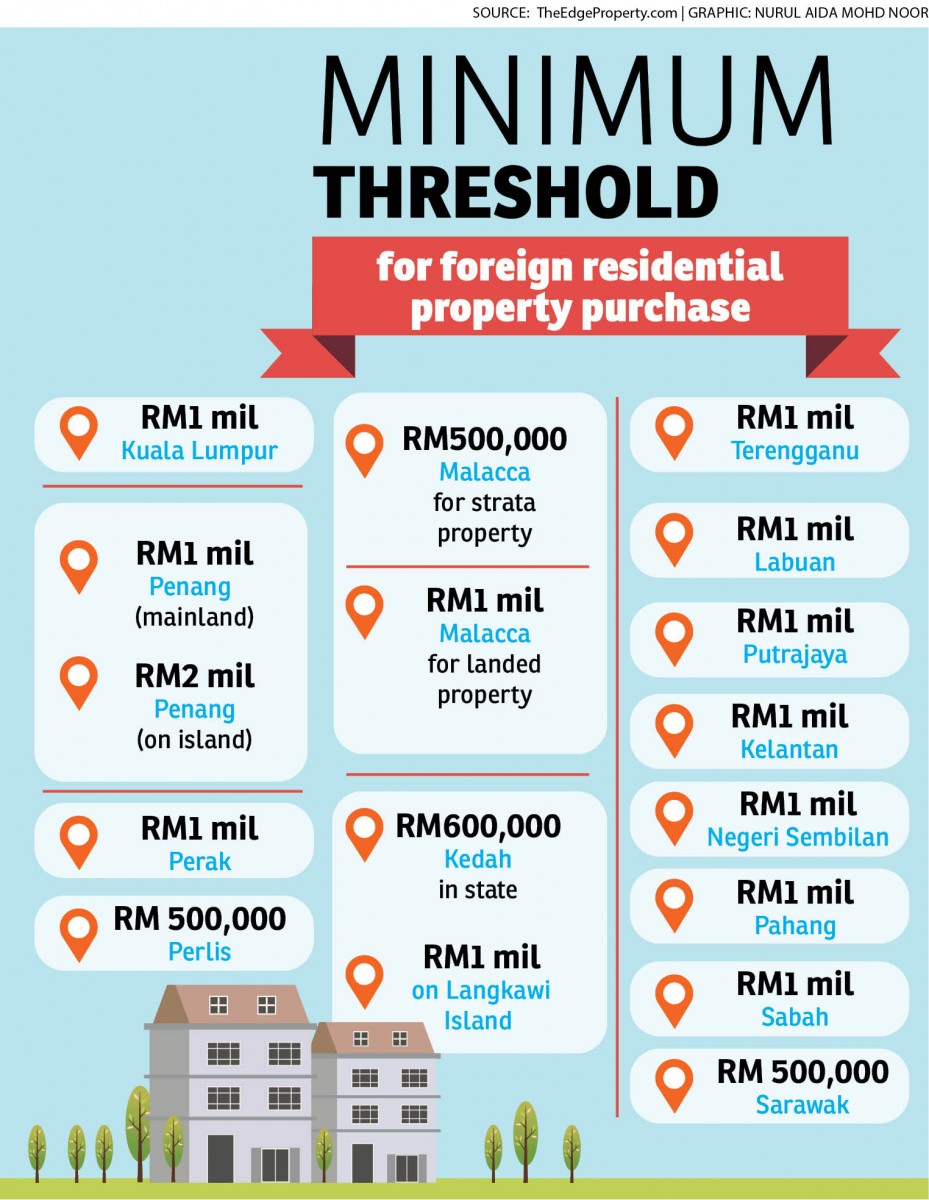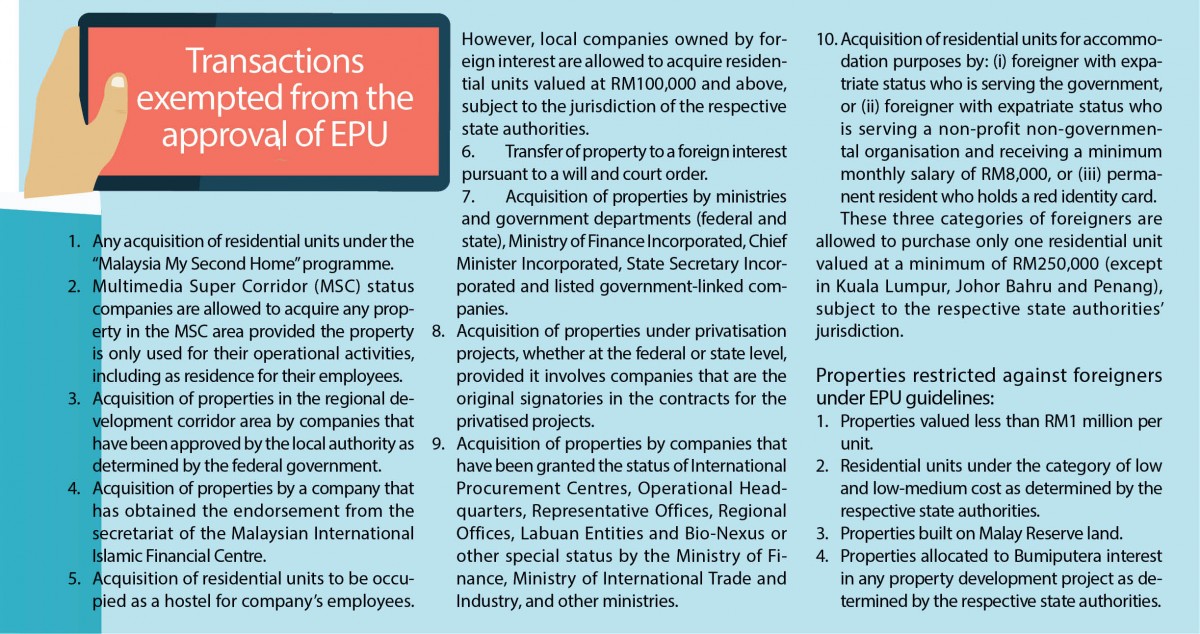 MALAYSIA, with its improving infrastructure, average cost of living, diverse cultures and almost natural disaster-free environment, has attracted many foreigners to live here.
Buying property in Malaysia is a relatively easy process. On June 30, 2009, the Economic Planning Unit (EPU) produced a comprehensive set of guidelines on property acquisition by foreigners to replace the previous approving authority under the Foreign Investment Committee.
The EPU had also revised the minimum threshold on the acquisition of properties by foreign interests from RM500,000 to RM1 million, effective March 1, 2014, which is stipulated nationwide.
It must be noted that although the EPU guidelines on property acquisition by foreigners apply nationwide, the acquisition is still subject to the respective state authorities' approval.
The transfer of property to a foreigner based on family ties (only allowed among immediate family members) also falls under the jurisdiction of the respective state authorities.
There are however, exemptions from EPU approval for certain transactions (see list of exemptions), as well as exemptions given by respective state governments.
In Johor, for instance, Medini Iskandar in Iskandar Malaysia is designated as a special economic zone.
Medini Iskandar has no restrictions on foreign ownership. There is no minimum price threshold for foreign property buyers, and foreign property purchases are exempted from real property gains tax until Dec 31, 2025.
Also given special status is Forest City, the Malaysia-China joint venture development in Iskandar which has been designated a duty free zone. The minimum price threshold for foreign buyers is RM500,000 per strata unit, according to a spokesperson of the project.
Meanwhile, the Straits of Johor Development Corridor 2025 Master Plan showed that Tanjung Bin, Tanjung Pelepas, Nusajaya (now known as Iskandar Puteri), Johor Bahru city centre, Pasir Gudang, Tanjung Piai, Sungai Sekudai and Sungai Tebrau are international zones. In these zones however, the minimum threshold for foreign property purchase is RM2 million for landed residences compared with the RM1 million threshold for landed residences in the rest of the state; and RM1 million for strata property. Hence, it would be wise to check the status of the various projects one is interested in.
KGV International Property Consultants (Johor) Sdn Bhd executive director Samuel Tan tells TheEdgeProperty.com that although there are sufficient incentives provided to encourage foreigners to buy properties in Malaysia, there are areas that still need to be improved.
He feels the government should promote foreign property ownership as a form of foreign direct investment given that Malaysia seems to have a love-hate feeling towards foreign property purchasers for fear that they will impact the interest of the locals.
"Policies must be consistent and transparent while the fees for the application for approvals by foreign purchasers must be reasonable while safeguarding the interests of the locals," he says.
Tan also suggests that developers sell properties that offer business propositions so there will be greater economic spillover from their projects.

This story first appeared in TheEdgeProperty.com pullout on Jan 20, 2017, which comes with The Edge Financial Daily every Friday. Download TheEdgeProperty.com pullout here for free.