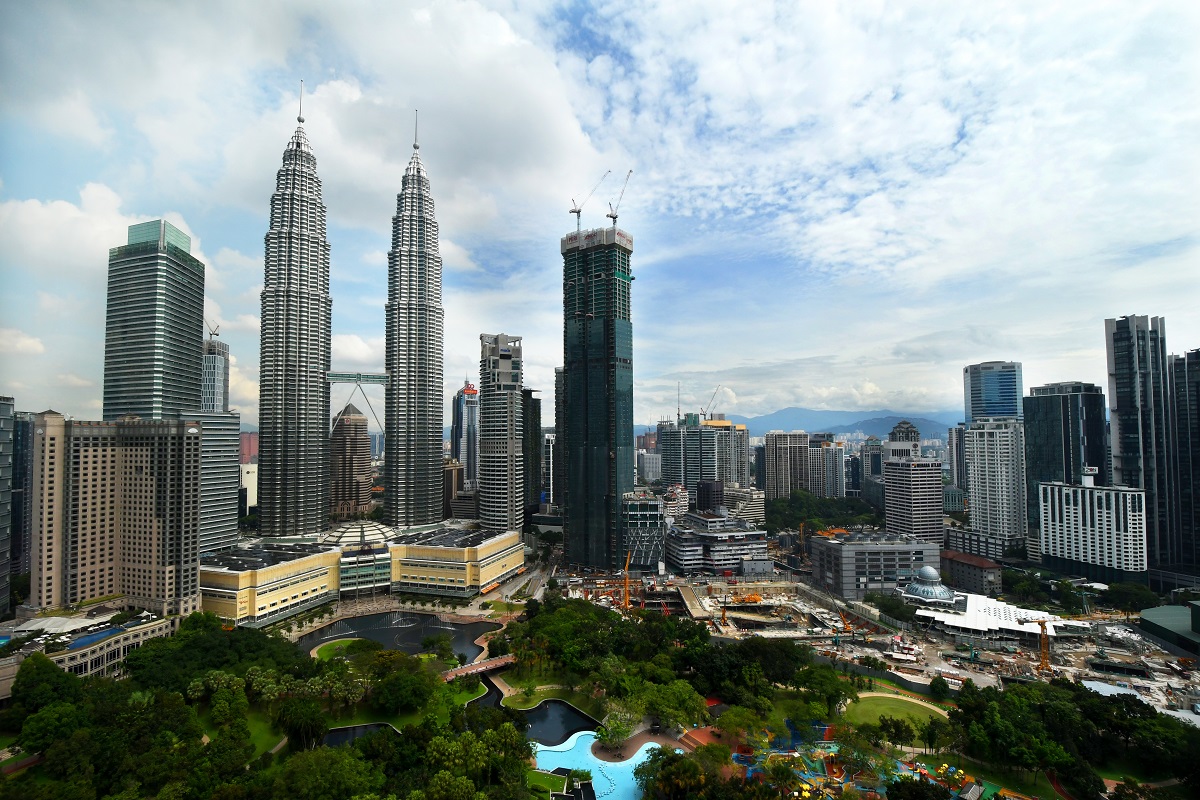 "Buy low sell high" is the golden investing rule of almost every investor but it is easier said than done. When is it "low" enough for one to buy? Especially when we speak about exclusive addresses like Kuala Lumpur City Centre (KLCC).
It is well known that the secondary market for the luxury segment of non-landed residences in KLCC has been rather quiet lately with transacted prices on the downtrend, real estate consultants and agents concur.
Putting the spotlight on large-size units with asking prices of above RM1 million, Henry Butcher Malaysia chief operating officer Tang Chee Meng tells TheEdgeProperty.com that the consultancy's data have revealed an estimated 20% drop in the number of transactions of such homes in KLCC in the first half of 2016 from a year before and by the following quarter, 3Q2016, transactions had dropped by 23%.
Local buyers were cautious when buying these high-end high-rise units while foreign investors were almost absent from the market, says Tang.
According to TheEdgeProperty.com's data, the market for KLCC's non-landed residences tagged RM1 million and above has begun to slow down since 2014.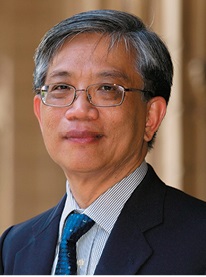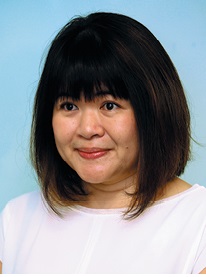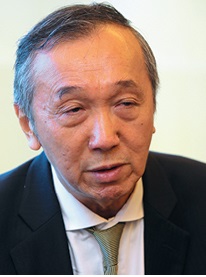 The data showed that in 3Q2014, the average transacted price for this property segment peaked at RM1,084 psf for the period 2012 to 2016. A year later, in 2015, the average price had dropped 4.3% to RM1,037 and by 3Q2016, it had fallen a further 7.2% to RM962 psf.
Meanwhile, transaction volume over the past five years peaked in 3Q2013 with 94 transactions. Sales saw an average 33.5% drop per annum till 3Q2016.
While the current KLCC secondary high-end high-rise residential market may not sound favourable to those who bought it during its peak, it could possibly be more attractive to those looking to invest in an iconic address.
"Despite the downtrend, many owners of these properties appear to be holding strong and have not reduced their asking prices as seen in the asking prices of properties listed for sale. On the ground, however, we find that owners are now more prepared to negotiate and reduce their asking prices in order to close a sale," Tang notes.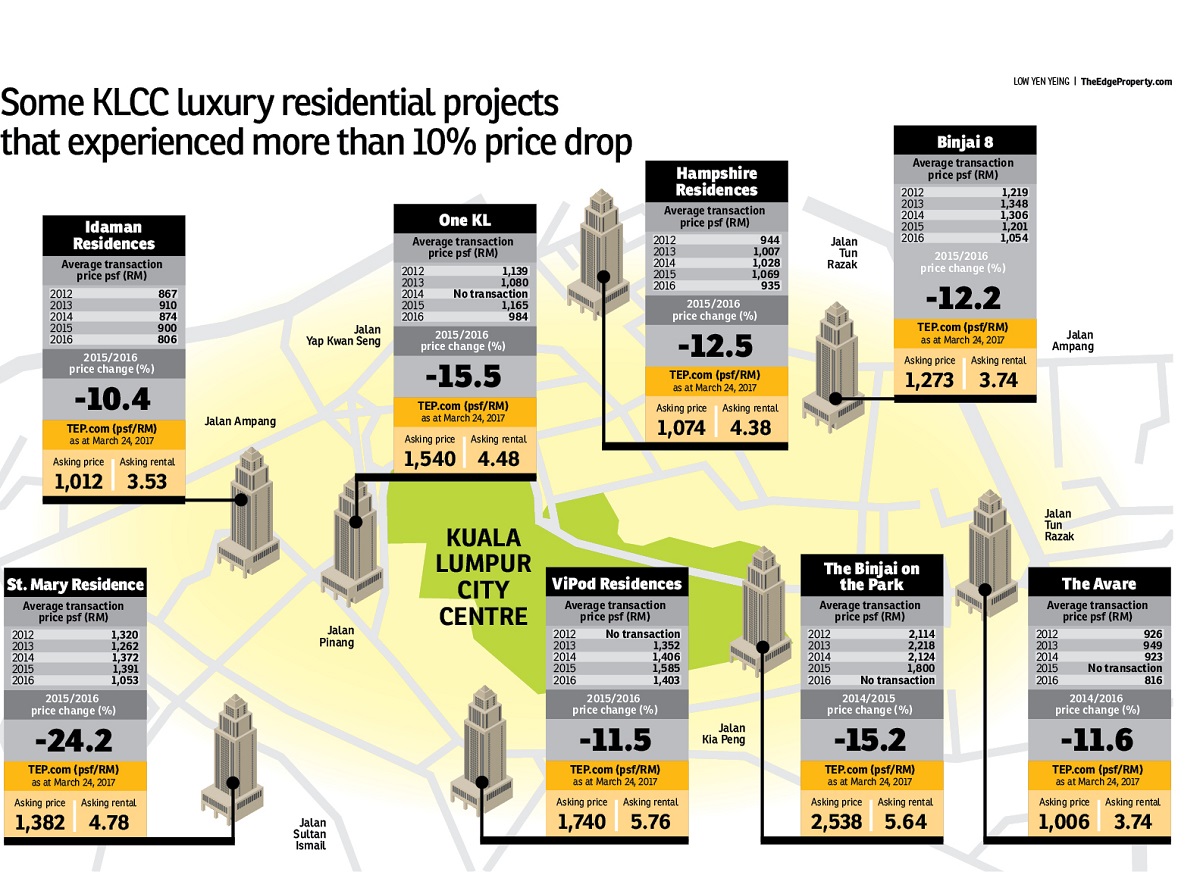 He adds that owners are usually prepared to discuss and drop their prices by between 5% and 10%, or even more especially in cases where the sellers are desperate to cash out, or when they meet a serious buyer.
Real estate negotiator Janet Chong who is a team manager at Hartamas Real Estate (OUG) Sdn Bhd has observed that there are more "value for money" deals in the KLCC luxury condo market now.
"Generally, prices of KLCC luxury properties on the secondary market have dropped around 10% to 15% from two years ago," says Chong who is a KLCC area specialist.
She cites for example units at ViPod Residences @ KLCC which used to be sold at an average of RM1,600 psf two years ago. Recently, she closed a deal there at RM1,200 psf. Developed and delivered by Monoland Corporation Sdn Bhd in 2013, ViPod Residences is a freehold luxury condominium at Jalan Kia Peng off Jalan Raja Chulan. The 1-bedroom (635 sq ft) unit was selling at RM668,000 or RM1,052 psf during its launch in 2010.
"Of course, some projects are still holding up well, but if there is a serious buyer, the seller may not mind giving a bigger discount. Yes, [sellers] are more realistic now but they are also savvy investors and certainly know the value of their property. They will not go any lower than what [the property value] should be," Chong notes.
However, Chong laments that, "it is useless if only one party [seller] is being realistic but not the other."
"We have good stock yet very few serious local buyers. Most of them are not realistic and are hoping for more discounts. Some of them offer ridiculously low prices and they would rather hold off their purchases to put pressure on the seller," she says.
A healthy property deal and resale market, she adds, should be based on the principle of "willing seller and willing buyer".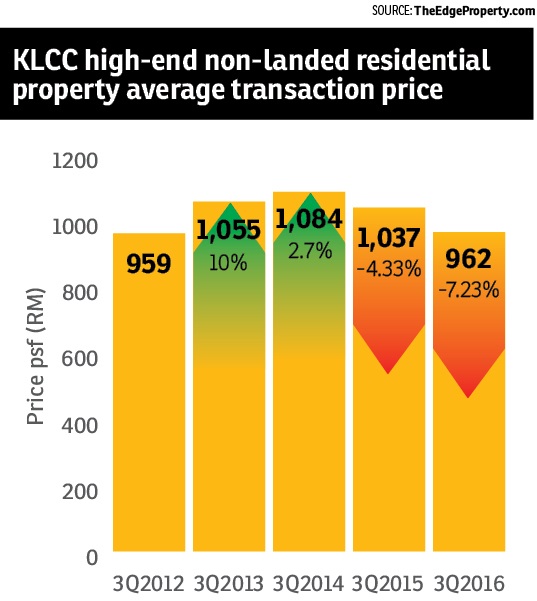 "I will not deny that there are some fire sales. Some owners want to let go of their units at way below the market price but this is not healthy for the resale market in the long term as it will affect the value of the property. However, most local buyers do not understand the consequences, they only look at the current benefit," Chong shares.
According to her, there is a lot of interest coming from locals but only a small number of units are sold to them.
"While the locals hope prices will go further down, foreigners are happily shopping in KLCC. To them, current prices are somewhere at the bottom and are worth buying now. Almost all my deals closed recently were sold to foreigners including those from Indonesia, Dubai and China," she offers.
To her, now is the right time to hunt for good value high-end high-rise residential property in KLCC.
She believes the market is likely at the bottom now. Furthermore, consumer sentiments seem to be recovering while incoming supply of luxury non-landed homes in KLCC is limited.
"I think the KLCC condo market will start recovering albeit slowly from the second half of this year," she shares, adding that the market has been levelling up and is merely waiting for some catalysts to take off.
Where is the bottom?
Henry Butcher's Tang, however, is not as optimistic. "The prevailing soft market is not expected to recover within this year. So there could be more buying opportunities coming along later," Tang suggests.
He cites the Malaysian Institute of Economic Research (MIER), which projected the country's economy will be at a slow pace this year, due to uncertainties both locally and globally, including the new era of a Trump US presidency and Brexit. Investors will continue to be cautious, he opines.
"We foresee that the secondary market for luxury apartments/condominiums in KLCC, and even in the entire Klang Valley, will not see any immediate improvement and will drift downwards although we do not see any drastic fall in prices," Tang says.
"There is no need to rush into buying anything," he adds.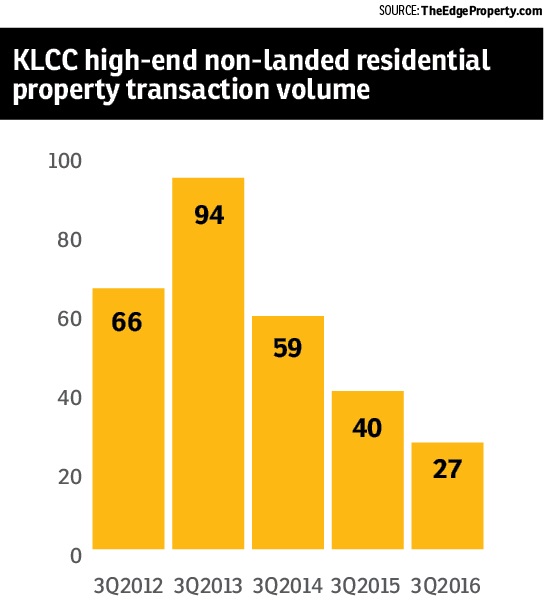 On the other hand, he stresses that there is no "absolute good timing" in buying a property especially when it is for one's own occupation.
"If you are buying a home for yourself, anytime is a good time to buy if you come across a property which meets your requirements and matches your expectations of a dream home. If you find the right property that you like and the price is fair and within your budget, do not wait but go ahead and buy it," Tang concludes.
VPC Alliance Malaysia Sdn Bhd managing director James Wong also holds a cautious view as there is too much uncertainty looming which may affect the economy.
"With the Malaysia General Election around the corner, buyers are adopting a wait-and-see attitude," says Wong.
"Besides, the KLCC luxury condo market will continue to be soft this year as there is still plenty of existing stock in the market which will take some time to be absorbed," Wong says, adding that things may look better by mid-2018.
KLCC high-end high-rise residential rental market takes a dive
In ECA International's Accommodation Survey released in January 2017, Kuala Lumpur ranked as the 28th most expensive location in Asia for high-end high-rise rental accommodation.
ECA Internationl has been conducting research on accommodation rentals for more than 20 years. The survey compares rental accommodation commonly leased by expatriate staff in more than 230 locations worldwide.
ECA International's regional director (Asia) Lee Quane tells TheEdgeProperty.com that KL's high-end high-rise residential rental market has been on the downtrend over the past 12 months, partly driven by the fact that the oil and gas industry, which is one of the major employers of expatriates in Malaysia, was hit by the fall in oil and gas prices.
"This has impacted the number of expatriates employed in this sector in Malaysia. As demand has fallen, asking rents have also fallen," Quane says.
He explains that in the context of companies moving executives around the world, employee mobility normally lags behind an improvement in the economy by one to two years.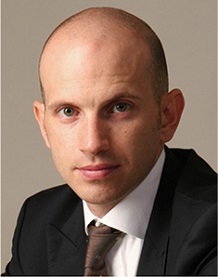 "It is widely understood that an oil price of US$60 per barrel is the inflection point for the oil industry — the price at which most activities are deemed to be profitable. Therefore, the oil price will need to recover to this level and stay there for a while before we see more companies sending staff to KL once again," Quane adds.
While the fall in rents may slow or cease, an upward correction seems unlikely, he says.
Hartamas Real Estate (OUG) Sdn Bhd team manager Janet Chong says generally, rents for high-end high-rise residential properties in KLCC have dropped 10% to 20% since two years ago.
"Personally, I feel the rental market is doing worse than the resale market as more stock has been released into the market since the plunge in oil prices. Oil and gas companies are either moving farther away from KLCC to lower expatriate accommodation cost, or opt for smaller units," she explains.
Rents vary depending on the age of the property, location and other aspects (furnished/unfurnished, facilities and amenities).
"I can't give you an average because it will not be accurate. However, the rental market has never been this bad for a very long time. Some rentals are seeing a drop in rents of up to 40%," she says, citing a luxury, centrally-located residential unit which used to fetch a rent of RM10,000 per month for a mere 1,000 sq ft unit. It was recently let out at RM6,500 per month in February.
"It used to be a popular accommodation for expats and enjoyed very good rents. However, some owners are losing their holding power and just want to rent out their units even at a much lower rate than before to ease their burden," Chong shares.
This story first appeared in TheEdgeProperty.com pullout on March 31, 2017. Download TheEdgeProperty.com pullout here for free.