STRATA COMMERCIAL CATEGORY — SILVER
MERCU SUMMER SUITES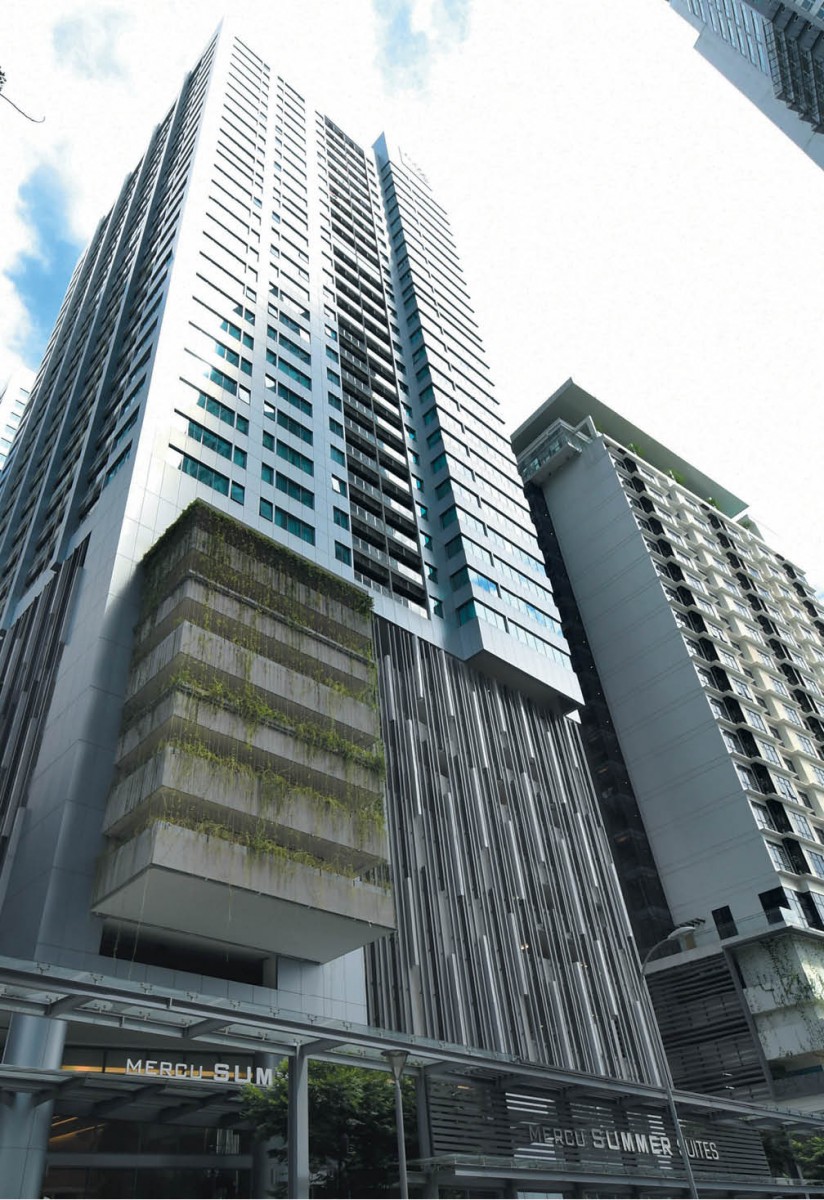 RIGHT in the heart of Kuala Lumpur city's Golden Triangle, Mercu Summer Suites with its two towers stands proud along Jalan Cendana. The strata commercial development comprising two 24-storey towers on a 10-storey podium was developed by UEM Sunrise Bhd.
The project has a total of 879 units of office suites that come with residential elements, located above the podium which houses the car park, landscaped decks and 11 retail units at the lobby entrance. Offering a combination of work, lifestyle and residential elements, its occupants are able to work and stay in the office suites and enjoy the convenience offered by businesses at the retail units including cafes, convenience stores and children pre-school facilities.
Summer Suites has been managed by SCM Property Services Sdn Bhd, a wholly-owned subsidiary of UEM Sunrise, since the development was completed in March 2015.
Despite being just two years old, its property management has successfully tackled a number of unique challenges and at the TheEdgeProperty.com Malaysia's Best Managed Property Awards 2017, it has won the Silver award in the strata commercial category.
The building attracted a lot of interest when it was launched in 2011, SCM Property Services general manager Paul Richard says.
"The project, which was already completely taken up by buyers, achieved 80% occupancy within six months after vacant possession. The building is about 70% occupied today," he offers.
Chairman of Summer Suites Joint Management Body (JMB) Sandeep Singh says the project has drawn many start-up businesses to set up offices there.
"Summer Suites is just a stone's throw away from KL city centre and is surrounded by international hotels, financial centres and retail amenities, so it makes sense for entrepreneurships to develop here. It is very difficult to find another place like this in town," Sandeep says.
An unusual challenge
Richard notes that the project is sought after by foreign businessmen and expatriates. Hence, the business infrastructures in Summer Suites such as meeting rooms, conference rooms and cafes have been set up to cater to their needs, Richard says.
However, with its location in KL city, good accessibility and conveniences at its doorstep, Summer Suites started becoming a home-sharing business (eg Airbnb) hotspot, which quickly turned out to be a challenge for the property manager.
"The biggest issue was that some owners were disturbed by the activities of the Airbnb guests at night," he says. To tackle the problem, the management came up with a handbook to regulate these guests.
JMB treasurer Aravind Sinniah also notes that the three-tier security system and extensive CCTV coverage of the building and surrounding areas of about 95% have helped its security personnel to be vigilant and to react quickly when the need arises.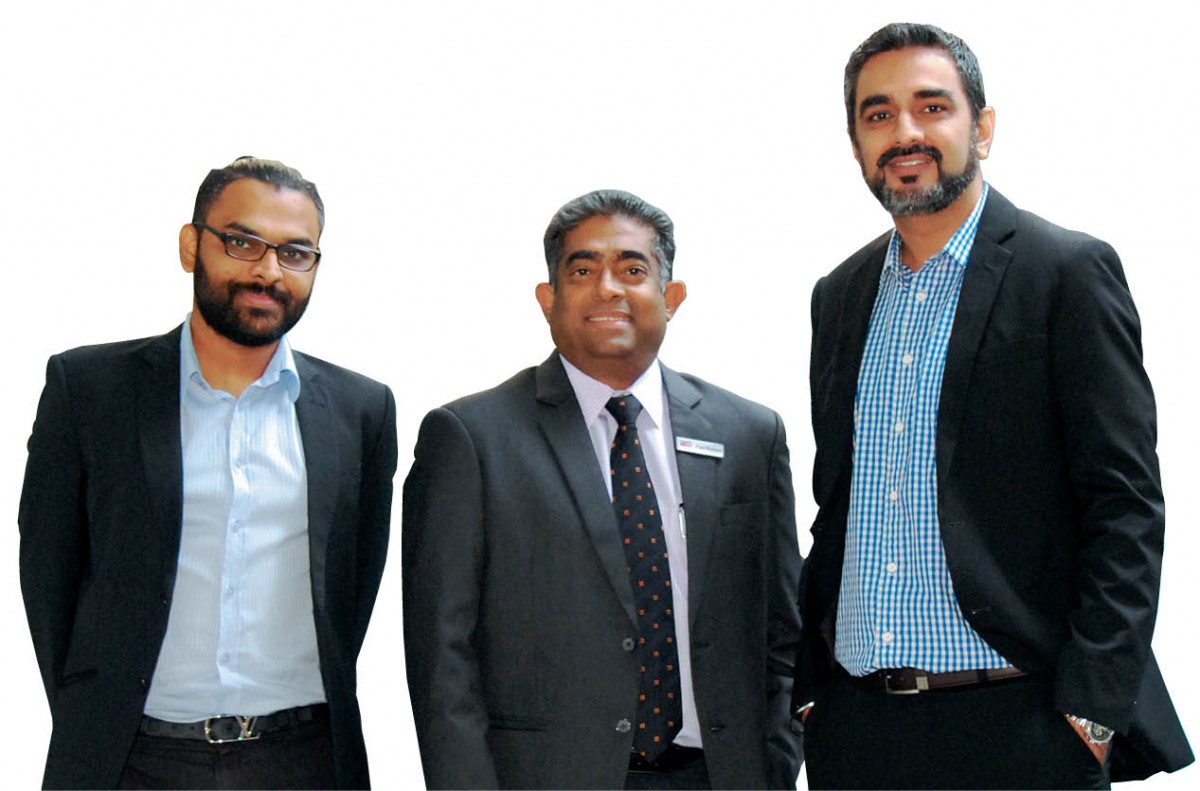 Like a double-edged sword, home-sharing businesses may pose some problems but they have also contributed to the building's vibrancy, says Sandeep.
"We just have to manage the problems because a bulk of owners here are investors, who want some returns from their units," he adds.
Indeed, managing the property is not just about the hardware but about managing people, comprising occupants, visitors and owners. And with that comes varied expectations.
"SCM Property Services is not perfect, but we will strive to meet their expectations and deliver results," he says.
As an owner in Summer Suites, Sandeep is very satisfied with the performance of the property manager. He cites an incident that convinced him of the management team's abilities to do a good job.
"I remember the cleaning services provider decided to stop their services with very short notice last year, but SCM Property Services was able to get a new provider within two days and get them to start work on Jan 1 this year," he recalls.
Additional future conveniences
Going forward, SCM Property Services is looking to introduce new technologies and provide more services.
"We are always thinking about innovation, and there are many in the pipeline. For example, we launched an online portal early this year to provide in-house facilities such as bookings, making payment of maintenance fees, viewing utility bills, and related services," offers Richard.
He adds that the more eco-friendly portal will help save some cost in terms of paper usage.
Awards can level the playing field
Richard notes that its Silver award at TheEdgeProperty.com Malaysia's Best Managed Property Awards 2017 has encouraged the property manager to do even better in the future.
"We believe that the Awards is a very good platform for all property management companies to stay competitive and to ensure the highest standards at all times for the properties under their care," he says.
Sandeep says it is good that the Awards recognises good players in the local property management industry, which is still at an "amateur" level compared to the industry in developed countries.
"This Awards will encourage the good ones to continue to do a great job, and I believe the bad apples in the industry will disappear gradually," he adds.
"A property's value is indirectly affected not by the external factors alone but the internal factors as well such as the upkeep of the building itself," he elaborates.

Having the competitive edge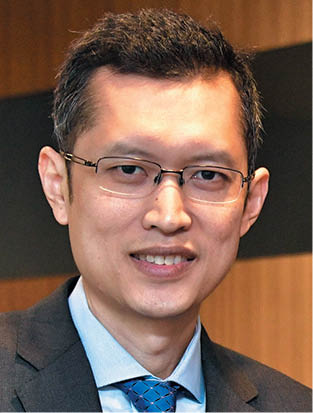 Mercu Summer Suites is one of UEM Sunrise's many successes. Having done exceedingly well during its launch in 2011, the development continues to do well two years after its completion.
"It is always positive news when we learn that our project is well maintained and can therefore contribute to capital appreciation or strong rental yield," UEM Sunrise Bhd managing director/CEO Anwar Syahrin Abdul Ajib says of the commercial development that had won the Gold at TheEdgeProperty Malaysia's Best Managed Property Awards 2017 in the commercial category (strata).
Besides strengthening the developer's reputation as a market leader, Anwar notes that the Awards has enhanced the attractiveness of its developments beyond the notion of architecture and design, giving them the competitive edge in a tight commercial property market.
Going forward, UEM Sunrise will continue to deliver sustainable developments and nurture thriving communities, he says.
"We aim to do so through our top-quality sustainable developments that are complemented with the best property management services," Anwar says.
"As we work to bring original and innovative concepts to the property market, we also want to better showcase how sustainable developments, based on industry-leading construction and property management practices, can build value over time," he adds.
TEPBMA2017
For more stories on the Awards, click here.
This story first appeared in TheEdgeProperty.com pullout on April 7, 2017. Download TheEdgeProperty.com pullout here for free.