Luxury of space
Luxury of space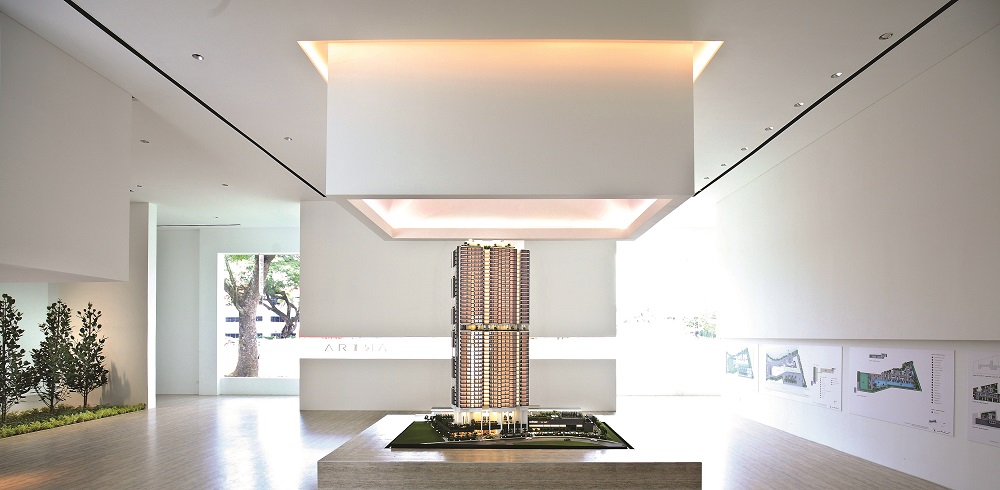 THE 21,500 sq ft sales gallery of Artra is designed to look like a contemporary art gallery. The name "Artra" ­itself is a palindrome; it reads as "art" both backwards and forwards. The 400-unit private condominium at ­Alexandra View fronts the Redhill MRT station and will be connected to it in the future.
The project is developed by two listed Hong Kong developers: Far East Consortium ­International and New World Development Co, which own 70% and 30% stakes res­pectively. This is the partners' first collaboration in Singapore, but they have worked together on other projects in Hong Kong and the UK.
It is also New World Development's maiden development project in Singapore. The company has a market capitalisation of HK$94.27 billion (S$17.05 billion). As for Far East Consortium, this is the developer's second mixed-use development on a government land sale (GLS) site in eight years.
Far East Consortium's first mixed-use development was the 68-unit ­Dorsett Residences and the ­adjacent 285-room Dorsett Hotel, both of which were completed in 2013. Dorsett ­Residences previewed in September 2010 and saw all its units­ snapped up within three days, mostly by Singa­porean and Indonesian investors. The average sale price for the units was S$1,800 psf — higher than the initial indication of S$1,680 psf.
The units at Dorsett ­Residences are a mix of one-bedders of 484 to 667 sq ft; two-bedders of 689 to 1,012 sq ft; and two-bedrooms+study from 1,206 to 1,615 sq ft. In the resale market, the asking price of a 484 sq ft, one-bedroom unit was recently listed at S$1.02 million (S$2,107 psf), while a 689 sq ft, two-bedroom unit was listed at S$1.63 million (S$2,366 psf). Asking monthly rents for partially furnished one-bedroom units range from S$3,400 to S$3,500, and that for a 1,000 sq ft, two-bedroom unit is about S$5,000. This translates to gross rental yields of 3.7% to 4%.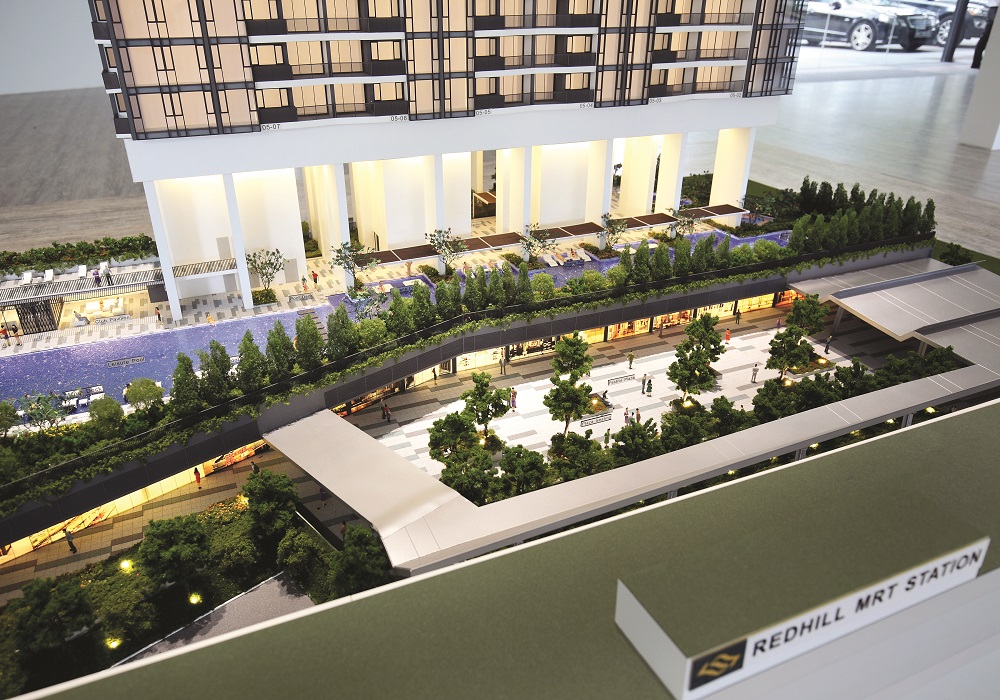 "While rental rates of other one-bedroom units have suffered, the one-bedroom units at Dorsett Residences are doing very well," says Dennis Chiu, executive director of Far East Consortium. "The units are well tenanted because we have a lift leading from Dorsett ­Residences ­directly to the underground ­Outram Park MRT station. People don't ­realise how ­important that is until they move in."
Direct link to MRT station
Given that the site at Alexandra View shares the same attribute — direct connectivity to the Redhill MRT station — it is not surprising that the joint venture partners beat nine other bids for the site in November 2015. Their winning bid was S$376.88 million (S$851 psf per plot ratio).
The developers are providing an "acoustic canopy" that will serve both as a sound barrier and a sheltered walkway from Artra to the MRT station. Located on the city fringe, the project is also close to the CBD, ­Orchard Road, Singapore Botanic Gardens and Dempsey Hill dining destination, says Chiu.
An added convenience for residents of Artra is that there will be a 1,000 sq m FairPrice Finest supermarket and 16 shops on the first level of the 44-storey development. On the second level is a 500 sq m childcare centre and a 100 sq m playground. Two dedicated lifts will take residents directly to the childcare centre, supermarket and basement carpark.
"These days, parents are very concerned about security and the safety of their children," says Chiu. "With the dedicated lift, they can bring their children to the childcare centre without having to cross the road or walk through a public space."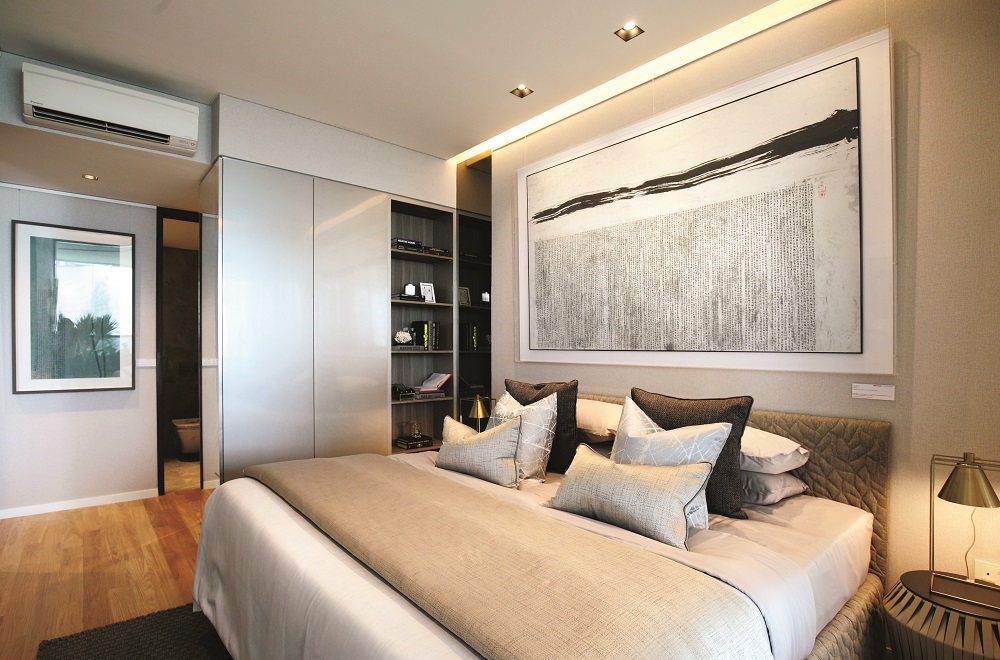 Alice Tan, Knight Frank ­Singapore's director and head of research and consultancy, agrees. "The seamless access to the childcare centre, super­market and other retail amenities as well as MRT station are an ­added ­bonus," she says. Knight Frank, Prop­Nex and Savills are joint marketing agents of Artra.
Identifying the trend
Identifying the trend correctly is important, and so is timing, says Chiu. "We're very selective in our deals." In 2010, compact apartments that were part of mixed-use developments appealed to investors. Dorsett Residences catered to that demand at that time.
However, the market has changed, says Chiu, and buyers today are ­predominantly owner-occupiers. "We've designed the units at Artra for the ­upgraders' market. Therefore, there are no one-­bedroom units."
At Artra, 190 units (or 47.5% of the total) are two-bedroom+study configurations, with sizes ranging from 786 to 829 sq ft. Another 108 units (27%) are three-bedroom apartments of 1,044 to 1,119 sq ft, while 64 units (16%) are three-bedroom+study of 1,227 sq ft.
There are 32 three-bedroom+study corner units that come with private lifts, and these are 1,410 sq ft each. There are six "executive units" — 2,583 sq ft, five-bedroom+family apartments — that also come with private lift access. These are the amalgamation of two units, and they span the 38th to 40th floors of the 44-­storey tower block.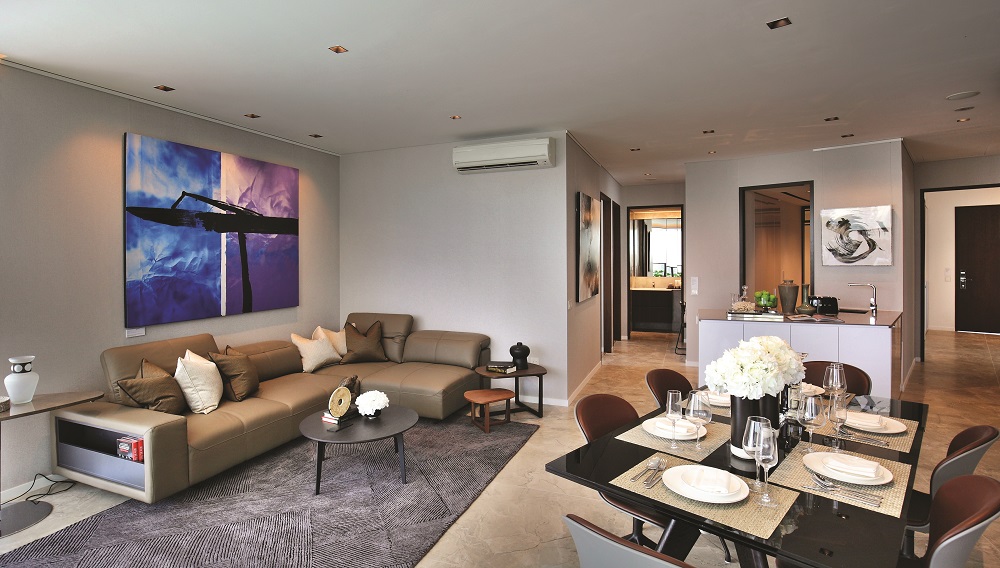 "The units at Artra are deliberate­ly sized to differentiate the project from competing [developments] in the Alexandra neighbourhood," says Tay Kah Poh, Knight Frank's executive director of agency services. "The larger sizes raise the ­liveability factor, and will appeal to families." Besides families, the two-bedroom+study units are also likely to attract ­investors ­given the conveniences of the MRT and other amenities, he adds.
Ample storage, liveable space
Most units come with a kitchen ­island and are fully fitted with Smeg ­kitchen appliances, including refrigerator, and all the bathrooms will have a rain shower. The master bathrooms will feature a three-panel vanity mirror that can be adjusted and, more importantly, provide additional storage space behind.
All the common bedrooms are big enough to fit a queen-sized bed, while the master bedrooms can fit a king-sized bed. The master bedrooms will feature walk-in wardrobes. The living room of the three-­bedroom and three-bedroom+study units are spacious enough for an L-shaped sofa ­instead of the usual two- or three-­seater sofa. And the dining area is big enough for a six-seat dining ­table, says Far East Consortium's Chiu.
The entranceway will also have a concealed shoe cabinet. "Normally, when you visit people's apartments, you see shoes everywhere outside the front door," adds Chiu. With the shoe cabinet, that should not happen at Artra.
Besides shoes, the three-bedroom+study units also come with storage space for golf bags. The three-bedroom and three-­bedroom+study units will have a wet and dry kitchen. The dry ­kitchen has additional storage space ­below the countertops, while the wet ­kitchen has storage space for cleaning appliances, including a vacuum cleaner. "With all the built-in storage, all the units are designed to be efficient, and there's no space wastage," adds Chiu.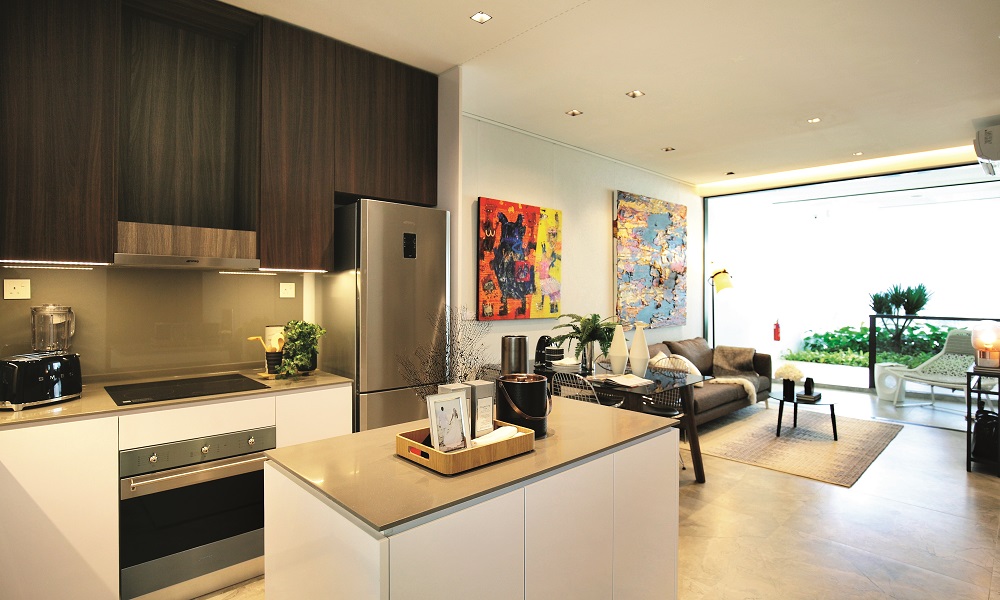 "This may not be Ardmore Park or The Marq on Paterson Hill, but it's very liveable and comfortable for upgraders. The luxury is in the details, in terms of space and storage, not the gold bling or diamante you see in some show flats."
Unblocked views
As the residential units start from the third level, more than half the units will have views. Units located above the sky garden on the 24th floor will be able to enjoy unobstructed pano­ramic views of the city skyline, the ­Singapore Botanic Gardens and ­Orchard Road, says Chiu. The units are also oriented in a north-south , so there is no worry about getting the afternoon sun, he adds.
A lot of attention has been paid to details, says George Tan, senior director of Savills Residential. Besides space, Artra's units are oriented such that residents can enjoy the view from their windows and balconies.
For instance, the corner three-bedroom+study units feature a spacious balcony that spans the living room and master suite. "The balcony outside the master suite is a great corner for enjoying a cigar and a glass of wine in the evenings," says Chiu.
Competitive pricing
The market indicative price for Artra is said to be in the range of S$1,600 to S$1,700 psf. There are competing projects in the neighbourhood, such as the 429-unit Alex Residences, which is expected to be completed later this year; the 373-unit Ascentia Sky, which was completed in 2013; and the 508-unit Echelon, which is fully sold and was completed last year. Next door is the 382-unit The Metropolitan, built in 2009. All are 99-year leasehold sites purchased through GLS.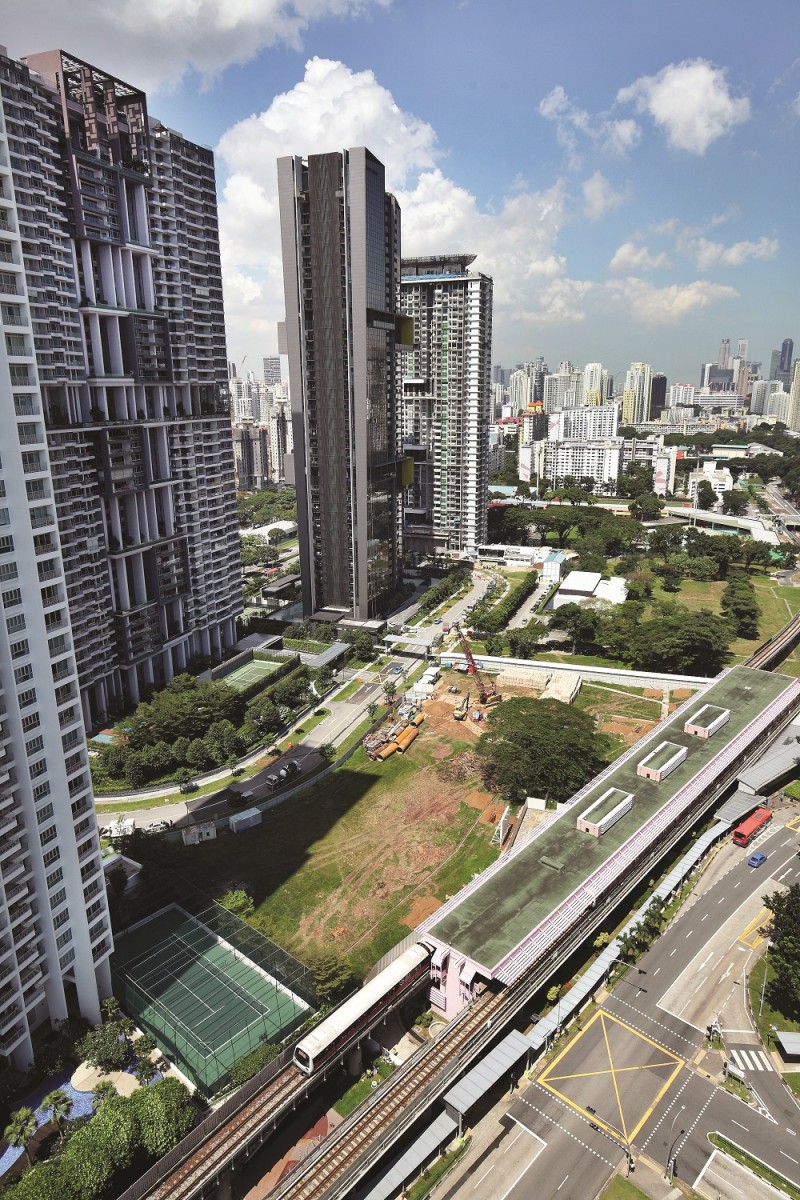 The most recent launch in the area was that of the 663-unit Prin­cipal ­Garden on Prince Charles Crescent, across the road from the Artra site. The project by UOL Group and Kheng ­Leong was launched in October 2015 at an average price of S$1,600 psf, and is about 65% sold. Units sold over the past month ranged from S$829,000 (S$1,675 psf) for a 495 sq ft, one-bedder to S$1.91 million (S$1,776 psf) for a 1,076 sq ft, three-bedroom apartment.
Meanwhile, adjacent to Principal Garden is the 469-unit The Crest by a Wing Tai-led consortium, which ­recently obtained its Temporary Occu­pation Permit. Since the start of the year, units have been sold at prices ranging from S$1.155 million (S$1,731 psf) for a 667 sq ft, one-bedder on the 10th floor to S$2.9 million (S$1,716 psf) for a 1,690 sq ft, four-bedroom apartment on the 15th floor, based on caveats lodged in January and February.
Instead of cannibalising each ­other's sales, the new projects launched have instead "increased the level of attractiveness of the Alexandra neighbourhood", notes Knight Frank's Tay. Artra's attributes — spacious and comfortable unit sizes, ­seamless access to a childcare centre, retail amenities and the MRT station — would be the main draws for homebuyers, he adds.
Far East Consortium's Chiu is po­sitive about the market. "­Sentiment is definitely better and new-home sales have certainly rebounded," he says. Therefore, the developer will preview Artra on the weekend of April 15 and16, with sales to start on April 29.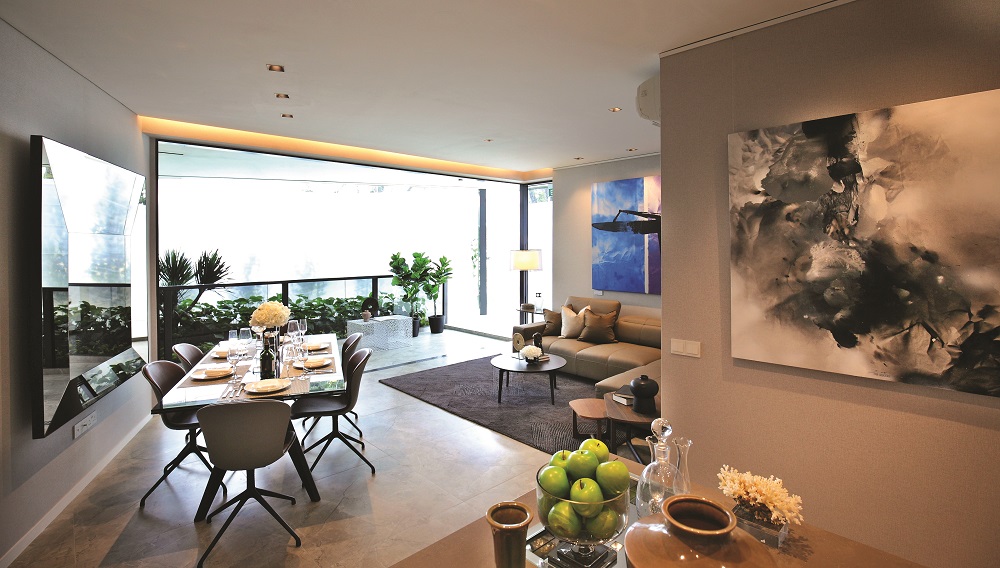 This article first appeared in The Edge Property Singapore, a pullout of The Edge Singapore, on April 17, 2017.
For more stories, download TheEdgeproperty.com pullout here for free.
LOADING...
Get More From EdgeProp.my