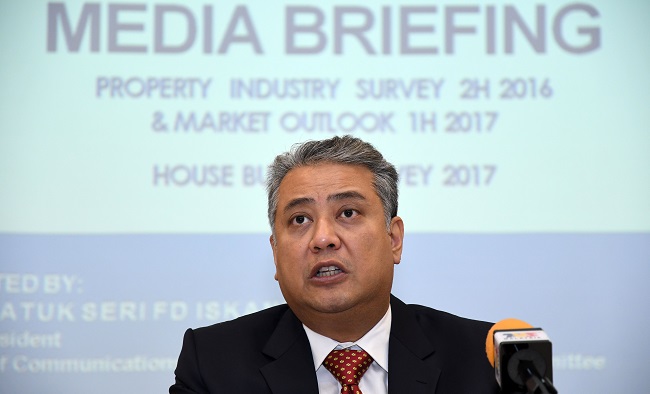 KUALA LUMPUR (April 19): The Real Estate and Housing Developers' Association Malaysia (Rehda) has once again called on the government to review its property cooling measures to boost property sales.
Speaking during a media briefing on Rehda's Property Industry Survey 2H2016 and Market Outlook 1H2017, president Datuk Seri FD Iskandar Mohamed Mansor said measures taken by the government to reduce household debt have seen some results as the latest rate was down from 89.3% to 87.6%.
"Mortgages which made up half of total household debt have declined. But car loans have increased. Good debt is something that will enhance value for you 99.99% of the time. If you buy a car, your car value will depreciate by 30% but if you buy a house, its value will appreciate. Good debt and bad debt, they are different. We hope the authorities can look into this," FD Iskandar said.
On the loan rejection rate, FD Iskandar said based on feedback from Rehda members, loan rejections continue to pose a problem to potential buyers. However, according to Bank Negara Malaysia data published in the National Property Information Centre's Malaysia Property Market Report 2016, the loan applications to loan approvals ratio was 52.1% last year, a slight improvement from the year before.
On the issue of oversupply, FD Iskandar said the market needs more homes, especially in the cities.
"Take Kuala Lumpur as an example, we have about 7 million to 7.5 million population. By 2020, we will have 10 million, meaning 2.5 million to 3 million of new people are coming to live in the city. We cannot stop building because there is demand and we have to keep building to make property affordable".
Nevertheless, he added that developers should study the need in the area before launching new products.