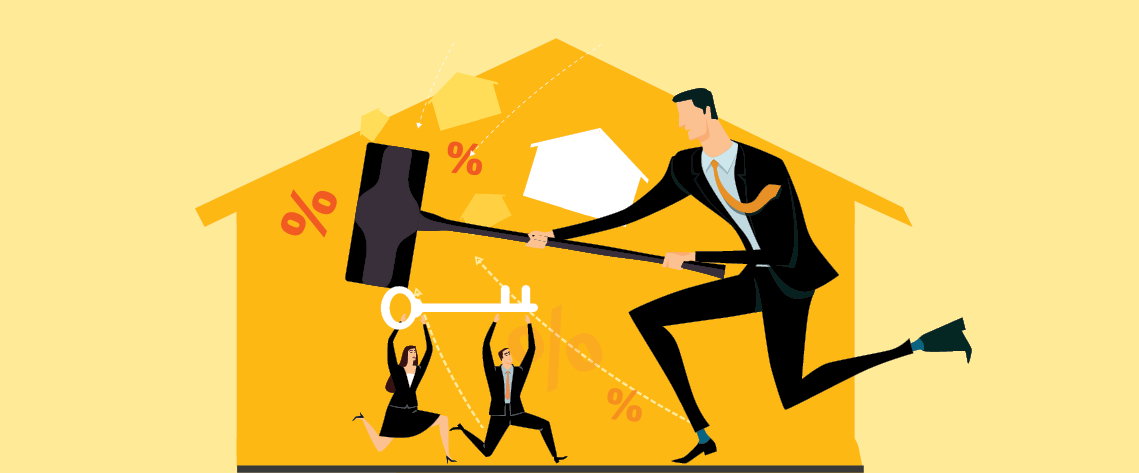 Looking for bargain properties? Some people may consider looking at properties that are being auctioned off.
Especially during a property market slowdown like now, the auction market could be a place to find a bargain, especially for high-end properties.
"There seems to be more high-end condominium units valued at more than RM1 million put up for auction now. If the economic situation continues to be sluggish, we may see more owners of high-end homes defaulting their loans," says Property Auction House Sdn Bhd executive director Danny Loh.
However, keep in mind that even though you may be interested in a certain unit up for bid, as a buyer, you may still face a problem getting financing right now.
"[Also], many investors are reluctant to commit [into buying a property] now as they foresee a further downside of the property market. Fewer qualified buyers mean that the same property may need to go through more than one round of auction before it can be sold off," he concludes. The reserve price goes down 10% after every round of auction.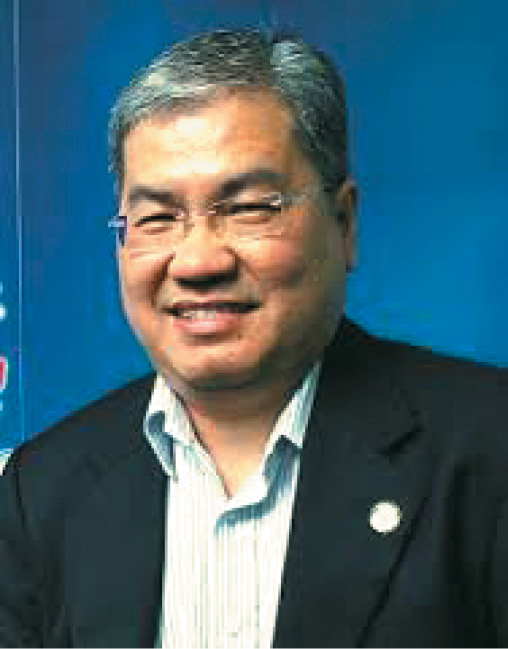 Properties on auction are sold on an "as-is-where-is" basis. Thus, one should have a clear picture on the property's value.
AuctionGuru.com.my executive director Gary Chia says bidders need to understand the sale conditions of a particular unit on auction as each case may come with different conditions.
Besides, some properties may have a private caveat attached to them. This means that the property has been secured by other bidders but is still qualified to be auctioned. A property with a private caveat will not be financed by financial institutions. However, the caveat can be removed by filing an application to the court. This will take about two to three months, says Chia.
In fact, purchasing a foreclosed home is not a simple process and there are many things that one should be aware of. You certainly do not want the property you purchased to turn out to be more trouble than value.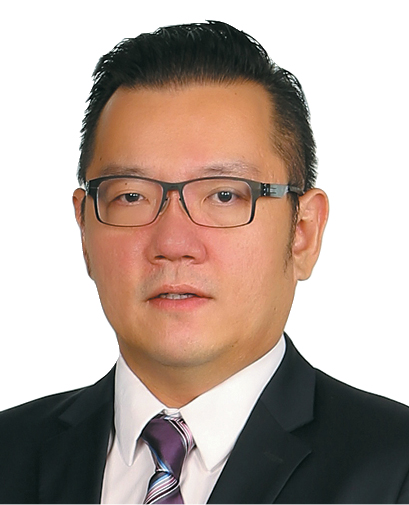 Here are the good and bad about purchasing auction properties in Malaysia.
Pros:
1. Fixed selling/auction dates
2. Selling price, seller's particulars and property details are open for all to see
3. Possibility of purchasing a property below market value
4. Equal competition among potential buyers during auction
5. Wide range of property selections (commercial, residential, land)
6. Seller may benefit from higher selling value due to competitive bidding
Cons:
1. No sales track record of the auction property
2. Complex sale conditions and bidders may not know what they are getting themselves into. Bidders are advised to always obtain a copy of proclamation of sale and conditions of sale from the auctioneers or lawyer, and read it through carefully and to understand what charges are undertaken by financial institutions and what are not.
3. Private caveat on property. A property with a private caveat will not be financed by financial institutions.
4. No vacant possession – the current occupiers of the property may refuse to vacate the property and the successful bidder may have to vacate the occupiers at own cost
5. Outstanding or hidden charges, such as maintenance charges, will have to be settled by the successful bidder as these charges are not borne by the financial institutions
6. Unable to view the interior of the property prior to auction
7. Bidder may overbid when caught up in a competitive bidding environment. Bidders should always be aware of their budget and check with the bank on the maximum loan amount available.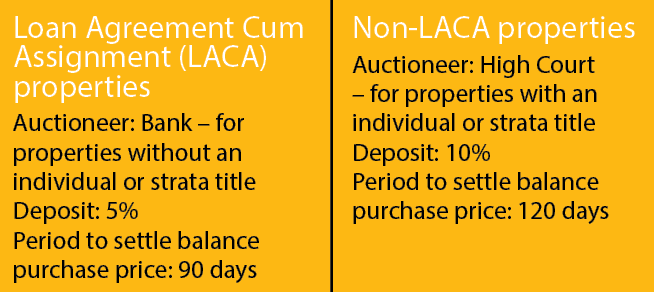 Steps to purchasing a foreclosed home:
1. Identify the property — Take note of the property description, the address and other relevant information. Set your objectives first. What are the purposes of buying? For own occupation, renting or long-term investment?
2. Inspect the property — You are not able to view the interior of the property because the bank does not have the keys to the property, but you can view the exterior and surrounding area.
3. Talk to auctioneer or sales agent — Interested buyers are encouraged to engage auctioneers or estate agents familiar with the property for more details.
4. Prepare bank draft — Prepare a bank draft equivalent to 5% deposit of the reserve price for Loan Agreement Cum Assignment (LACA). For non-LACA properties, the deposit is 10%. Also, be prepared to top up the difference between the deposit of the reserve price and the deposit of the final sold price immediately after the auction.
5. Read the fine print before the auction commences — Take your time to read and fully understand the terms and conditions of sale. If you need any clarification, seek guidance from the auctioneer before the auction commences.
This story first appeared in TheEdgeProperty.com pullout on June 9, 2017. Download TheEdgeProperty.com pullout here for free.