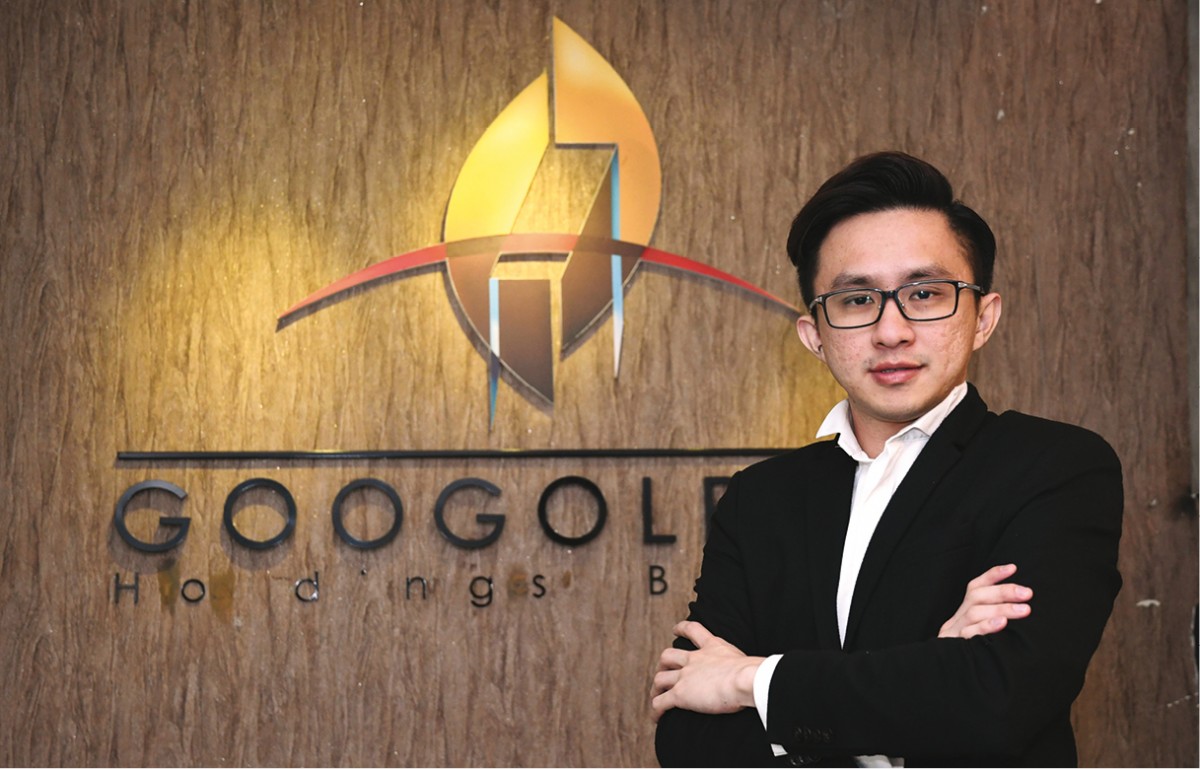 Googolplex Holdings Bhd was set up only four years ago but it is making large strides in its core business of project marketing.
Co-founded by Christopher Liang Tian Kiat, his brother and a friend in 2013, Googolplex is anchored by its project marketing agency Gplex Realty Sdn Bhd.
Having achieved RM1 billion sales last year, the group is aiming to triple that sum this year. It is also working on expanding beyond project marketing. It has an array of businesses in the works such as property development, property management, boutique hotel chains and co-working spaces.
"For 2015, we achieved RM1.3 billion sales, while in 2016, it went down a little where we achieved RM1 billion sales. The slowdown in the property market affected us last year," says Liang, who is Googolplex Holdings' group CEO.
"But I would like to think that we have done well so far, considering that it was a tough market. We are confident we can achieve RM3 billion this year. It may sound like a ridiculous target but we are bullish about it. We have achieved over RM1 billion sales so far," Liang tells TheEdgeProperty.com.
Gplex Realty currently has nine offices in Malaysia — four in the Klang Valley and one each in Johor Bahru, Melaka, Ipoh, Kuantan and Penang.
It is looking to open another four to six offices in Malaysia, earmarking locations such as Sabah, Sarawak, Johor Bahru, Kuala Lumpur city centre, Mont'Kiara (KL) and Setapak (KL).
Gplex Realty focuses on project marketing for developers, and the key to setting itself apart from other players in the industry lies in the company culture.
"To compete with others, we realised that we need to be different, if not outstanding. So the company culture is very important to us."
Googolplex's company culture emphasises on integrity and professionalism, as these values help propel the company's vision and ambition in being a leader in its business relationships, he says.
"The turnover rate here is very low because we have created a positive culture including providing training for our staff to have a continuous learning environment," he adds.
Liang attributes the high retention rate to its fair operating system, positive company prospects, ample promotion opportunities and benefits.
Prior to Googolplex, Liang was in the telecommunications industry and had set up his own business as one of the marketing partners of Telekom Malaysia Bhd. The accounting graduate then ventured into property marketing after trying it out with several major property developers and realised the huge potential in the business.
He was named among Malaysia's Top 100 Most Influential Young Entrepreneurs by the Ministry of International Trade and Industry in 2016.
Liang admits that there were quite a few challenges during Googolplex's rapid expansion but he believes the culture and system in the company have helped kept it in good stead.
"A good system and culture that is duplicable will ensure consistency in each of the new offices that we have set up, so we usually assign one of the project marketing leaders from our headquarters here in Petaling Jaya to set up the new office," he explains.
Moving into property development and hospitality
Besides opening new project marketing offices, Liang said Googolplex Holdings is also looking to launch three themed hotels under its hospitality arm, Googolplex Hospitality, in 2018.
"For 4Q2017, we will be opening a boutique hotel in Sungai Lembing, Pahang, as it is a tourist hotspot. We are still finalising details of the other two themed hotels but our hospitality business is heading in the eco-tourism direction.
"In 2H2018, we aim to launch our first condominium project in Broga Hill [in Negeri Sembilan] via a joint venture," he says, declining to reveal details of the development.
Googolplex's ultimate goal is to be listed on the Hong Kong Stock Exchange by 2021, says Liang, adding that Gplex Realty is planning to venture into markets in Southeast Asia such as Vietnam, Indonesia and Cambodia early next year.
This story first appeared in TheEdgeProperty.com pullout on July 14, 2017. Download TheEdgeProperty.com pullout here for free.