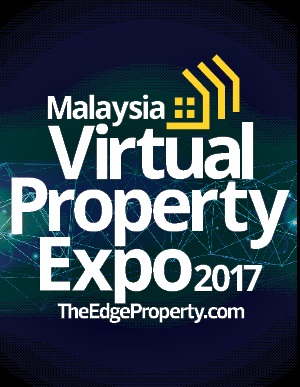 TheEdgeProperty.com's Malaysia Virtual Property Expo 2017 (VPEX 2017), which makes its maiden run from July 21 to 31, is stamping its mark as the first-ever online expo in the country.
Organised by Malaysia's fastest growing property portal TheEdgeProperty.com, VPEX 2017 features 20 established property developers offering more than 50 projects. 16TWO Communication Labs Sdn Bhd is the digital partner of VPEX 2017. The Gold and Silver sponsors are Panasonic Malaysia and Lafarge Malaysia Bhd, respectively. AirAsia Bhd, Grab Malaysia and Nippon Paint Malaysia are the supporting partners. The media partners for the event are The Edge Malaysia, TheEdgeProperty.com Singapore and BFM.
Participating developers of the first virtual property expo in the country can consider themselves "digital pioneers" at the forefront in keeping up with digital advancements in the industry. The pioneering developers include Gamuda Land, IJM Land Bhd, IOI Properties Group Bhd, S P Setia Bhd, Eco World Development Group Bhd, Mah Sing Group Bhd, Eastern & Oriental Bhd, UEM Sunrise Bhd, Malaysian Resources Corp Bhd, Matrix Concepts Holdings Bhd, Tropicana Corp Bhd, Aseana Properties Ltd/Ireka Corp Bhd, LBS Bina Group Bhd, Sime Darby Property, Paramount Property, Orando Holdings, Putrajaya Holdings, PNB Development Sdn Bhd, TAHPS Group Bhd and the UK's Ballymore Group.
The virtual property expo is not just about having the latest property projects under one website — it also aims to be a one-stop centre for those interested in buying property while providing an easy and engaging user experience for them.
"VPEX 2017 is more than just about digitising the footprints of customers who visit traditional property fairs and showrooms. Buyers can check out over 50 property projects any time and anywhere with any device that can be connected to the internet," offers TheEdgeProperty.com managing director and editor-in-chief Au Foong Yee.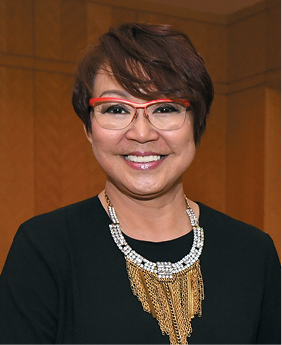 If you are interested in a particular project, you can connect with the developer who will have their personnel waiting on standby to have a live chat with you.
"The live chats with the participating developers allow the visitors to receive immediate response on their queries regarding the projects. And the visitors can take their time visiting the 'booth' or the showcased project without having a sales person breathing down their necks, thus giving them more privacy," she adds.
Another key advantage of VPEX 2017 is the versatility and convenience it offers to those seeking their dream homes. You do not have to manoeuvre through traffic to get to the expo.
VPEX 2017's website enables visitors to filter and search for a property based on their requirements, such as price range, property type and name of developer — similar to buying something from online shopping portals, says Au. For the participating developers, the virtual property expo, which is stretched over 11 days, provides more than just a three- or four-day exposure as in a physical fair. It also need not be dismantled and will continue to be hosted on TheEdgeProperty.com and, as such, will not incur any set-up and tear-down costs.
"It will be a great opportunity for the property developers to provide an enhanced and unprecedented experience for their potential buyers and customers who do not have the intention to visit a physical property fair or showroom in the first place. They can provide virtual tours of their projects on exhibition and connect via live chats with potential buyers on the website," notes Au.
She points out that with the help of technology, TheEdgeProperty.com will work with developers to retarget and remarket their projects to potential buyers based on the visitors' behaviour.
"We are very excited about VPEX — it is about the future. The ability to capture more and better data that enable the continuous understanding of insights into customer behaviour can determine if the traditional offline business of brick and mortar can stand the test of time," says Au.
She believes that being open to and embracing change will drive the business. Hence, with the first such digital endeavour in Malaysia, TheEdgeProperty.com aspires to raise the competitive edge of Malaysian developers, especially those who seek to create a bigger presence both within and outside of Malaysia, with VPEX 2017.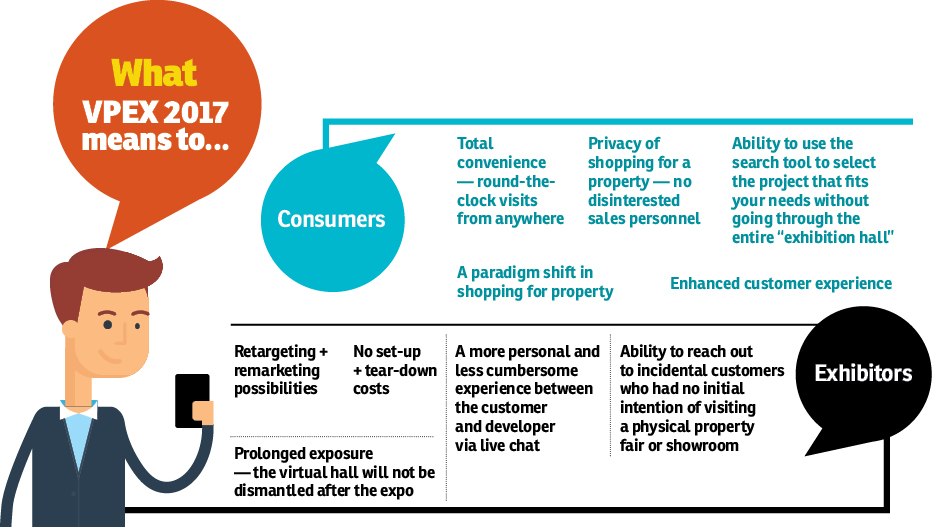 Facebook Live shows
Buying your next home? Should you consider a new housing development address or go for the already established townships? What are the pros and cons?
Tune in to the The Edge Property Malaysia Facebook page on Saturday, July 22, to join TheEdgeProperty.com research manager Aisyah Che Mahzan as she shares insights with a presentation titled "New development areas are making waves. Should you jump on the bandwagon?".
The FB Live session is a live-streaming feature on The Edge Property Malaysia FB page on Saturday, July 22 and Sunday, July 23, from 3pm to 5pm. This is held in conjunction with Malaysia's first-ever virtual property expo
organised by the property portal.
Some of the personalities taking part in this exclusive VPEX 2017 Facebook Live showcase include prominent entrepreneurs and lifestyle personalities such as Chur Associates founder and managing partner Chris Tan; international model Amber Chia; The Luxe Nomad founder Stephanie Chai; Amtrol Flower Designing founder Eunice Teo; Green Man Matthias Gelber; EPIC Collective CEO John-son Oei; TV host and fashion entrepreneur Shalma Ainaa; popular blogger and entrepreneur Timothy Tiah; and Tandemic co-founder and CEO Kal Joffres.
There will also be interviews with three leading property developers in the country, namely Mah Sing CEO and executive director Datuk Ho Hon Sang, IJM Land managing director Edward Chong Sin Kiat and Malaysian Resources Corp Bhd chief operating officer of property division Lok Ngai Hey.
Attractive prizes and freebies

Thanks to the generous sponsors and supporting partners, VPEX 2017 will be running a contest where daily prizes will be given away. There are RM10,000 worth of prizes from Panasonic Malaysia and up to 500,000 points of AirAsia Big Points and flight tickets to anywhere within the airline's network.
For those interested in visiting the physical show galleries of the participating developers, there are special promo codes by Grab Malaysia they can use to get them there.
Visitors to VPEX 2017 can also get free personal credit reports sponsored by Gamuda Land and TheEdgeProperty.com. Terms and conditions apply. http://vpex.theedgeproperty.com.my/
This story first appeared in TheEdgeProperty.com pullout on July 21, 2017. Download TheEdgeProperty.com pullout here for free.