I-Bhd's Tan Sri Lim Kim Hong and Puan Sri Tey Siew Thuan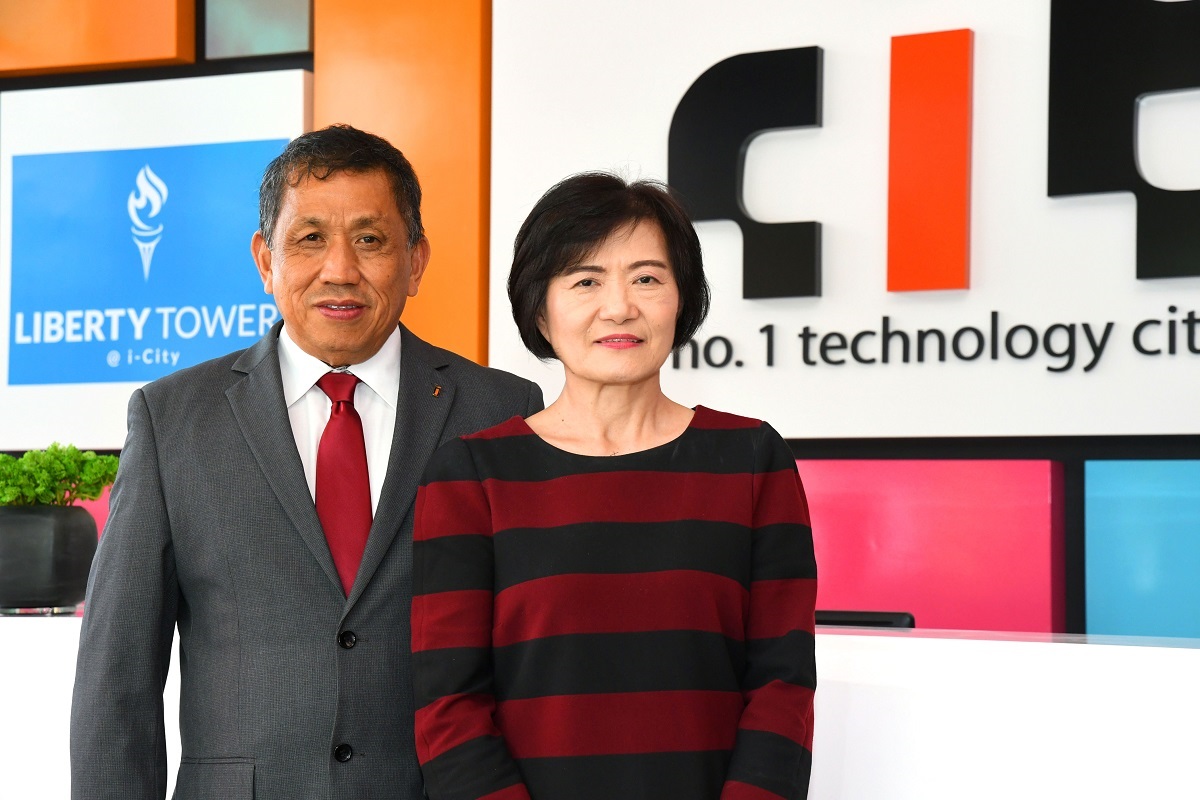 Drive along the Federal Highway towards Klang in the evening and you will come across the colourful LED-lighted landscape of i-City, an ultrapolis taking shape across 72 acres of freehold land in Section 7, Shah Alam, Selangor.
Developed by I-Bhd, the information and communications technology (ICT)-based urban development is a fully integrated city, comprising corporate, leisure and residential developments including the upcoming 1.5 million sq ft Central i-City Shopping Centre, a convention and performing arts centre, office towers, office suites, international hotels such as DoubleTree by Hilton and Best Western, high-rise residential towers, and data centres.
i-City is also an MSC Malaysia Cybercentre-certified development, a world reference site for Cisco's Smart+Connected Communities, endorsed as an international park by the Selangor state government and as a tourism destination by the Ministry of Tourism and Culture.
Interestingly, the creator of i-City is not someone with a strong IT or development background, but a manufacturing tycoon in the '80s — I-Bhd executive chairman Tan Sri Lim Kim Hong.
Restarting from zero
Hailing from a small town in Muar, Johor, Lim was a humble furniture maker before he emerged as a very successful entrepreneur. He was known as the "mattress king" after introducing the spring mattress in Malaysia and founded the well-known Dreamland brand of mattresses. Lim went on to own a public-listed company as well as 11 factories in China in the '80s and early '90s.
However, in 1993 he disposed his 55% stake in the listed company for RM350 million to embark on a new venture — property development.
"Once a decision has been made and the direction has been set, I will firmly and wholeheartedly move forward. This is why I only do one single thing at a time," Lim tells TheEdgeProperty.com at i-City sales gallery while his wife Puan Sri Tey Siew Thuan, who is also I-Bhd executive director, nods.
"Yes, that is one of the good things about Tan Sri," Tey chips in.
She went on to recall how Lim progressed from the manufacturing business to finally finding business sustainability in property development.
"When he told me he wanted to wrap up his manufacturing business and start something new, we had a long talk. I was convinced in the end and gave him my full support," Tey says.
Back in the 1960s in a quiet little village in Muar, Lim and Tey grew up together, fell in love as teenagers and tied the knot when Lim was only 21 and Tey was 17.
"We were from a small 'kampung'. Life was very simple back then and most people got married at a rather young age. I think it was good as I can focus on my career after I have established a family," Lim muses.
And like most families those days, Tey became a housewife who took care of their two boys while Lim was the breadwinner. That was how it was until their two sons graduated from university and started their own careers. It was only eight years ago that Tey took on her new role as executive director of I-Bhd in charge of branding and project management.
"My two sons were not interested in the business [I-Bhd], so the mother has no choice but to join the company and help me," Lim quips.
"She has always been a good wife to me, a good mother to my children and a good leader to the team. She is very supportive — I cannot ask for more from her."
"I do not have a lot of experience in running a business. I took the role because I didn't want him [Lim] to work alone. I hope I can do something to contribute to the family, my husband's career and the society," says Tey with a smile.
Over the past eight years, I-Bhd's flagship development of i-City has been gradually taking shape. According to Lim, the development has a gross development value of RM9 billion today compared with RM1.5 billion when it first began.
"Some 50% of the total land of i-City has been completed or is under construction. The entire development will have 28 buildings. Hopefully, with advanced building technology, the entire development can be completed in another eight to 10 years," Lim says.
A total of 4,000 residential units have been sold so far and I-Bhd has handed over some 1,600 units with roughly 70% of them occupied.
"Population is very important in bringing up a successful development. We need people to activate the place and build the vibrancy. I'm happy with the occupancy rate and the overall progress. But I would be even happier if people changed their impression of living in Shah Alam," Lim says.
Even though the entire development is now on track, Lim and Tey continue to work tirelessly to attain new milestones for the development and the company.
"We have strong fundamentals and a good name. The next step is to make the place an entertainment and tourism hub in Shah Alam. We want to make this a unique development and hope there will be i-City 2, i-City 3 and so on in other parts of Malaysia in the future.
"It is a long-term battle. Although both of us are getting old, we have a young and talented team. We are very open to professional opinions. We just need to keep learning before we are phased out," Tey quips.
The couple works an average of 10 hours per day, five to six days a week.
"We try to keep our Sundays free. We have the tacit understanding of not talking about work on Sunday," says Lim.
Having spent almost 50 years together, Lim believes the key for a long-lasting marriage, especially for a couple running a business together, is implicit understanding.
"We know when to do what. For example, when she is enjoying her own time reading newspaper, listening to music or doing her daily exercise, I just leave her alone because this is the time she is trying to clear her mind and de-stress," Lim shares. "It is sometimes unavoidable to bring work back home, but we need to know when to stop because home is for family, not work."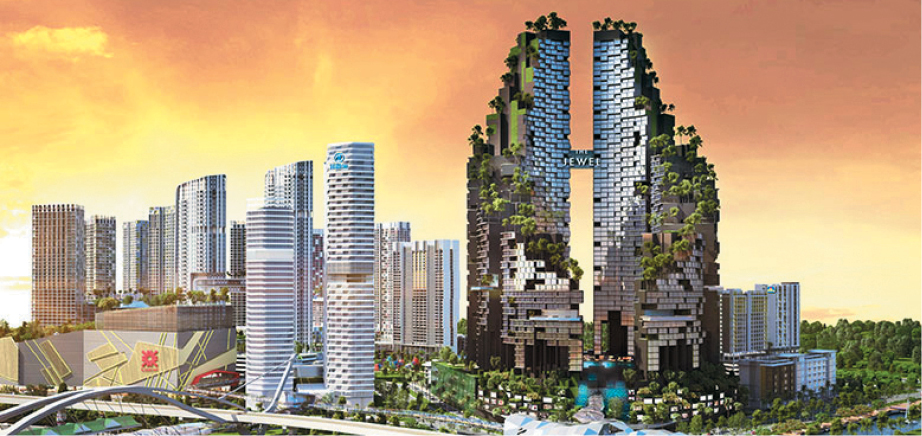 Recipe for a successful partnership
What makes for a successful partnership in business and as husband and wife?
Lim: It is important to understand each other's strengths so you will know how to best achieve something based on your strengths. We should play our roles well both at work and within the family and complement each other.
Tey: It is also very important that the couple shares the same vision and always remember what they are fighting for. When both of you have the same vision, it is easier to solve arguments at work because whatever decision made has to be favourable towards the vision, not to either of us as individuals. The same goes for family matters. We must share the same principle in maintaining the relationship between family members. I believe that by sharing the same dream, it could bring us through all the challenges, be it work or family.
How do you complement each other at work? What do you do when you disagree with each other?
Lim: My wife is a meticulous person. She is very organised, cautious and very clear about what she is doing. She is more rational while I'm more creative. I always think outside the box in doing things. Whenever I have some new ideas, she would discuss with me the potential and workability.
Living and working together for so many years, of course we will have arguments. But we have never had any big fights because we always go back to the shared vision and principles that we have both agreed on from day one. We will sit down and discuss the best way to solve the problem. Even though I have more experience in doing business, it doesn't mean I am always right. Many times my wife has inspired and brought in new ideas.
Tey: One special aptitude Tan Sri has is his entrepreneurship. You can have a team of professional talents in design, architecture, account, management and so on, but not everyone is born with the entrepreneurship prowess like Tan Sri has. No matter how strong the team is, you still need someone like him to take the lead and bring the team forward. I think we complement each other well because we understand what we do best — he in marketing and business direction, while our team and I in supporting and making the vision come true.
We do argue over work and family issues but we also sit down and discuss the matter calmly and always remind ourselves what our ultimate vision and principles are.

Recovery only after general election
While I-Bhd executive chairman Tan Sri Lim Kim Hong agrees that Malaysia's property market in recent years has been at a low point of the cycle, it has not affected the performance of I-Bhd much.
I-Bhd posted strong financial results for the first quarter ended March 31, 2017 (1QFY2017), mainly due to the continued strong demand for properties in i-City, Shah Alam.
In 1QFY2017, I-Bhd's net profit rose by 21% to RM18.59 million y-o-y. Revenue also came in 27.8% higher at RM102.84 million from RM80.45 million a year ago.
"Market conditions have not been as good over the last few years but i-City is not affected much because our project is unique. i-City is the first intelligence integrated lifestyle development in Shah Alam. We are providing new property options to the vicinity. With this project, we hope to contribute in upgrading Shah Alam and making it a place that everyone wants to move in to," says Lim.
The latest launch at i-City, Hill10 Residence, has received good response without much advertisement. Lim attributes the achievement to its Internet of Things features. "Intelligent urban living is our development direction. This concept has been widely accepted by the public."
Hill10 Residence offers 200 limited apartment suites, with built-up sizes ranging from 480 sq ft to 880 sq ft in three different layouts. There will be 11 residences per floor, serviced by four lifts. The residences will be located from Level 24 to 42 with double-volume lobby at the ground floor and a cantilever rooftop infinity pool at Level 43.
While location and price points are very important factors in determining the success of a project, Lim says the development concept is just as important.
"Price is very sensitive when the market is soft. You can sell cheap properties by building smaller units but it may not help you to outdo your competitors. Your project is special and irreplaceable only when you have a unique concept," he shares.
Lim also believes that the market will continue to be challenging until after Malaysia's general election.
"I think the overall environment is still pretty much the same although many have said the market is recovering now. However, I believe we are still at the low point of the cycle and we will continue to be until we have set a date for the election.
"We should be able to see a clearer picture after the election, perhaps half a year after the election, when the dust has settled regardless of the result. When the politics is stable, foreign investors will come to Malaysia and boost the local economy," he opines.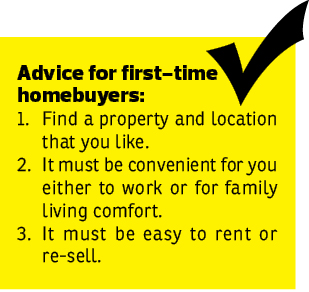 When opposites attract: Eupe Corp Bhd's Datuk Beh Huck Lee and Datin Michelle Gan Eileen
Cemented by decades of love: Kerjaya Prospek Group Bhd's Datuk Datuk Tee Eng Ho and Datin Toh Siew Chuon
Mixing business with marriage: M101 Holdings Sdn Bhd's Datuk Seth Yap and Datin Lea Chan
This story first appeared in TheEdgeProperty.com pullout on Aug 25, 2017. Download TheEdgeProperty.com pullout here for free.