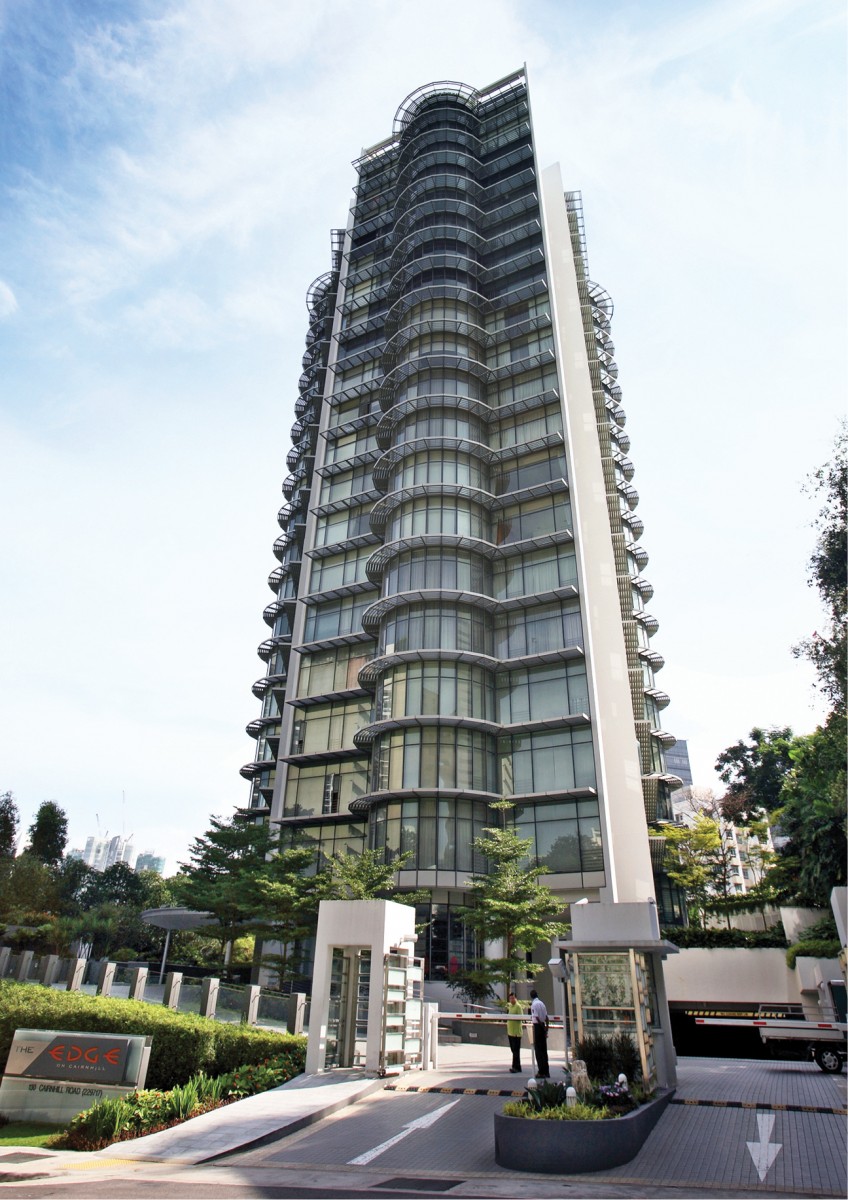 On Aug 15, a 5,673 sq ft penthouse at The Edge on Cairnhill in prime District 9 was sold at a S$2.22 million (RM6.9 million) loss, according to caveats lodged with URA. The two-storey penthouse with a roof terrace was put up for mortgagee sale at JLL's auction on June 22 at an opening price of S$7.7 million (S$1,357 psf) — S$1.8 million, or 19%, below its purchase price. It received no bids and was subsequently put up for sale by private treaty.
The unit was bought in June 2007 at S$9.5 million (S$1,675 psf), before the subprime mortgage crisis in the US developed into a global financial crisis. The final selling price of the unit was S$7.28 million, or S$1,283 psf.
The transaction marks the biggest loss at The Edge on Cairnhill since its launch. The property has seen four unprofitable transactions so far. Earlier this year, on March 30, however, a 1,550 sq ft unit on the second floor was sold at a S$470,000 (23%) profit, after a holding period of close to 15 years.
Between 2013 and 2016, The Edge on Cairnhill saw seven profitable deals and only one unprofitable transaction. These transactions occurred after property cooling measures such as an increased additional buyer's stamp duty (ABSD) took effect in January 2013. The loss incurred amounted to S$162,700 — for a unit on the 15th floor sold in April 2016 — while the other units, located between the third and 16th floors, fetched profits ranging from S$308,888 to S$1.6 million.
The Edge on Cairnhill is a freehold condominium located within walking distance of the Newton MRT Interchange and 1km from Anglo-Chinese School (Junior).
At The Cosmopolitan — another freehold condo in prime District 9 — the previous owner of a 1,399 sq ft unit sold it for a S$1.2 million (63%) profit on Aug 10. He had owned the unit on the 33rd floor for 11 years. The transaction marks the biggest profit for private non-landed houses sold between Aug 8 and 15.
On Aug 14, the seller of a 1,141 sq ft unit on the 14th level of The Cosmopolitan, who held it for a shorter period of 5.3 years, sold it at a S$169,050 (7%) loss.
Located within walking distance of the future Great World MRT station on the Thomson-East Coast Line, the 228-unit The Cosmopolitan by Wheelock Properties has seen nine profitable transactions this year — with profits ranging from S$150,000 to S$1.52 million for units between the 12th and 33rd floors. Meanwhile, the freehold condo saw only five unprofitable transactions this year, with losses ranging from as little as S$1,800 for a 16th floor unit held for close to six years, to S$270,000 for a 14th floor unit held for 4.4 years.
The most profitable transaction at The Cosmopolitan after its completion in 2008 was the sale of a 1,399 sq ft unit on the 14th floor in May 2013 for S$2,108 psf. The seller made a S$1.54 million profit after a holding period of 7½ years.
This article first appeared in The Edge Property Singapore, a pullout of The Edge Singapore, on Aug 28, 2017.
For more stories, download TheEdgeProperty.com pullout here for free.