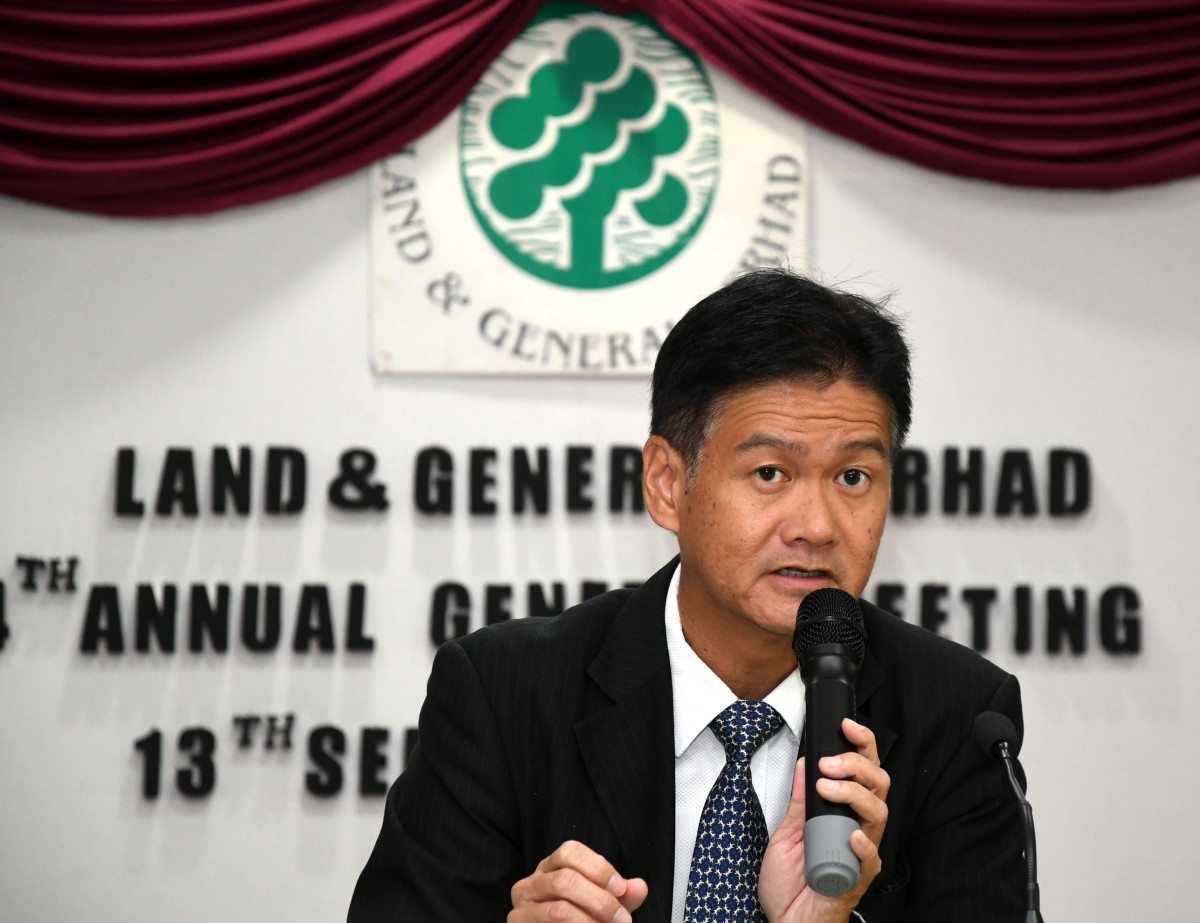 KUALA LUMPUR (SEPT 13): Land & General Bhd (L&G) plans to roll out two new projects worth a total of RM710 million in gross development value (GDV) within the next six months.
It plans to launch the first phase of Sena Parc in Senawang in November and Seresta @ Bandar Sri Damansara in February next year. Both projects have the GDV of RM230 million and RM480 million, respectively, L&G managing director Low Gay Teck told the media after the company's annual general meeting today.
Sena Parc is a township development located in Senawang, Negeri Sembilan. The first phase consists of 533 terraced and semidee houses with GDV of RM230 million.
Meanwhile, Seresta is part of Foresta @ Bandar Sri Damansara, Selangor. The serviced apartment project comprises 452 units with GDV of RM480 million.
Currently under construction is Astoria at Jalan Ampang, Kuala Lumpur. The first phase of the serviced apartment project was launched last year and had achieved 60% take-up. It is slated for completion in 2019.
"You may be aware that the company had completed some project acquisitions in May this year including a project at The Mines, Seri Kembangan. We plan to have the project take off by the end of next year. Same goes to a serviced apartment project located off Jalan Ampang — we are targeting to launch it by the end of next year as well," said Low.
To recap, early this year, L&G announced that it was acquiring five property development companies from Malaysia Land Properties Sdn Bhd. The proposal was approved by shareholders at an extraordinary general meeting in March. With the completion of the corporate exercises, L&G has the development rights to the landbanks under these five companies, located in Semenyih, Rawang, Serdang, Ampang and Sri Hartamas.
On its proposed 2,500-acre township development in Kerling, Selangor, Low said the company had submitted the master plan to the local authorities for approval. "Because of the huge land size, it is taking a longer time for approval, but this project will keep us busy for the next 15 years," said Low.
He added that the company will be focusing on its local projects even though its Melbourne residential project Hidden Valley is completing soon.
"Even if we do not include the 2,500-acre Kerling project, we still have a good 500 acres to develop. Of course we will not say no to good opportunities but we will not be aggressively sourcing for oversea development land," Low said.
On the local property market, Low noted that there has been greater buying interest this year compared with last year.
"The property market has improved based on our on-going sales of our projects. I believe properties priced in the range of RM500,000 to RM800,000 will still be good," Low concluded.