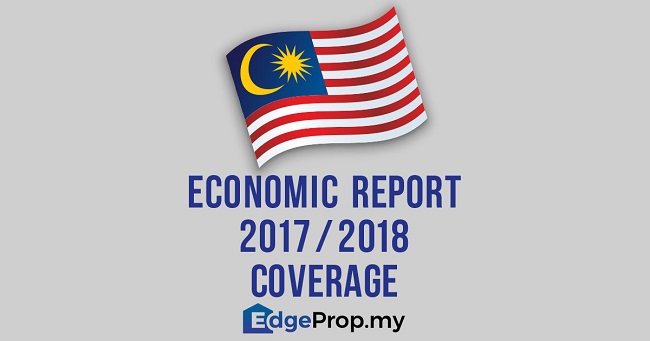 PETALING JAYA (Oct 27): Household debt repayment capacity remains solid as at end-July 2017, underpinned by steady income growth and stable labour market conditions, according to the "Economic Report 2017/2018".
"Total household financial assets grew 8.1% to RM2.34 trillion (end-July 2016: 4.4%, RM2.16 trillion).
"Deposits and deposit-like instruments continued to form the major component (43.2% of household financial assets, providing households with access to quick liquidity to meet any increase in expenditure," it stated.
* Budget 2018 highlights
* Residential take-up rose in 1H2017
* Residential overhang growth almost doubles in 1H17
* Average home prices rose in 1H17
* Non-residential property subsector up 4.9% to RM6.4b in 1H17
* Shop overhangs shot up 54.3% to 7,754 units in 1H17
* Purpose-built Office Rental Index continues uptrend in 2Q17
* Residential property loans grew to 8.8% of household debt as at July 2017
* Housing development expenditure likely more than halved in 2017
* Rail transport to drive connectivity
On the other hand, household delinquencies and impairment for total loans stayed low at 1.4% and 1.7%, compared with 1.5% and 1.7% as at end-July 2016.