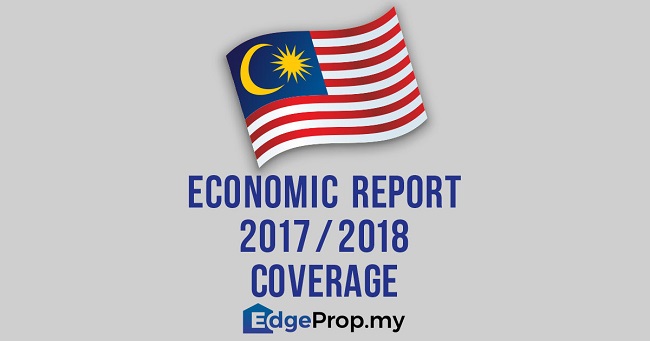 PETALING JAYA (Oct 27): The government will continue to improve public transport, particularly rail services, to propel connectivity and economic growth, according to the "Economic Report 2017/2018".
"The effort is in line with the aim of increasing public transport model share to 40% by 2030 and to meet the demands of the rakyat for a reliable, environment-friendly and modern mode of public transportation.
"Moreover, improved rail services will bring about efficient connectivity between the urban and rural areas, therefore spurring economic activities and contributing towards inclusive growth," it stated.
* Budget 2018 highlights
* Residential take-up rose in 1H2017
* Residential overhang growth almost doubles in 1H17
* Average home prices rose in 1H17
* Non-residential property subsector up 4.9% to RM6.4b in 1H17
* Shop overhangs shot up 54.3% to 7,754 units in 1H17
* Purpose-built Office Rental Index continues uptrend in 2Q17
* Residential property loans grew to 8.8% of household debt as at July 2017
* Household debt repayment capacity remains strong as at end-July 2017
* Housing development expenditure likely more than halved in 2017
The rail services in question are the electric train service (ETS), mass rapid transit (MRT), light rail transit line 3 (LRT3), East Coast Rail Link (ECRL), and High Speed Rail (HSR).
The MRT Sungai Buloh-Serdang-Putrajaya (SSP) line has a proposed alignment of 52.2km comprising 35 stations – where 24 are elevated and 11 are underground – and a total travelling time of one hour and 24 minutes.
It has a projected ridership of 529,000 passengers daily when full service starts in 2Q22.
Meanwhile, the LRT 3 will connect Bandar Utama to Klang with a 37km line that covers 26 stations and has a total travelling time of 58 minutes.
The LRT3 will be able to transport up to 36,720 people per hour and have trains with six modular cars that can travel up to 80kph.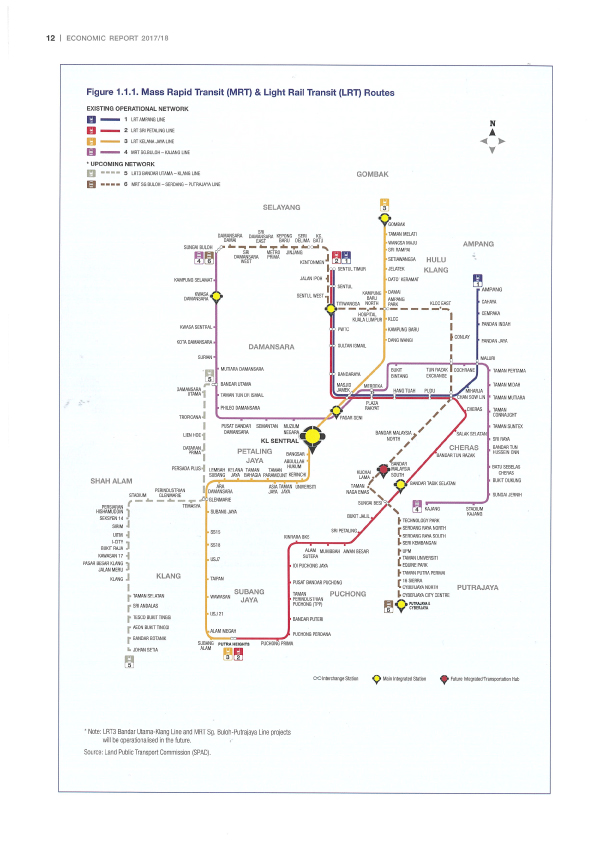 The line will also be the first rail project in Malaysia with green technology such as noise reduction system, improved energy management system, natural ventilation and rainwater harvesting technology at its stations.
Construction began in 2Q17 and is slated for completion by February 2021.
The ECRL spans 706.9km and is expected to link Port Klang to Pahang, Terengganu, and Kelantan.
The line is divided into three phases – phase one links Gombak in Selangor to Wakaf Bharu in Kelantan, phase two Gombak to Port Klang in Selangor, phase three Wakaf Bharu to Pengkalan Kubor in Kelantan.
Phase one commenced in August and is expected to be fully operational in 2024, where it will take only four hours to travel from Gombak to Kota Bharu in Kelantan, compared with at least seven hours by road.
Last but not least is the HSR, which will feature stops in Bandar Malaysia, Putrajaya, Seremban, Ayer Keroh, Muar, Batu Pahat, Iskandar Puteri, and Jurong East in Singapore.
It aims to be fully operational by end-2026.