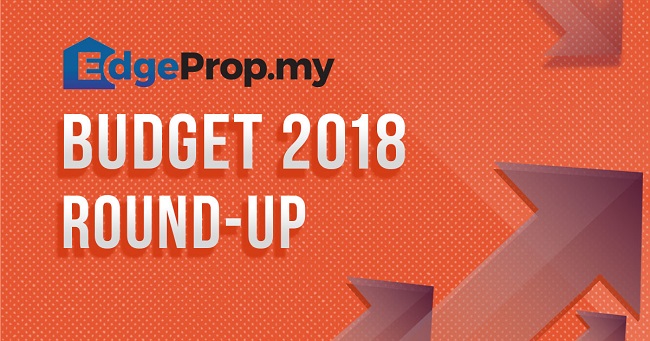 Here are the Budget 2018 highlights for infrastructure, housing and construction:
Infrastructure:
The MRT 3 or Circle Line's completion to be brought forward to 2025 — previous estimated completion was 2027. This will save RM2 billion in cost of construction.
The 52km MRT 2 Sungai Buloh-Serdang-Putrajaya Line will consist of 37 stations with estimated building cost of RM32 billion.
LRT 3 connecting Bandar Utama to Johan Setia, Klang is expected to be completed by February 2021.
The 350km high-speed rail connecting KL-Singapore within 90 minutes is expected to be completed by 2026.
Construction of East Coast Rail Link connecting Port Klang to Pengkalan Kubor, Kelantan — physical work to start from January 2018.
RM110 million to build an alternative road to Port Klang.
Allocation of RM5 billion for the construction of Lebuhraya Persisiran Pantai Barat from Banting to Taiping is now under construction.
Allocation of RM230 million in 2018 for the Central Spine Road project, which includes a link road from Raub to Bentong and link road that connects Gua Musang, Kelantan and Kampung Relong in Pahang.
Government has allocated RM2 billion for the Pan Borneo Highway construction in Sarawak — all the 11 construction packages have been awarded. However, the 35 construction packages of the phase 1 in Sabah have already awarded while 12 packages are now under tender process.
* Average home prices rose in 1H17
* Developers laud govt's move to reduce cost of living, boost home ownership
* MBAM had hoped for lower import duties on machinery and IBS incentives in Budget 2018
* Think tanks: More could be done to boost property sector
* PEPS: No measures in Budget 2018 to arrest current property market challenges
* Rehda pleased with Budget 2018, hopes state governments will follow suit
* Budget 2018 proposals could spur the market, say economists
* Budget 2018 is good, but has no big surprises, say developers
* 50% tax exemption on rent should be given to tenants, not landlords, says RISM
* CBRE | WTW: No news on DIBS, RPGT is good news
* Budget 2018 trains eyes on rental market
* HBA: Affordable housing policy needs to be targeted at the right segment
* Budget 2018 may boost the property market 'indirectly'
Housing:
RM2.2 billion is allocated for the housing sector:

17,300 units of homes under Projek Perumahan Rakyat;
3,000 units for program Rumah Mesra Rakyat under Syarkat Perumahan Negara Bhd;
210,000 units of homes under PR1MA priced below RM250,000 — RM1.5 billion will be allocated under this for two years;
25,000 units of homes slated for completion next year under PPA1M and 128,000 units more at various stages;
600 units of homes under My Beautiful New Homes or MyBNHomes for those under the B40 income group especially in states such as Terengganu, Pahang, Melaka, Johor, Sabah, Sarawak and the orang asli settlement area;
2,000 units of homes under MyDeposit to aid deposit payment and MyHomes programmes for developers to build more affordable housing; and
RM200 million for the maintenance and fixing of homes including the Tabung Penyelenggaraan 1Malaysia.

To encourage more homeownership, a step-up financing scheme introduced by PR1MA will be extended to private developers, subjected to the criteria set.
For abandoned projects, it is suggested for the exemption of stamp duty on the loan agreement and instrument of transfer to be given to the rescue contractor and original owner of the abandoned project, with effect from Jan 1, 2018 to Dec 31, 2020.
To encourage the residential rental market, for the first time in 60 years, exemption of tax will be given on rental income for residential properties of 50% for rental income up to RM2,000 a month for Malaysian residents residing in Malaysia. The exemption is given starting from 2018 to 2020. The government will also formulate the Residential Rental Act to protect the tenant and homeowner.
The management and maintenance services of stratified residential buildings supplied by the joint management body and management corporation, which are currently not subject to GST, are extended to cover the management and maintenance services provided by housing developers, from Jan 1, 2018.
For government servants, in order to aid them to own their dream home, starting from Jan 1, 2018, the Malaysia's Public Sector Housing Financing Board (LPPSA) will carry out these following measures:

Allow LPPSA funding on real estate developed on wakaf land;
Include legal fees relating to the provision of housing financing agreements as part of the LPPSA financing scope;
Allow joint or joint-loan financing from LPPSA, between spouses or children, provided that all applicants are members of the public service; and
Allow the mutual housing financing between spouses or children, provided that at least one applicant is a member of the civil service.

Meanwhile, applicants with non-civil servants must use the funding of financial institutions or agencies with their own housing financing schemes, which agree to be the second charge holder.
Construction:
RM1 billion to develop the southern region of Perak — including Proton City, Educity and Youth City, Tanjung Malim and Bukit Kayu Hitam tax-free zone — and building ports and industrial areas in Tok Bali, Kelantan, and access roads to Baleh Dam, Sarawak.
At a cost of RM112 million, 14 new sports complexes to be built across the country.
RM654 million to build four pre-schools, nine PERMATA centres including two for autistic children, 48 primary schools, secondary schools, vocational colleges and a matriculation centre.
RM2.5 billion worth of repairs via Industrialised Building System to be carried out over two years, with RM500 million for underprivileged schools in Peninsular Malaysia, RM1 billion for Sabah and RM1 billion for Sarawak.
RM164 million allocated to build 5,000 homes for second-generation Felda settlers with help from Syarikat Perumahan Negara Bhd.
RM720 million to build 11 police headquarters and six police stations, as well as to buy firearms and operation vehicles.
Preparing a blueprint for Perumahan Keluarga Angkatan Tentera to build over 40,000 units of homes in phases. Almost 6,000 units will be built in 2018.
RM40 million allocated to upgrade five hospitals and build four polyclinics and a hospital for military veterans.
RM1.4 billion to upgrade and maintain medical facilities, tools and ambulances, including the construction of a modular operating theatre in three hospitals in Muar, Banting and Balik Pulau.
Two blocks of women and children's wards, each with a capacity of 300 beds, will be built at Hospital Tengku Ampuan Afzan and Hospital Putrajaya at a cost of RM1 billion.
A cancer centre with a capacity of 200 beds will be built in Sungai Petani at a cost of RM500 million.
A block of specialist clinics and new wards with a capacity of 300 beds in Hospital Pulau Pinang will be built at a cost of RM500 million.
A world-class forensics centre will be built in Hospital Kuala Lumpur at a cost of RM380 million.
Full GST waiver on construction services for schools and places of worship that are funded through approved donations. This waiver takes effect for contracts signed from April 1, 2017.