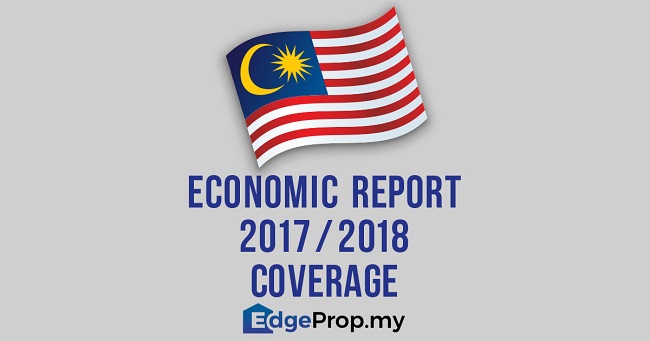 PETALING JAYA (Oct 27): The take-up rate for residential property units rose 23.9% with 6,775 units in the first half of 2017 (1H2017) from 1H2016 due to continued access to housing loans, especially for first-time homebuyers, according to the "Economic Report 2016/2017".
This led to a smaller contraction in the total value of transactions — by 0.3% to RM32.9 billion from RM33 billion in 1H2016, compared with the 9.6% contraction experienced a year ago.
However, overall residential property transaction volume fell 6.9% to 95,010 in 1H2017 from 102,096 a year ago mostly due to macroprudential measures to curb speculation and limit lending only to creditworthy borrowers.
* Budget 2018 highlights
* Residential overhang growth almost doubles in 1H17
* Average home prices rose in 1H17
* Non-residential property subsector up 4.9% to RM6.4b in 1H17
* Shop overhangs shot up 54.3% to 7,754 units in 1H17
* Purpose-built Office Rental Index continues uptrend in 2Q17
* Residential property loans grew to 8.8% of household debt as at July 2017
* Household debt repayment capacity remains strong as at end-July 2017
* Housing development expenditure likely more than halved in 2017
* Rail transport to drive connectivity
Overall, the residential property subsector in Malaysia grew by 4.7% in 1H2017, slowing from 8.5% over the same period a year ago.
The growth was underpinned by a "firm demand for affordable housing in choice locations with easy access", said the report.
Housing starts rebounded significantly by 12.1% to 67,662 units from 60,378 units a year ago, compared with a 40% contraction during the period.
Condominiums and apartments accounted for 42.9% of total housing starts but the increase was offset by a decline in incoming supply at 3.4% to 485,433 units [from 502,345 a year ago] as developers were cautious in launching new projects to prevent accumulation of unsold properties, it said.
In the same vein, new approvals dipped 2.8% to 43,133 units from 44,389 units as developers re-evaluated their plans according to market conditions.