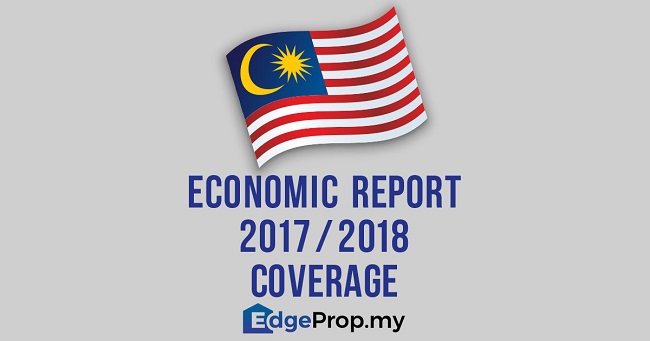 PETALING JAYA (Oct 27): Residential property loans made up a larger proportion of household debt – which rose by 5.1% to RM1.12 trillion as at end-July 2017 – expanding by 8.8%, according to the "Economic Report 2017/2018".
"Total household debt accounted for 85.6% of GDP as at the second quarter of 2017 (2Q17) (end-2016: 88.4%).
"The bulk of household debt was for wealth accumulation with 63% secured by properties and principal-guaranteed investments," it stated.
* Budget 2018 highlights
* Residential take-up rose in 1H2017
* Residential overhang growth almost doubles in 1H17
* Average home prices rose in 1H17
* Non-residential property subsector up 4.9% to RM6.4b in 1H17
* Shop overhangs shot up 54.3% to 7,754 units in 1H17
* Purpose-built Office Rental Index continues uptrend in 2Q17
* Household debt repayment capacity remains strong as at end-July 2017
* Housing development expenditure likely more than halved in 2017
* Rail transport to drive connectivity
However, the household debt growth moderated slightly from 5.8% to RM1.05 trillion as at end-July 2016.
"The moderating growth trend in household debt was mainly attributed to a series of prudential measures introduced by the government since 2010 to rein in debt accumulation of households.
"Households are also more cautious in acquiring debt and are mindful of their ability to pay," it continued.