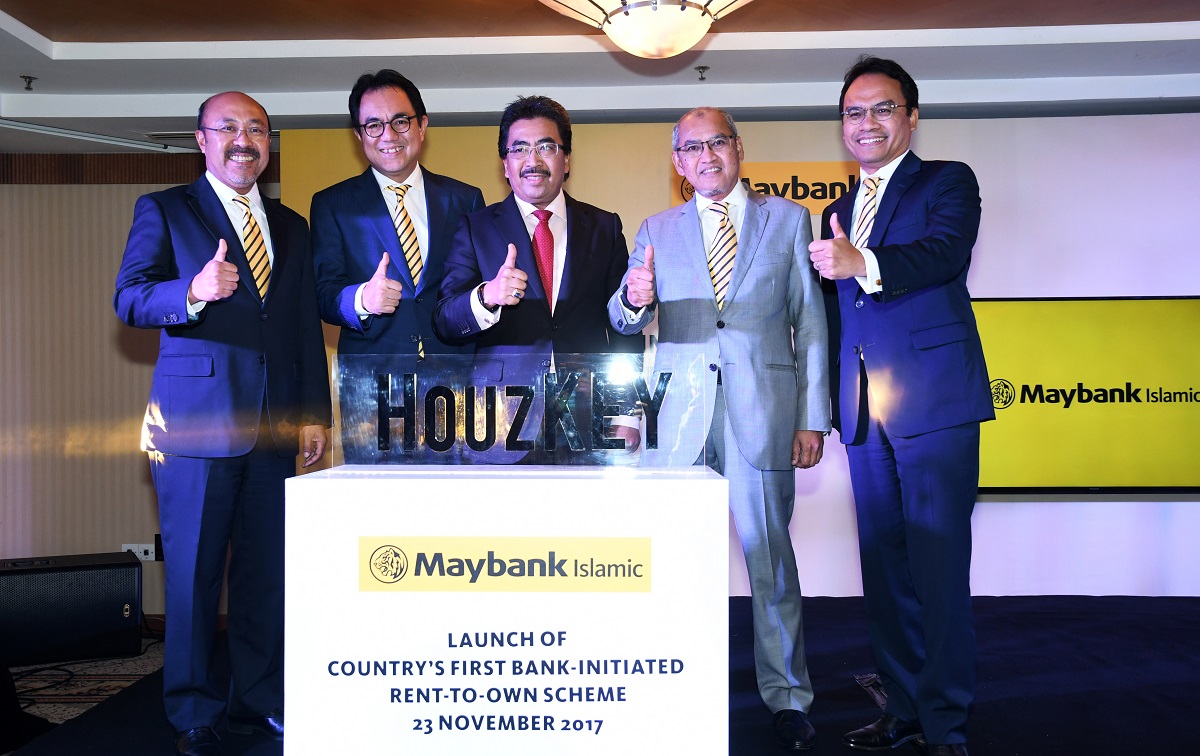 Forking out the 10% to 15% down payment for a home and securing a home loan often pose quite a challenge to homebuyers.
To ease homeownership against the backdrop of a challenging financing landscape, a leading financial institution in Malaysia, Maybank Group, has taken the initiative to introduce its very own rent-to-own (RTO) scheme. The scheme offered by Maybank Islamic Bhd will be available to the public in early 2018, following the pilot launch which is limited to the bank's employees.
* 100% stamp duty exemption on SPA for bank-initiated RTO schemes
* Maybank Islamic's rent-to-own scheme features five developers
Called HouzKEY, the pilot launch of this first bank-initiated RTO scheme was held today (Nov 23), officiated by Finance Minister II Datuk Seri Johari Abdul Ghani.
For the pilot launch, Maybank has partnered five prominent property developers in the country — S P Setia Bhd, Eco World Development Group Bhd, Mah Sing Group Bhd, Sime Darby Property Bhd and Gamuda Land — to offer homes in Kuala Lumpur and Selangor.
"The scheme will be open to the public in early 2018. We intend to progressively expand the listed properties to other states across Malaysia so that as many people as possible can benefit from this new product," said Maybank president and CEO Datuk Abdul Farid Alias in his speech at the launch. Also present were Maybank Islamic CEO Datuk Mohamed Rafique Merican and Maybank head of global banking Datuk Muzaffar Hisham.
HouzKEY is an alternative method of home financing by way of lease arrangement based on the Islamic concept of Ijarah (lease) that provides customers with the option to purchase the property.
Abdul Farid believes HouzKEY will make a difference for those looking to own a home but find affordability a challenge.
"It will be able to assist customers who have difficulties in securing homeownership due to the high initial costs. It offers the transparency they need and the certainty of their monthly rental commitments throughout the chosen tenure.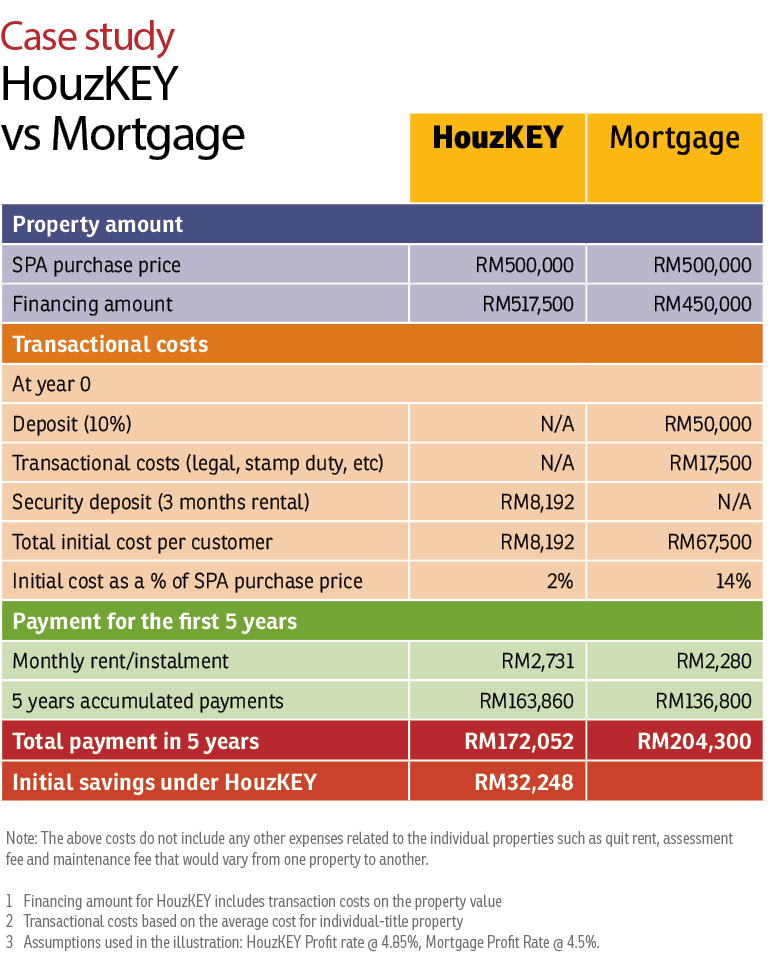 "It will also give them the opportunity to earn capital appreciation on their property via the cash-out option and, best of all, the option to purchase the property at a later stage but at a pre-determined price," he said.
HouzKEY is available on Maybank's fully integrated digital platform via its online portal — maybank2own.com.
"All properties available under this scheme will be listed on the portal. A customer can simply select a suitable property and make an application as well as submit the necessary documents online.
"A response will be given by the bank within one working day and the applicant then has seven days to sign a lease agreement for the property. This process not only provides customers a seamless experience but also peace of mind as we have included a 'live chat' feature on the portal for any enquiry or advice," Abdul Farid added.
Meanwhile, Johari announced a 100% stamp duty exemption on sale and purchase agreement for homebuyers who attain ownership through this scheme.
In his speech, he said the government welcomes such partnerships between industry players to craft initiatives such as HouzKEY.
"This will help to reduce homeownership issues as well as enhance the opportunity for Malaysians to own a house of their dreams.
"To encourage more financial institutions to offer RTO as an alternative home-financing solution, the government will grant a 100% stamp duty exemption [for sale and purchase agreement] to homebuyers who attain ownership through this scheme.
"The government will also review the Real Property Gains Tax to enable those who successfully attain homeownership through this solution to be accorded the 'benefits of ownership' on the day they sign up for the scheme," he said.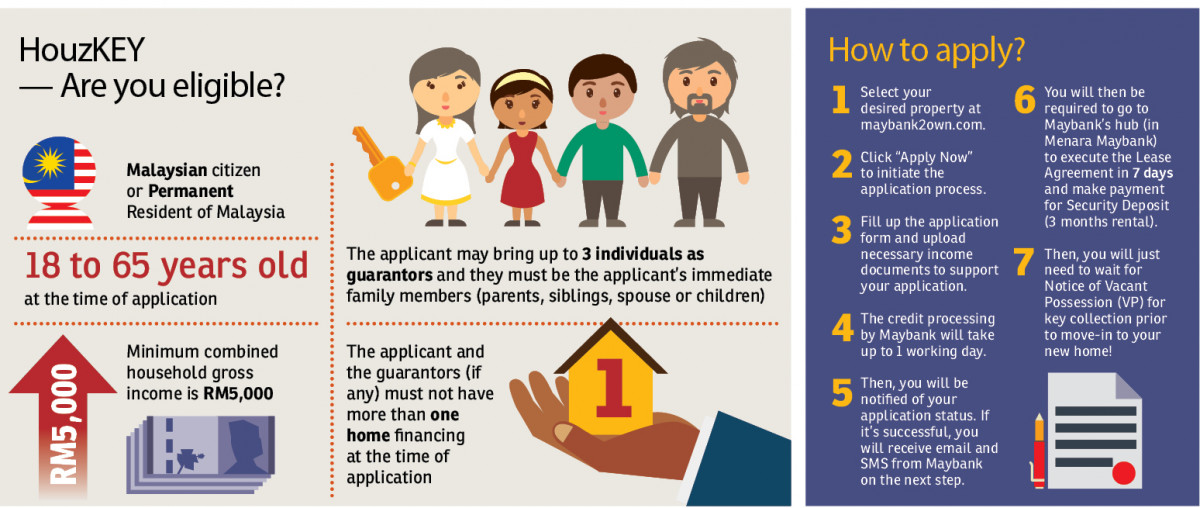 Pushing boundaries with HouzKEY
Targeted at first-time homebuyers and upgraders, HouzKEY aims to address the challenges faced by many purchasers in coming up with sufficient down payments for their new homes.
"HouzKEY is a milestone achieved by Maybank Islamic, and we believe it will help address a growing concern in Malaysia for affordable homeownership.
"We are constantly looking at introducing products that offer better value proposition to our customers. HouzKEY promotes financial inclusion by offering an alternative path to homeownership. We take pride that it is the first such product in the market," said Maybank Islamic's Mohamed Rafique at a press conference during the launch.
Maybank Islamic expects HouzKEY to have a portfolio size of at least RM1 billion in the first year of its launch.
"We are grateful to the government and Bank Negara Malaysia, especially Jabatan Perbankan Islam dan Takaful, for providing a conducive environment for Islamic financial institutions since the enactment of the Islamic Financial Services Act 2013, which has accelerated growth and innovation in the Islamic finance industry.
"The bank will continue to focus on creating more innovative syariah-compliant solutions and develop products and services leveraging Maybank's strength and expertise in Islamic finance.
"This product is our solution to the current problem of homeownership and also our way of supporting Malaysia's national agenda on homeownership," said Mohamed Rafique.
He noted that in a survey conducted by Maybank via Maybank2u.com involving 11,493 respondents, 58% do not own any property with 68% within this segment currently renting homes.
Mohamed Rafique said both landed and non-landed properties will be offered in HouzKEY.
"We have specific criteria in selecting the homes. Besides being in the Klang Valley and Selangor, we will have both landed and non-landed homes for this scheme.
"We have a list of approved developers who have properties that meet the requirements of our potential tenants.
"Depending on the value of the properties, it is hard to determine how many people would sign up for the scheme because we have a portfolio size of RM1 billion," he said.
Mohamed Rafique added that Maybank Islamic has seen "strong interest" among developers which would like to partner with the financial institution for HouzKEY.
"We are also keen to meet the potential demand that comes from the rental side. So, if the properties meet our criteria in terms of location, delivery and quality of the units, then we will purchase the units to lease them out," he added.
Meanwhile, Muzaffar told EdgeProp.my on the sidelines of the launch that hopefully by 1Q18, the scheme will be able to gain more traction before it is launched to the public.
"This scheme complements mortgages. We have all gone through the pain of forking out the down payment for a home, so when we saw the Islamic Financial Act 2013, we came up with HouzKEY to help more people own their homes," he said.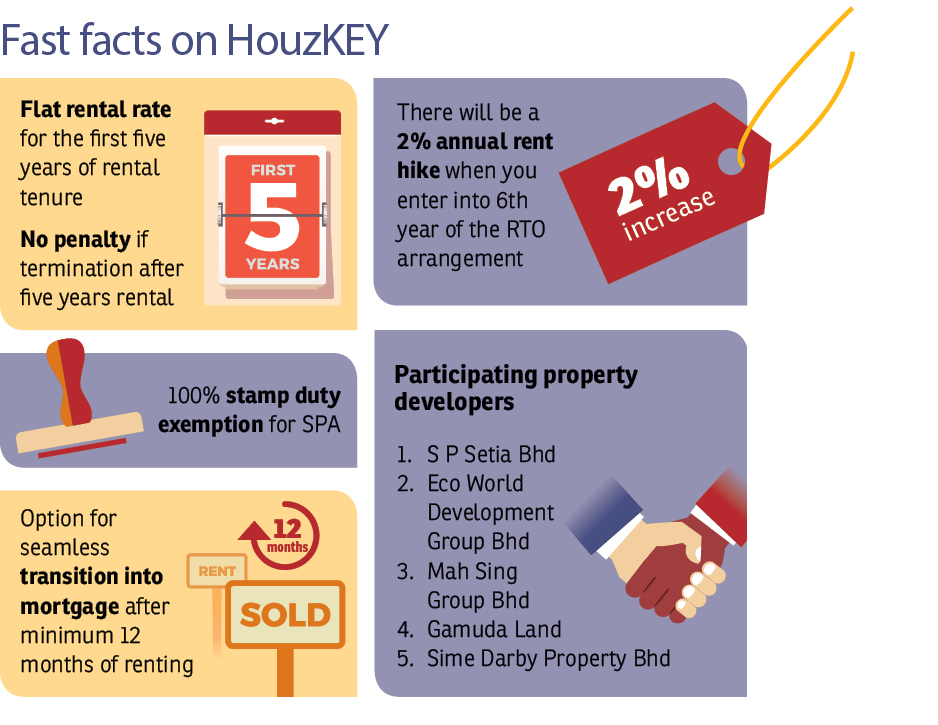 This story first appeared in EdgeProp.my pullout on Nov 24, 2017. Download EdgeProp.my pullout here for free.