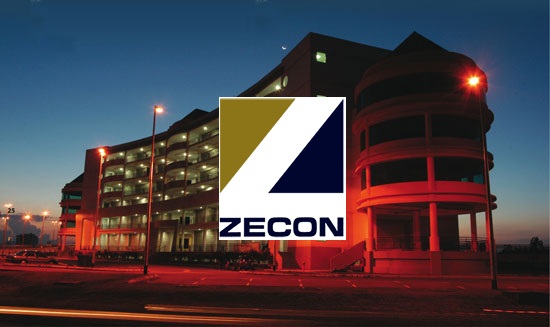 KUALA LUMPUR (Dec 11): Zecon Bhd has suffered several setbacks recently, but its chief executive officer Syed Mohd Muzakir Syed Hussin Al-Jofre believes that's all behind now.
"We have experienced some setbacks of late, but we remain on healthy footing on the back of a strong order book. Our current projects will provide a stable revenue stream as they are not market-driven projects," he told The Edge Financial Daily in an interview last week.
As at end-June 2017, its order book stood at RM3.6 billion, which will provide it with earnings visibility for the next five years.
They include the development and upgrading of the Pan Borneo Highway-Phase 1 project worth RM1.46 billion and the proposed construction of 1Malaysia People's Housing homes at Vista Tunku, Petra Jaya, Kuching valued at RM1 billion.
At the end of its first financial quarter ended Sept 30, 2017 (1QFY18), the Pan Borneo Highway-Phase 1 project contributed 65.7% of Zecon's construction revenue.
The Sarawak-based construction and property development firm had requested trading in its shares to be suspended from Nov 17 to 20 pending a material announcement. However, on Nov 20, it announced that the planned signing of an agreement to dispose of a 49% equity interest in its wholly-owned subsidiary Zecon Medicare Sdn Bhd to the State Financial Secretary of Sarawak for RM155 million was delayed.
The agreement was eventually signed seven days later, on Nov 27.
On Nov 30, it revealed that its net profit plunged 67% to RM792,000 in 1QFY18 from RM2.43 million, even though revenue more than doubled to RM82.36 million from RM39.34 million.
The group blamed recognition of deferred tax liabilities charged on the income from concession service in accordance with IC Interpretation 12 — Service Concession Arrangements for the drop in its first-quarter net profit.
Last Monday, it announced that it had decided to abort a proposed rights issue of redeemable convertible unsecured loan stocks to raise up to RM136.06 million.
Syed Mohd Muzakir, however, remained unfazed.
He explained that the cash call was no longer necessary following its decision to dispose of the 49% stake in Zecon Medicare to the Sarawak state government.
"With the RM155 million (disposal proceeds) coming in, we would have enough cash to support growth for the time being," he said, adding that as long as the group does not embark on long-term projects involving large capital expenditure, the funds should suffice for now.
"But should we need more cash, we may revisit the rights issue at a later stage," he added.
On the delay in signing the sale of the 49% stake in Zecon Medicare with the Sarawak state government, Syed Mohd Muzakir said it was mainly caused by an administrative hiccup.
Zecon Medicare is the concession holder of the proposed development of the University Kebangsaan Malaysia (UKM) Children's Specialist Hospital in Cheras. The concession period is for 30 years, including a 54-month construction period.
The RM606 million project is undertaken through a public-private partnership (PPP) on a build, lease, maintain and transfer concept, and is slated for completion in November next year.
"The delay was not detrimental to the proposed project," Syed Mohd Muzakir said, noting that the group was just being "prudent" in seeking suspension in the trading of its shares.
He also does not discount the possibility of the group undertaking another project on a PPP basis, depending on its feasibility, the risks and the returns.
"I think PPP is the way forward because its earnings visibility is good, but we are also aware that such projects are high-risk and high-return," he added.
Zecon expects to end the current financial year ending June 30, 2018 (FY18) on a profitable note. It achieved a net profit of RM46.9 million for FY17, a decrease of 50.6% from RM94.9 million in FY16.
Syed Mohd Muzakir said the group is expected to resume its growth momentum in FY19, when contribution from the development of the UKM Children's Specialist Hospital kicks in. Zecon is expected to receive an annual concession payment of approximately RM150 million in the first 15 years, and some RM100 million in the following 10 years.
He also believes the delay in the completion of the 300-bed Petrajaya Hospital in Kuching, Sarawak is a thing of the past. The RM495 million project was awarded to the group by the Public Works Department (PWD) in 2013 and was to have been completed within 42 months.
However, the delay in the completion of the project supposedly by June 9 this year, had resulted in PWD imposing Liquidated Ascertained Damages on Zecon at a rate of RM89,506.85 per day, starting from June 10 until completion.
"Yes, there were some hiccups, but we don't see that happening any more as we are managing and executing the project as per our mitigation plan. We will complete the hospital by June 2018," Syed Mohd Muzakir said.
The turnkey contractor attributed the delays to labour shortage, adding that its mitigation plan includes sourcing foreign workers from China.
On a long-term basis, Syed Mohd Muzakir said Zecon will be banking on its future development named Kota Petra in Kuching for its next stage of growth.
Several clusters of the 2,000-acre (809.37ha) mixed-development master plan will be developed into integrated affordable housing, which he sees as the group's growth catalyst. The project is to be developed over the next 15 years and has a gross development value of RM11 billion.
The group is also currently looking for joint-venture opportunities with other developers, as well as opportunity for land sales, he added.
The recent setbacks have led Zecon shares to go on a roller-coaster ride.
The stock had been trading below the 60 sen level since Sept 9 this year before it peaked at 79.5 sen on Nov 17, prior to its suspension from 2.30pm on that day. The counter last closed above 80 sen in March 2016.
News of its aborted plans to undertake a rights issue last Monday sent Zecon's share price lower by as much as 12.8% to an intraday low of 64.5 sen, before paring its losses to close at 67 sen on the same day.
Last Friday, Zecon shares closed unchanged at 64 sen, with a market capitalisation of RM83.85 million.
This article first appeared in The Edge Financial Daily, on Dec 11, 2017.
For more stories, download EdgeProp.my pullout here for free.