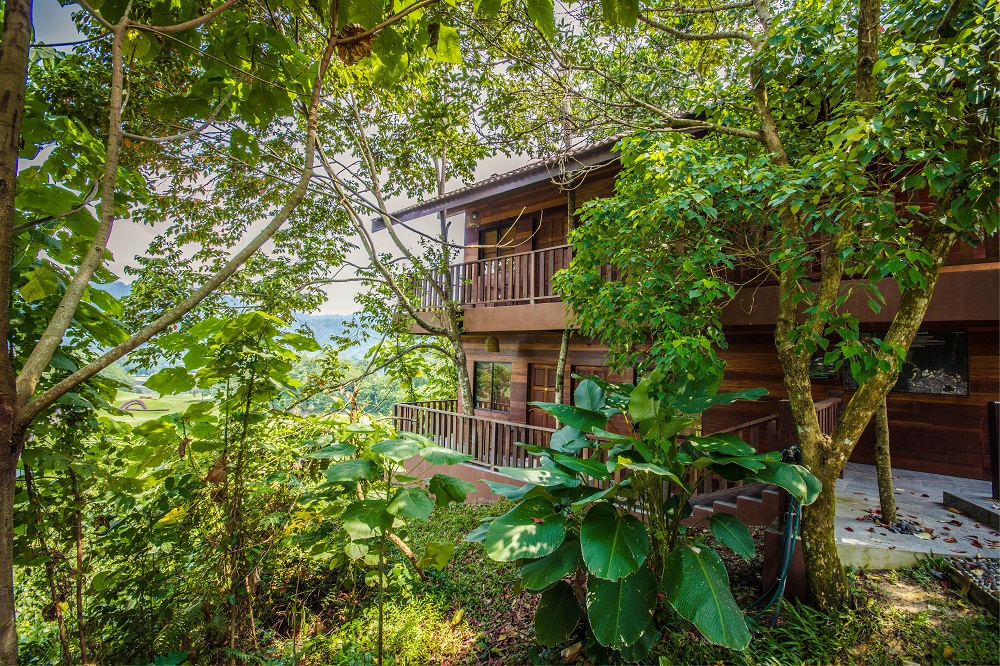 It is unlikely that 18 years ago, Saw Kim Hock would have envisaged that his humble little homestead would welcome guests from around the world.
Yet, with the advent of the sharing economy and a lot of hard work, what began as a simple homestead for his family and friends has transformed into Templer Park Rainforest Retreat (TPRR), a rural escape in Rawang that is just 20km north of Kuala Lumpur.
Many details amplify the short distance between the retreat and the city. Drive past the gates of the private residential area that houses TPRR and already one is surrounded by trees, including fruit trees. Enveloping the area is the Kanching Rainforest Reserve, home to wildlife such as jungle fowl, jewel-toned tropical birds, monitor lizards, monkeys, bats and insects, which sometimes hang around the retreat.
Looming overhead is the majestic Bukit Takun limestone hills and her "children". This is complemented with sweeping views of the Templer Park Country Club. A stone's throw away are the Kanching waterfalls and a fish pond that boasts prized breeds such as 'soon hock' (Marble Goby) and 'wang bu liao' (Tor Tambroides).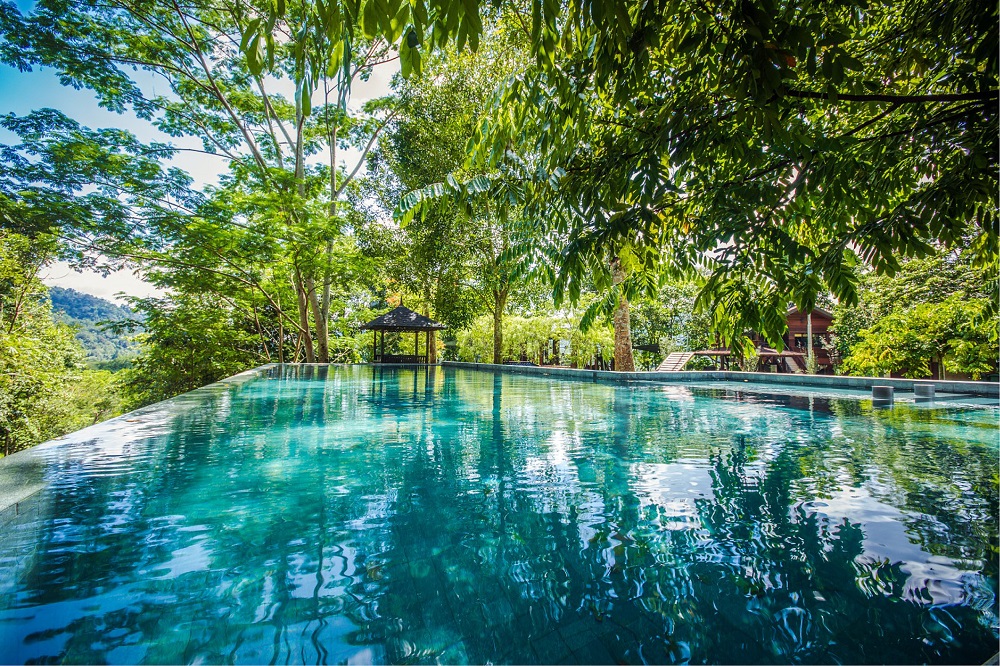 "My dad had initially purchased a few adjoining empty bungalow lots in Templer Heights more than 18 years ago. After visiting the area, he fell in love with the micro environment here — fresh air from the forest trees, cool nights and away from the concrete jungle," shares Kim Hock's son, Han Jian, who runs the premises.
However, the elder Saw's initial plans for the family's dream home — a typical bungalow — did not pan out, as his neighbours moved away.
"He was left with this large piece of land which he then put his heart and soul to nurture. He would invite family and friends over weekends to enjoy the spaces created, which included a small hut beside a fish pond," Han Jian recounts.
Han Jian's brother suggested the hut could be "shared" on Airbnb, during the early days of the platform. "Everything took off from there."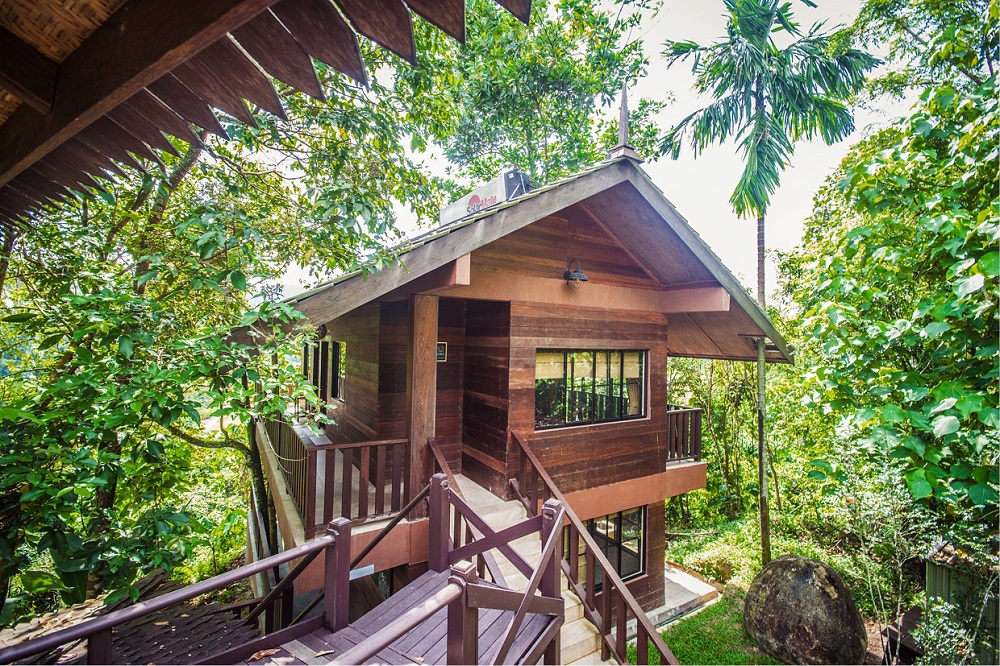 The Saws discovered a passion for hospitality. They made new friends in their guests — from Malaysia and abroad — who gave feedback, which the family used to expand and improve the retreat.
The result now is a Villa House and a Container House, just 60m apart but shielded from each other by lush foliage. The Villa House, which features four rooms and accommodates six to 16 people, offers views of the country club while the Container House faces the pond and Bukit Takun.
The houses are built around the trees on site. "By doing so, trees puncture the corridors and roofs. Here, you will be surrounded with greenery and feel closer to nature. The large forest trees help to shade the house and provide constant and fresh oxygen supply.
"We want guests to enjoy the forest, without leaving the comforts of home," says Han Jian.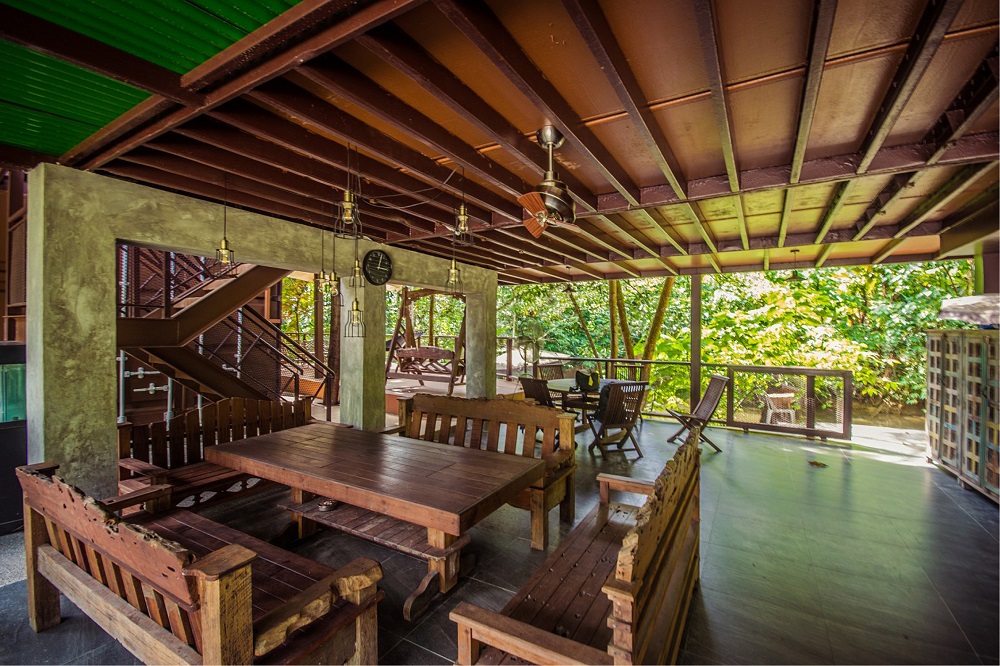 As Kim Hock has an eye for very natural finishes, he has chosen furnishings made of teak and stone, including those sourced from the nearby limestone hills. The result is a harmonious blend of textures in a palette of white, brown, black, grey and other dark colours.
Guests may also avail themselves to the facilities, which include a semi open-air kitchen, dining spaces, swimming pools, sauna, Jacuzzi, 14ft trampoline and hammocks. These, coupled with the unique outdoor experience and communal living, help guests to bond and foster stronger relationships, which account for why the place is popular for team retreats.
The Container House — which accommodates six to 30 people — is built out of eight old shipping containers measuring 40ft long and 9.5ft high from Port Klang, because the family saw reusing them as an interesting take on upcycling, and they were a third of the price of new containers.
"We wanted to retain each of the shipping container's identity and show its scars from being battered out at sea, so you will notice dents and imperfections on the outside. We like to think this gives the building character," says Han Jian.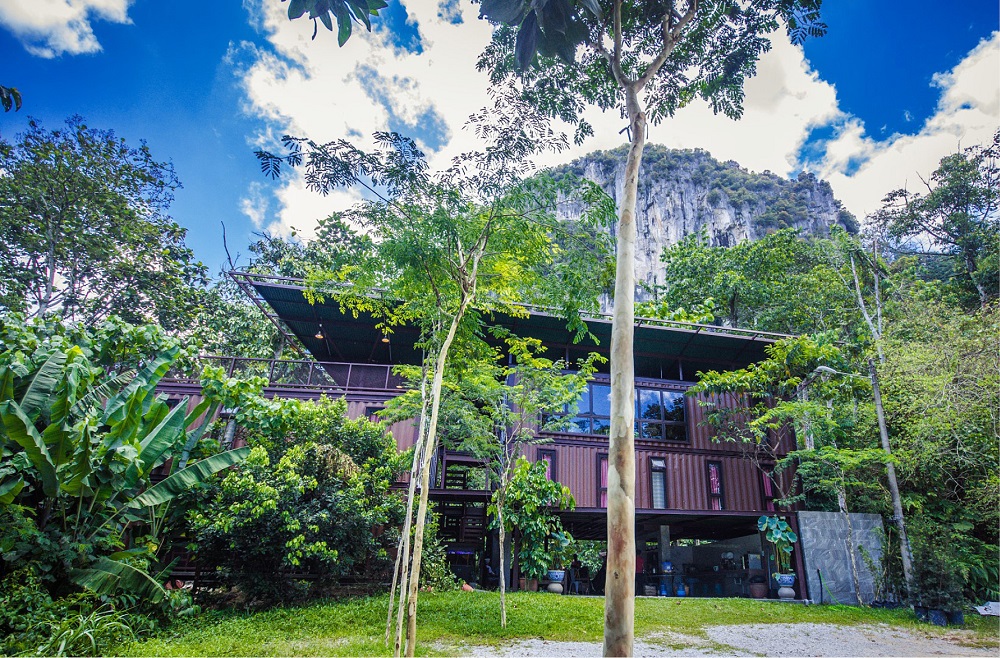 While the exterior has been retained, the interior has been redone to make it homely. The Saws insulated and cladded all the sun-facing walls with wood to keep heat out and cool air in. The result is lower electricity bills and a safer environment overall. "Before adding the wall insulation, we used to place our hands to feel the temperature on these sun-facing walls. And boy, did it burn!" he recalls.
The retreat also harvests solar power for its water heaters, and there are plans to reuse rainwater and compost fallen leaves.
Templer Park Rainforest Retreat:
22, Jalan 3/2, Templer Heights, Templer Park, Rawang, Selangor
Contact: (016) 203 8562 / www.tprr.net
This story first appeared in EdgeProp.my live! magazine. Download a FREE copy of live! magazine here.