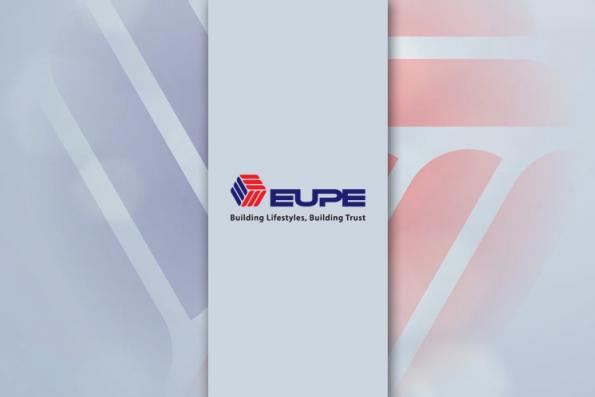 KUALA LUMPUR (April 27): EUPE Corp Bhd reported its fourth-straight profitable quarter in the fourth financial quarter ended Feb 28, 2018 (4QFY18), with a net profit of RM2.08 million compared to a net loss of RM4.4 million a year ago.
This resulted in the group posting an earnings per share of 1.62 sen in 4QFY18 compared with a loss per share of 3.44 sen in 4QFY17. Quarterly revenue grew 64.9% to RM91.44 million from RM55.46 million a year ago.
In a filing with Bursa Malaysia yesterday, EUPE attributed the improved quarterly results to the progressive revenue and profit recognition from its first Kuala Lumpur project called [email protected]South Bangsar.
"In addition, the group's revenue and pre-tax profit were also enhanced by an improvement in performance of the chalet and golf management division compared with the preceding year's corresponding quarter," it said.
For the full year FY18, the group returned to profitability, recording a net profit of RM9.59 million compared with a net loss of RM7.39 million in the previous year on the back of an 88.1% increase in revenue to RM314.08 million from RM167 million in FY17.
EUPE said the consistent progression of Novum's construction works, coupled with its high sales takeup rate achieved, together with the launching and commencement of construction works of [email protected] South project in October 2017 and November 2017 respectively, have resulted in the increase in FY18 revenue.
On prospects, EUPE said conditions in the property market continue to be challenging due to ongoing housing affordability issues as well as a continuing surplus of properties over market demand.
"These factors will continue to weigh on the market for most of this year. However, opportunities continue to exist for market participants that are committed to offering innovative property products at affordable prices points to a value-conscious and increasingly discerning market," it said.
"These trends mean the group remains committed to focusing its expansion strategy into the Kuala Lumpur property market based on afforable property products with very clear points of architectural and lifestyle innovation," it added.
EUPE shares were untraded yesterday. It last closed at 93.5 sen yesterday, giving it a market capitalisation of RM119.68 million.