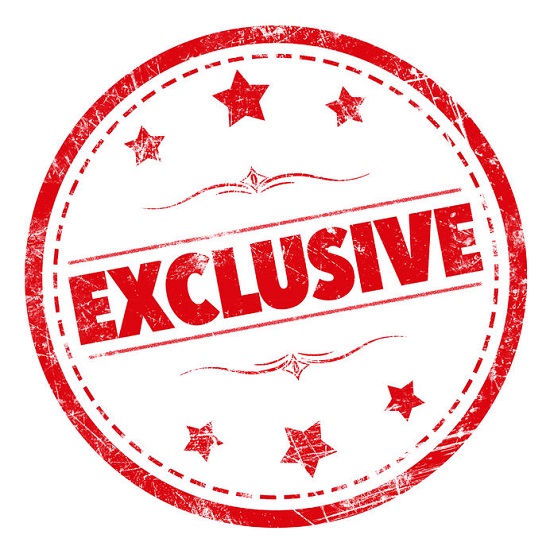 SCROLL DOWN FOR VIDEO
* Spot the Malaysian locations in Crazy Rich Asians
The motion picture industry is experiencing something of a cultural renaissance with Hollywood's latest blockbuster Crazy Rich Asians following hot on the heels of Marvel Studios' groundbreaking movie Black Panther which was released earlier this year. This time around, we have the opportunity to celebrate a contender that truly warms the cockles of our Asian hearts – a story by an Asian-American, directed by an Asian filmmaker with Asians gracing all the lead roles. Throw in a healthy dose of homegrown talent in other areas such as production support, fashion, food styling and floral design, and it is impossible for Malaysian viewers not to be left purring with pride from the first vernacular exclamation on screen to the final roll of the credits! I mean, when was the last time one heard colloquial terms like 'alamak', 'ABC' and 'walao!' casually being tossed about in a Hollywood movie?
Much has been written about the cast, storyline, location and the "crazy big worldwide" box-office success of Crazy Rich Asians but EdgeProp.my is proud to bring you an exclusive feature on one of the supporting cast whose stellar work on the floral designs for the movie has received universal acclaim.
"Truthfully, it was like a dream. I had not heard of Kevin Kwan or his book," confesses Eunice Teo, the genial principal of Amtrol Flower Designing, with an infectious chortle. "A long-standing customer requested that I come in for an interview and as I had previously worked with him on advertising shoots, I naturally thought that I was being called in for something similar," the American Institute of Floral Designers (AIFD)-certified florist adds.
"It was at my third and final interview that everything crystallised. A man walked in, introduced himself to me and then asked his people out loud, 'can this lady handle the job?' Thankfully, a few voices piped up to say 'that there was no better choice in this part of the world' and the rest, as they say, is history!" Incidentally, the man was none other than award-winning Production Designer, Nelson Coates and following her interview, the wheels of Eunice's debut adventure with a Hollywood movie studio were well and truly set in motion.
It finally dawned on Eunice that this was not some big advertising gig when she was asked to sign a non-disclosure agreement in order for the script to be made available to her. Instead, the confounded florist offered to waive reading rights to the script if it meant not having to sign the agreement. Needless to say, her offer was summarily rejected!
"It took me ages to read the short agreement because my eyes kept travelling back to the surreal heading which read 'Warner Bros. Pictures'," Eunice reminisces with a big grin. However, she admits that the reality of her introduction to Tinseltown truly hit her for the first time when she received a copy of the script with her name watermarked on each page.
The spectacle of extreme wealth, one of the underlying tenets of the movie, meant that styling of the sets needed to be lavish and visually arresting. As such, Eunice was commissioned to create a smorgasbord of opulent arrangements in a kaleidoscope of riotous colours.
"I worked closely with Nelson and Set Decorator, Andrew Baseman, both of whom had very specific ideas on how they wanted things to look, especially Nelson, who is the most creative person that I have ever met. The shooting took just under three months and I quickly learnt that in a movie set, one had to work under very tight time schedules and in a fluid environment where changes can and often do sneak up on you at the eleventh hour. In fact, there was one occasion where I was running up and down streets in Singapore trying to source a specific coloured flower – a last minute request – and I was literally inserting the stalks seconds before the start of the shoot."
Despite the challenges she faced, however, including her mother falling critically ill during a significant scene, Eunice delivered a flawless array of powerful floral masterpieces for the movie, living up to and beyond the expectations of those who had placed their faith in her. Her stunning creations, a partnership of nature, fabrication, experience and an undeniable talent for floral design, perfectly captured the desired mood of each set.
Unsurprisingly, Eunice has bagged a few more projects after her sensational showing in Crazy Rich Asians. With her flair for floral design in full bloom, there is no doubt that the demand for her exquisite work will follow. As the adage goes, "When the flower blossoms, the bee will come".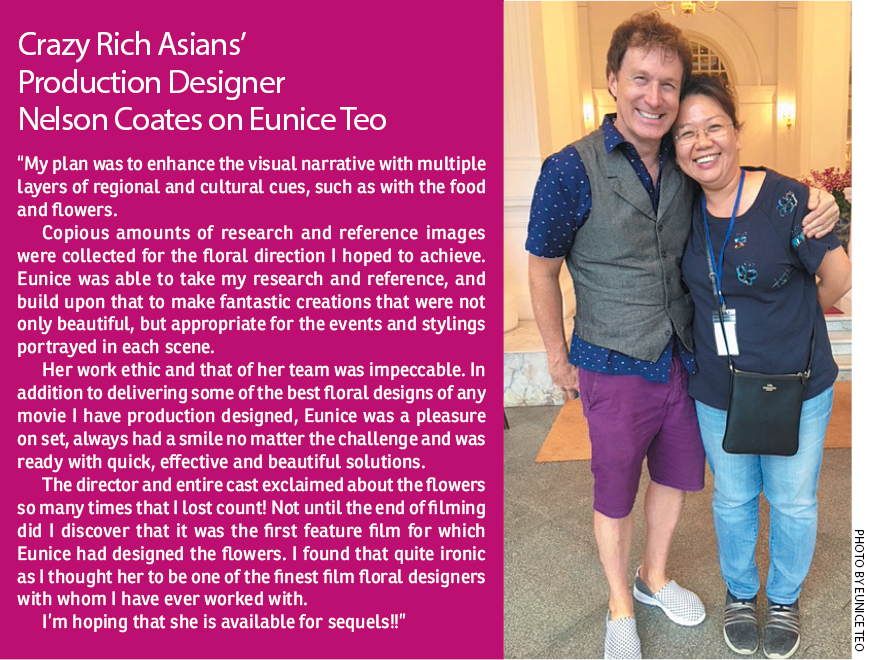 This story first appeared in the EdgeProp.my pullout on Sept 14, 2018. You can access back issues here.