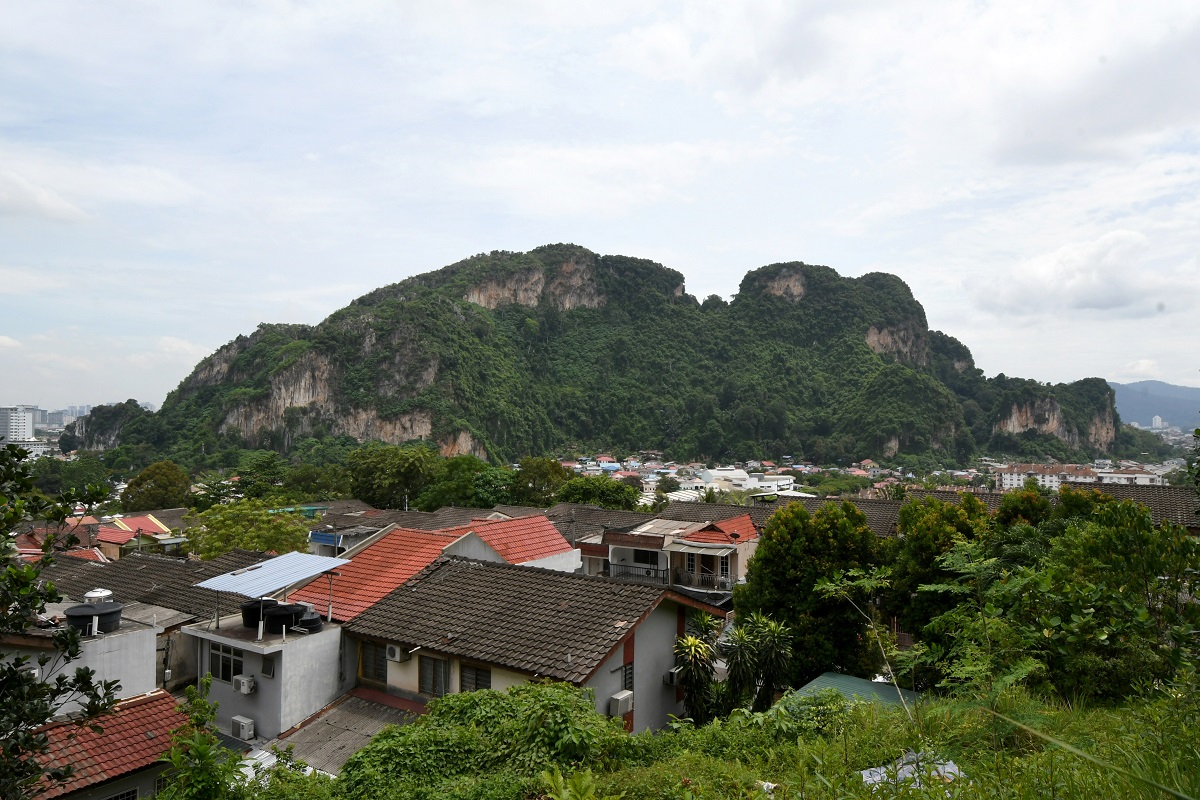 The name Batu Caves is synonymous with its magnificent ancient limestone hills and caves featuring a more-than-a-century-old Hindu temple which has drawn devotees from around the world. The Batu Malai Sri Murugan Temple in Batu Caves, Gombak in the state of Selangor, is also one of Malaysia's top tourist spots.
It may be popular among tourists but how attractive is the area to property investors and homebuyers?
"Housing developments in that area only began around 1970 with Taman Batu Caves, Taman Selayang, Taman Amaniah, Taman Sri Selayang, Taman Medan Batu Caves and Taman Gombak Permai. More housing schemes have been completed since then," Landserve Sdn Bhd managing director Chen King Hoaw tells EdgeProp.my.
Some of the major developers that have projects here are Hua Yang Bhd, Ara Asa Development Sdn Bhd, Impiana Land & Development Sdn Bhd, Jaya Megah Development Sdn Bhd, Dolomite Properties Sdn Bhd, SunwayMas Sdn Bhd and Lebar Mewah Development Sdn Bhd, offers Chen.
He adds that over the last two decades, several industrial estates have also been developed in Batu Caves including Batu Caves North Industrial Park, Spring Crest Industrial Park and Taman Industrial Dolomite.
Today, properties in Batu Caves comprise single to 4½-storey shophouses and shopoffices, single to double-storey terraced houses and 4-storey and 5-storey low- and medium-cost apartments, 1½- to 3-storey terraced factories, double-storey semi-detached factories and detached factories.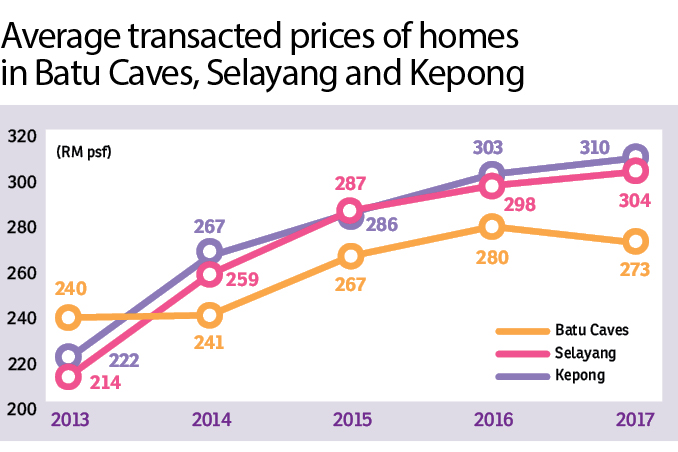 Near to KL city centre
Although Batu Caves offers scenic views of limestone hills and lies just about 13km to the north of the Kuala Lumpur city centre, housing property prices in Batu Caves are lower compared with other areas within a similar distance to the city centre, such as Kepong and Selayang. According to Google Maps, the distance between Batu Caves and KL city centre is 13km, while Kepong and Selayang are 16km and 17km away, respectively.
EdgeProp.my data shows that in 2017, the average transacted price for residential property in Batu Caves was RM273 psf, while in Selayang it was RM304 psf and in Kepong it was RM310 psf.
"The main reason for the lower prices in Batu Caves would be that properties in this suburb are predominantly old and cater mainly to the low to low-medium income segment," Chen explains.
Besides, Batu Caves is a less "prestigious" residential address compared with the others.
"Even with the development of the rest of the Klang Valley over the last two to three decades, Batu Caves was never a popular residential address. Demand for residential properties here have been mainly to cater to people who are working in and around Batu Caves.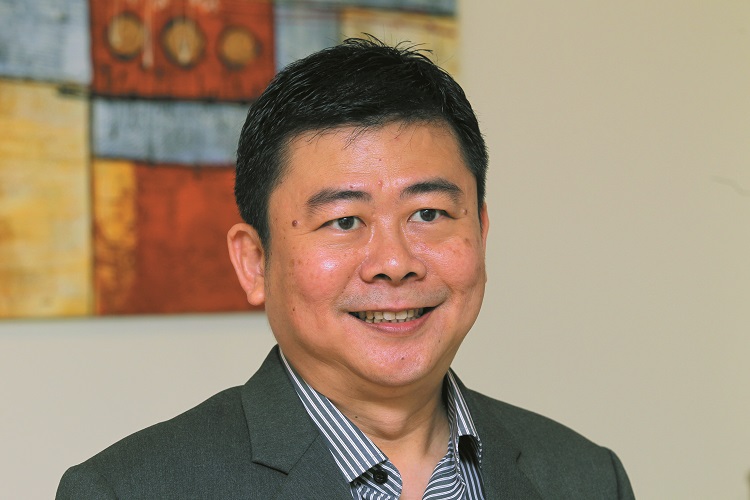 "Most homebuyers in the Klang Valley would opt for choices elsewhere. The somewhat limited demand for houses in this area compared with other suburbs explains the slower growth in property prices," he comments.
Nawawi Tie Leung Real Estate Consultants managing director Eddy Wong believes that the presence of the industrial properties located in Batu Caves could be one of the factors that has impacted its residential property demand and prices.
"Traditionally, industrial estates are sited adjacent to residential properties of the lower market segments with the intention of providing for the labour pool at the industrial estates.
"This has of course changed over the years as the workers in the industrial or manufacturing activities now come from everywhere else and not just from the immediate vicinity. But the association between industrial properties with lower-end homes lingers on," Wong offers.
He adds that other possible factors could be the profile of the existing population in Batu Caves, which is from the middle-to low-income category, most possibly from the legacy of being located close to the industrial activities.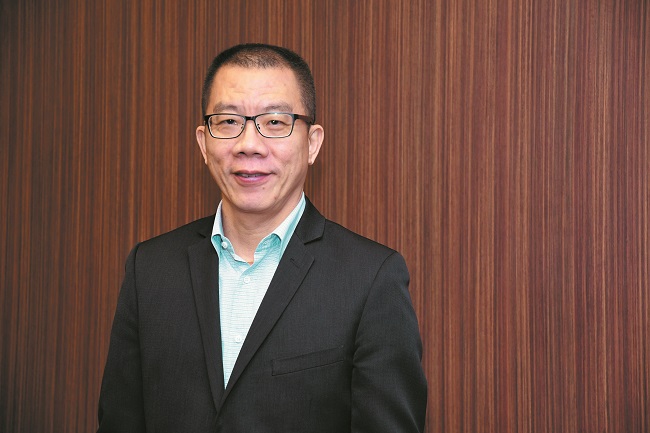 However, "this will change with the development of new projects which are selling at a higher price point, which will house residents of higher-income levels reflective of the price points of the new developments," Wong shares.
Some of the latest residential developments in Batu Caves are Urban 360 by F3 Capital (completed in 2014), Semarak & Penaga Condominium by Impiana Land & Development (completed in 2012) and Amara Boulevard & Serviced Apartment by Jaya Megah Development (completed in 2014).
EdgeProp.my's transaction data shows that the highest number of residential transactions in Batu Caves last year were from serviced apartment project Symphony Heights, landed housing project Taman Samudra and Laksamana Puri Condominium.
Symphony Heights is a leasehold serviced apartment developed by Hua Yang Bhd. The 3-block residential development was completed in 2011. According to EdgeProp.my data, there were 22 transactions with an average transacted price of RM355 psf recorded in 2017. It was also the most transacted residential project of the year in Batu Caves.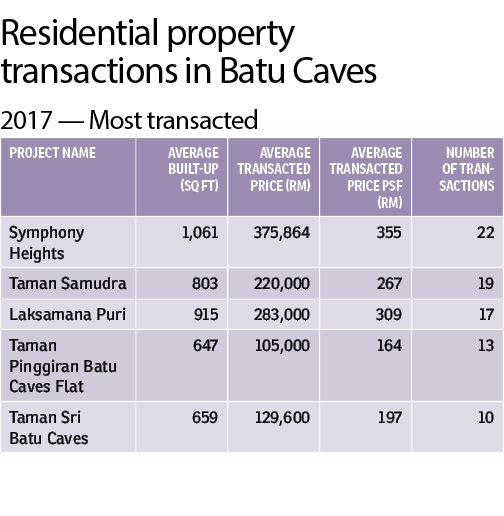 Housing estate Taman Samudra consists of mostly double-storey terraced houses. There were 19 transactions recorded at an average price of RM267 psf in 2017.
Meanwhile, mid-cost Laksamana Puri Condominium is a freehold low-density project located in the heart of Batu Caves. There were 17 units sold for an average transacted price of RM309 psf in 2017.
According to data from EdgeProp.my, Batu Caves' average transacted price of residential property has only grown 13.75% over the past five years till 2017, while Selayang and Kepong recorded a growth of 42% and 39%, respectively.
Nevertheless, the slower price growth makes Batu Caves attractive to homebuyers who are looking for affordable homes within a 15km radius from the city centre.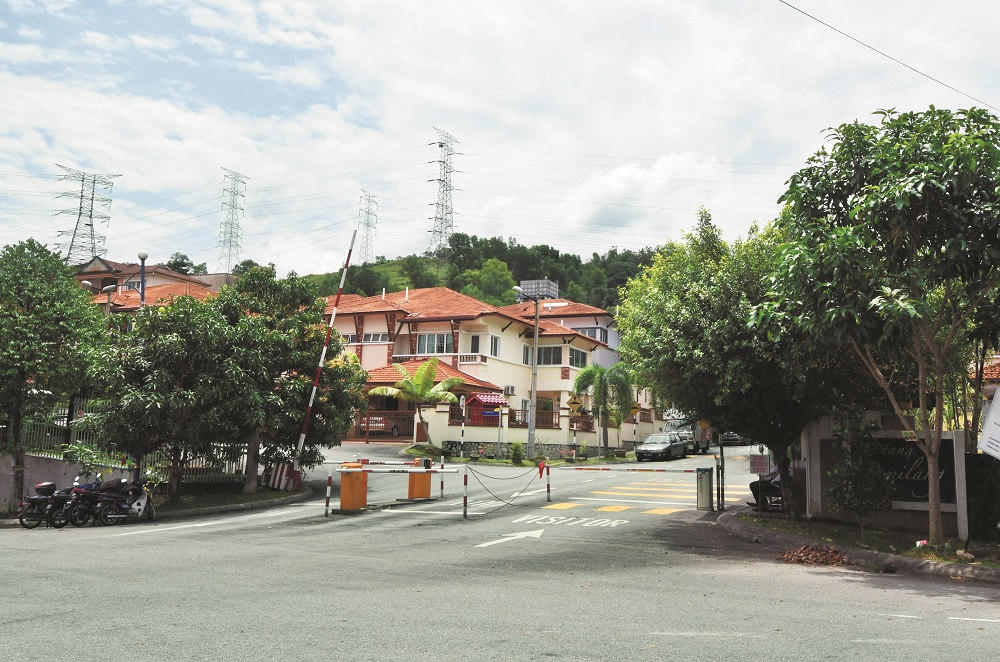 "The proximity to KL city centre and accessibility are positive draws for the Batu Caves property market. In addition, the rapid development of and escalating housing prices in neighbouring suburbs such as Taman Wahyu, Selayang, Sentul, Gombak and Kepong will raise awareness and the overall appeal of Batu Caves," Wong explains, adding that there will also be spillover effects on Batu Caves.
Landserve's Chen concurs with Wong that Batu Caves' most appealing factor lies in its location.
"It is just about 13km (by car) to the north of the KL city centre. The property prices here are lower compared to similar properties in other suburbs located at more or less the same distance away from the city centre," he says. Batu Caves is accessible via Jalan Kuching, the Duta-Ulu Kelang Expressway (DUKE) and the Middle Ring Road 2.
There is also a KTM Komuter station in Batu Caves. The train goes all the way down to Tampin, Negeri Sembilan. There are many stations in between, including KL Sentral which connects to other rail lines such as the Light Rail Transit and the Mass Rapid Transit lines.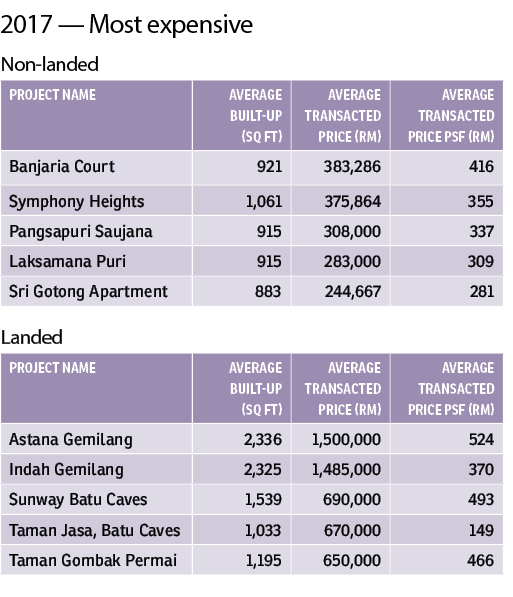 Time for gentrification?
Despite its accessibility and location, traffic congestion is a problem in Batu Caves.
"Congestion is worse during days when Hindu devotees are celebrating Thaipusam and other religious occasions," says Chen.
He elaborates that while the government had in the past acquired lands to widen Jalan Batu Caves and other roads in the neighbourhood, traffic congestion, upgrading of infrastructure and finding land for new development in that area remain challenging.
For homebuyers, most of the affordable houses and apartments available are old while land available for new development is very limited, Chen adds.
Meanwhile, Nawawi Tie Leung's Wong believes the challenge Batu Caves' housing market faces is its ties to the presence of the industrial activities which are generally incompatible with higher-end residential developments.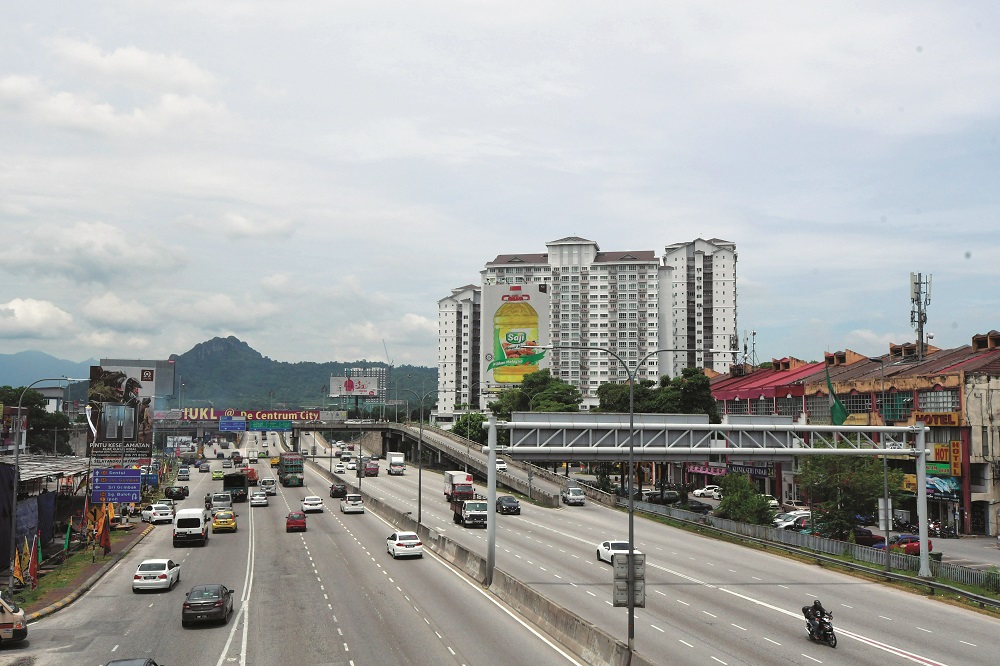 He also believes it would help if there is a government-led initiative, not unlike Section 13 of Petaling Jaya, where the area was designated a Special Planning Area with the shifting out of industrial activities over time, freeing up land for re-development into integrated mixed developments.
"If the industrial activities were to move out to facilitate re-development of the area, the entire character and ambience of the location will be transformed," Wong stresses.
He points out that Batu Caves' location is ideal for the development of affordable housing and this is probably the market sector that will see a lot of interest over the next few years.
"As land prices in the surrounding areas appreciate, developers will shift their focus to this location, which is just as close to the city centre and enjoys the same connectivity," he predicts.

This story first appeared in the EdgeProp.my pullout on Sept 14, 2018. You can access back issues here.