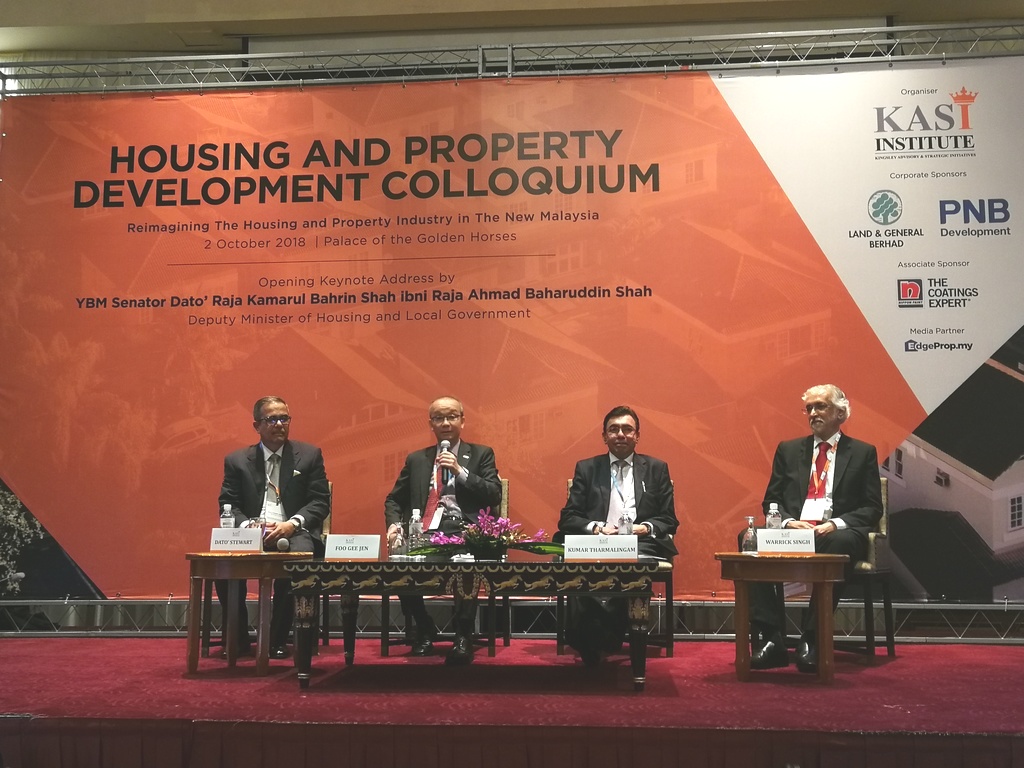 SERI KEMBANGAN (Oct 2): While it is still unclear when the property market will recover from the current slowdown, there are still opportunities to seize in the market, according to industry experts.
"2012 and 2013 probably was the robust period for the property market. And then the last five years has seen a marked slowdown in transaction of new housing," AREA Management Sdn Bhd senior advisor Kumar Tharmalingam.
Looking ahead, the property sector is expected to see vacant properties filling the market in 2019 as financing becomes stricter due to low property sales, he said at the Housing and Property Development Colloquium today.
Kumar was one of the speakers at the session entitled "The Property Sector Outlook? What to expect? How will the Property Market Move Next Year?" at the colloquium, which was moderated by CBRE|WTW managing director Foo Gee Jen.
Organised by Kingsley Advisory & Strategic Initiatives (KASI) Institute, the colloquium is themed "Reimagining the Housing and Property Industry in the New Malaysia". EdgeProp.my is the media partner for the event.
Asian Land Realty principal Warrick Singh, who was also a speaker at the session, concurred that credit is not easily available in the current market and unless liquidity is injected into the market, it is not expected to see improvement until 2022.
Nevertheless, AREA Management executive chairman Datuk Stewart LaBrooy believes e-commerce facilities such as warehouse, distribution hub and logistic centre is an untapped market that offers a lot of opportunities for the industry players in view of the growing e-commerce sector.
He said that e-commerce facility is the most under-invested sector in the local property sector as he estimates that it only accounted for 1% or 2% in the proportion of development allocation by property developers in the industrial space.
"Would you be looking at building an office tower or a retail mall next year? I think not. But would you be looking at building an e-commerce facility? Very possibly, because it is the most under-invested sector in the Malaysian market," he said.
AREA Management is the Malaysian operation of regional real estate private equity and advisory firm AREA Advisors Pte Ltd which focuses on industrial and educational investment opportunities.