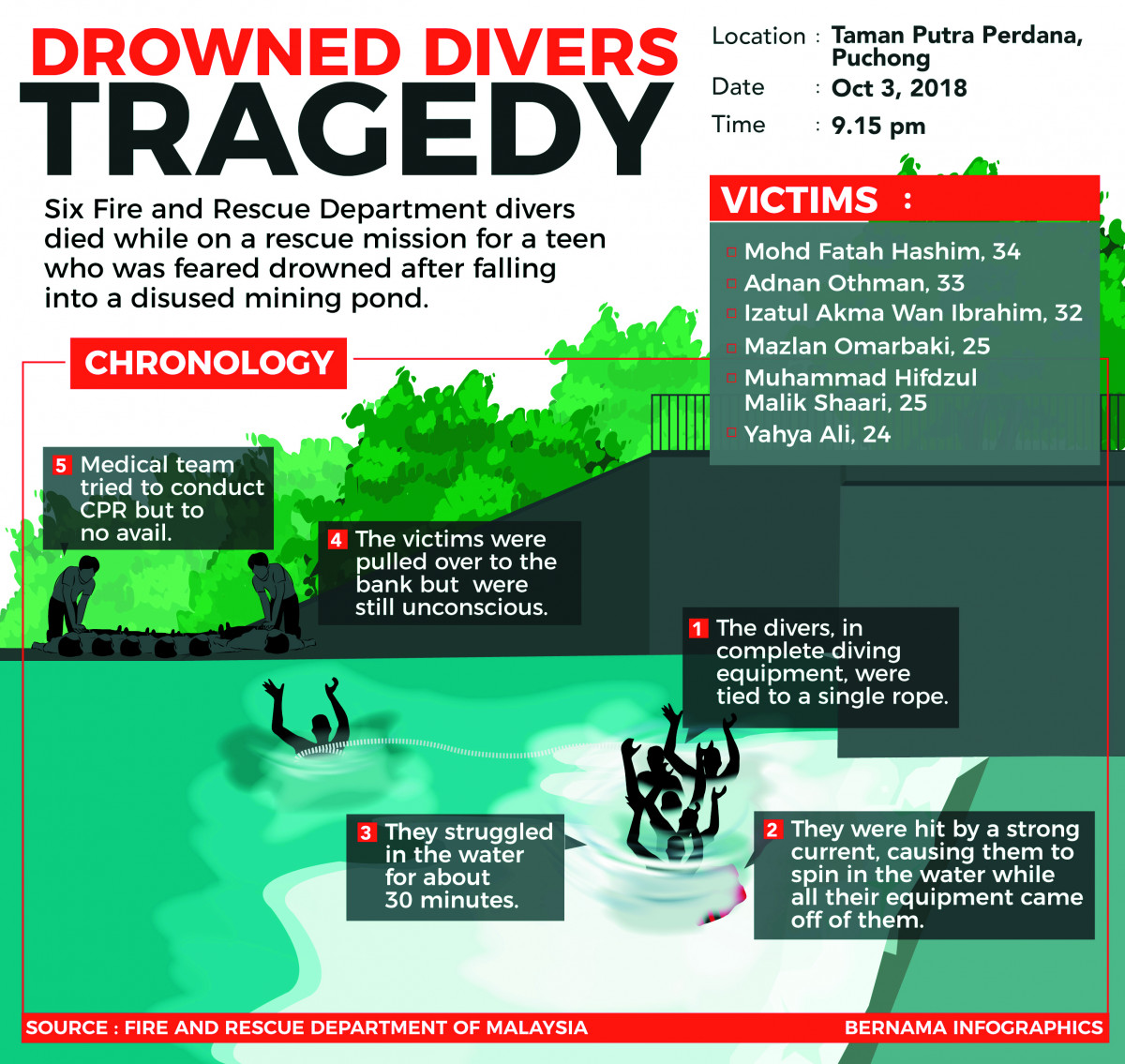 SHAH ALAM (October 5): The Selangor Government has ordered the Sepang Municipal Council to close down the disused mining pond in Taman Putra Perdana, Puchong once the search and rescue (SAR) operations for the teenager who reportedly drowned there is completed.
Selangor Menteri Besar Amirudin Shari said the closure was necessary following several drowning cases reported in the area, with the latest involving six firefighters who were part of the SAR operations on Wednesday night.
"I received a report that this (drowning at the mining pool) was not the first, and I have instructed the Sepang Municipal Council to increase security surveillance, including closing off the area," he told reporters after meeting the family members of the firefighters at the Fire and Rescue Station in Section 15 yesterday.
Amirudin said the Selangor government would contribute RM20,000 to each family of the firefighters who died in the incident.
More than 500 people, including state and federal government officials, attended the funeral prayers for the six personnel at the fire and rescue station.
Family members of the dead firefighters said they were still in a daze and were coming to terms with their losses.
The men from the department's Port Klang and Shah Alam Water Rescue unit had gone in search of a 17-year-old teen who had slipped and fallen into the pool on Wednesday.
Fire and Rescue Department director-general Mohammad Hamdan Wahid said the six personnel who drowned had complied with the stipulated standard operating procedures (SOP).
He said although it was dark, the SAR was continued using the surface water rescue method as the water was not deep.
"Checks by the department found that they had complied with the necessary SOP and strategy. If it was a planned task, we could call if off, but the task involved a search for a human victim. [In such a situation] if the condition allows, we carry on, even at night," he told reporters.
Mohammad Hamdan said the department would review the SOP, with the view of improving it, to prevent a similar incident.
He said preliminary investigation at the scene found that the pond was a floodgate and not suitable for recreational activities.
This article first appeared in The Edge Financial Daily, on Oct 5, 2018.