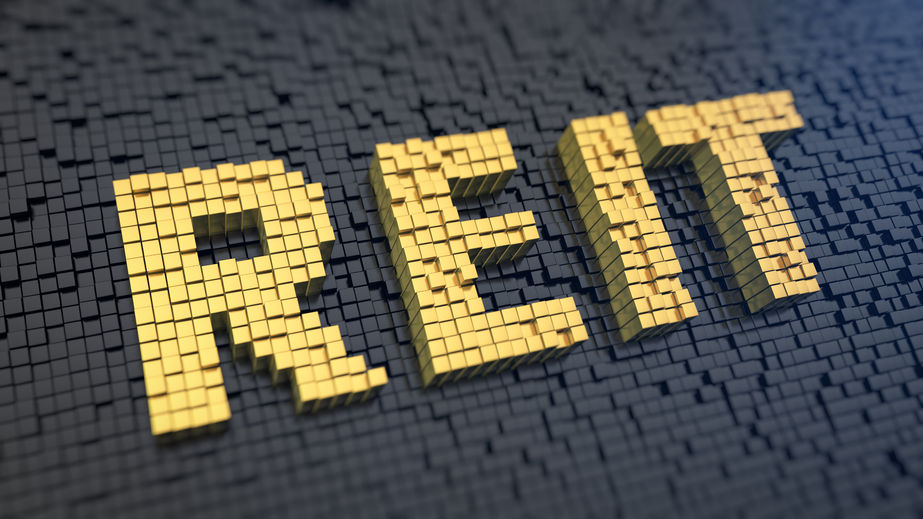 KUALA LUMPUR (Oct 29): Last week saw a flux of quarterly earnings released by local real estate investment trusts (REITs) with most reporting a growth in their net property income (NPI), sparking optimism for a recovery in the sector that has long been plagued by concerns over oversupply, weak demand and the like.
However, analysts are saying the NPI growth was not inspired by sector-wide improvements, let alone fresh catalysts, as not much has changed in REITs' operating landscape, and moderate rental growth rates are not living up to investors' expectations.
"Nothing fancy is going on right now. The current market [situation for REITs] is more or less the same, with oversupply issues still an ongoing concern," a research analyst at Hong Leong Investment Bank told The Edge Financial Daily when contacted.
"While it is on a 'per company' basis, we notice that the growth seen in their NPI figures has largely been contributed by additional assets," the analyst said about REITs under his firm's coverage.
Last week, Pavilion REIT and Axis REIT reported year-on-year (y-o-y) NPI growth of 20.5% and 31% respectively for their latest quarter ended Sept 30, 2018, the highest among local players in the sector.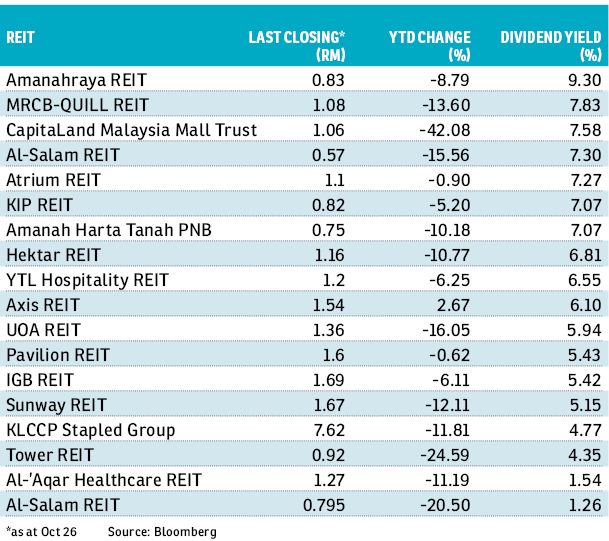 Pavilion REIT proposed a distribution per unit (DPU) of 2.14 sen, bringing its annualised distribution yield to 5.41%. The industrial-centric Axis REIT, meanwhile, announced a DPU of 2.35 sen, some 18% higher than the two sen per unit declared for the corresponding quarter last year. Both REITs share a common factor — newly added assets to their portfolios.
In a filing with Bursa Malaysia last week, Pavilion REIT attributed its improved earnings partly to the higher rental income from the newly acquired Elite Pavilion Mall (in April), a retail component with net lettable area of some 250,000 sq ft located adjacent to its landmark Pavilion Kuala Lumpur mall.
"Axis REIT's core net income for the first nine months jumped 17% y-o-y as revenue climbed 15% y-o-y to RM144.9 million, mainly due to the addition of five new properties that boosted rental income," MIDF Research said in a review last Tuesday.
The REIT's overall occupancy rate inched up to 94.8% from 94% as at end-June, thanks to "new contributors", i.e. the 50-acre (20.23ha) industrial land, Axis Mega Distribution Centre, tenanted by Nestle Products Sdn Bhd from June 1, and the single-storey detached factory warehouse, Wasco Facility in Kuantan, tenanted by Wasco Coatings Malaysia Sdn Bhd.
Another analyst, who asked not to be named, said REITs have performed broadly within forecasts, mostly because analysts have priced in the slower rental growth trajectory.
"The numbers have been adjusted to include the slower growth rate, this is why the figures reported are still in line. REITs used to grow rental at 5% but now it is at about 1% to 3%, and I think they will maintain at their prevailing growth rates in the coming year," he said.
Co-working space — the next catalyst?
REIT managers and property developers seeking a respite may consider turning to the burgeoning co-working space.
According to analysts Sarah Lim and Marie Vaz of Kenanga Research, instead of viewing them as competitors, collaborations with co-working spaces could address the oversupply of office spaces and low rental rates, especially in the Klang Valley.
"We believe co-working providers could potentially offer a synergistic solution, particularly for Malaysian REITs' office assets that are struggling with occupancy and rental rates, whereby housing a co-working space provider may serve somewhat as an 'anchor tenant' role if it is sizeable enough. This in turn could help increase vibrancy and pull in higher footfall traffic to such assets," the analysts wrote in a sector note dated Oct 23.
Currently, most local REITs do not house co-working space providers, the analysts noted. "Nevertheless, we believe a growing demand for attractive co-working space concepts may prompt Malaysian REITs to relook at their product offering the next time they embark on major refurbishments or greenfield project," they added.
Hong Leong Investment Bank noted the increase in demand for office spaces, thanks to the recovery in the oil and gas markets.
"Demand is slowly catching up, but it is not rapidly growing. I don't think co-working spaces as the sector's next catalyst will [take off] so soon," the analyst added.
A safe haven amid market volatility?
For Fundsupermart Research analyst Jerry Lee Chee Yeong, diversifying capital into REITs could help investors cushion volatility in the global financial market, as dividend yields are looking stable and rather attractive.
"At this juncture, looking at the low inflation rate as well as a moderated economic growth, we do not think the central bank will increase the overnight policy rate anytime soon.
"It could provide a relief to the REIT sector, despite seeing monetary policy tightening in some other developed markets such as the US and the European Union.
"Although the yield is not as attractive as compared with about five to six months ago, it is still fairly attractive as compared to that of Malaysian Government Securities, which is around 4.18%," Lee said.
But another analyst cautioned investors looking to enter amid attractive yields to not depend on it as a single valuation yardstick.
"Once a REIT's DPU deteriorates, it is hard to use the yield as a single valuation yardstick," he said.
For example, CapitaLand Malaysia Mall Trust (CMMT) — whose unit price has fallen 42.08% on a year-to-date (YTD) basis to RM1.06 — fetches the third-highest yield among all other listed REITs at 7.58%, versus the industry's average of 5.93% as at last Friday.
However, last week, CMMT reported a 13.86% contraction in its NPI for its third quarter ended Sept 30, 2018 to RM51.74 million, from RM60.07 million a year ago, while top line dropped 7.03% to RM86.15 million from RM92.67 million. Distributable income fell 8.37% y-o-y to RM38.8 million from RM42.39 million.
For the cumulative nine months, its NPI slid 9.71% y-o-y to RM162.14 million from RM179.57 million, while revenue fell 4.94% to RM263.24 million from RM276.93 million.
MIDF Research analyst Ng Bei Shan has described CMMT's quarterly performance as "underwhelming", and trims core net income forecast for the REIT's full financial year 2018 and 2019 by 13.2% and 7.6%, respectively.
"Previously, we had anticipated a better second half as some of CMMT's asset enhancement initiatives came to a tail end. Contrary to that, recovery in occupancy rates and rental reversions is yet to be seen," Ng wrote in a report.
She added that outlook for CMMT — notable for managing Penang's Gurney Plaza and The Mines in Seri Kembangan — remains challenging due to the new supply of neighbourhood malls, especially in the Klang Valley.
The Bursa Malaysia REIT Index finished at 925.62 last Friday, down 12.46% YTD from 1,057.35 on Dec 29, 2017.
This article first appeared in The Edge Financial Daily, on Oct 29, 2018.