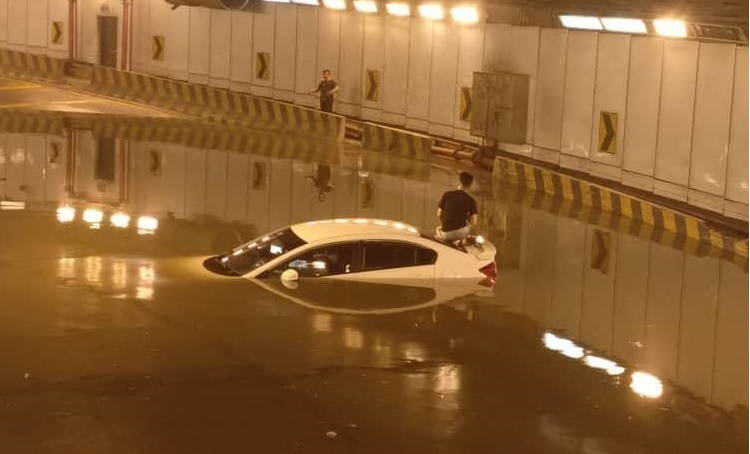 PETALING JAYA (Nov 13): SMART (Stormwater Management and Road Tunnel) said the recent viral photo of a car trapped in a flooded tunnel that was assumed to be the SMART tunnel was incorrect.
The Star reports that SMART assistant general manager Mohd Noor Mohd Ali said: "In reality that can never happen. We are really upset about it and even the media got it wrong with some still refusing to correct their mistake,'' he said, speaking to the daily.
Heavy rains and flash floods on Sunday submerged areas like Jalan Tun Razak, KLCC, Jalan Loke Yew, Jalan Wirawati, Jalan Pudu Ulu, Jalan Pudu Perdana, Jalan Cheras and Jalan Kepong.
The photo, depicting a car trapped in a tunnel leading from Jalan Tun Razak to the KLCC carpark went viral on social media, and in the media, along with the incorrect assumption that the car and the flood were inside the SMART tunnel.
"When there is a flood in Kuala Lumpur, people assume the SMART tunnel is not working or will ask why it did not do its job,'' he said.
The daily quoted Mohd Noor, who said SMART's primary role was to divert flood water caused by heavy rains at the convergence of Sungai Klang and Sungai Ampang into a holding basin in Kampung Berembang. The water is channelled to the reservoir in Taman Desa before being released into Sungai Kerayong.
Its secondary role is to ease the congestion of traffic heading into and out of the KL-Seremban Highway.
This mechanism reduces floodwater from Sungai Klang, and also prevents Sungai Gombak and Sungai Klang from bursting their banks, and overflowing due to storms.
"On Sunday at 5.49pm we received instructions from Irrigation and Drainage Department (DID) to close SMART Highway to traffic due to downpour and activate SMART Mode 3 after the motorway was cleared off vehicles," he explained.
Mode 3 is activated due to major storms, allowing a large discharge of water to pass through the tunnel. During this phase, the highway is completely closed to traffic.
"We informed the public via Twitter, VMS (Variable messages signs), DBKL's Integrated Transportation Information System (Itis) and radio announcements about the closure,'' he said.
The tunnel was reopened to traffic at 7.35pm on the same day.
"So, there is absolutely no way for cars to be inside the tunnel at this juncture,'' he said.
The SMART tunnel system operates on a three-principle mode, reported the daily.
In addition to Mode 3 which is activated during major storms, Mode 1 is used during normal conditions of not much rain. Mode 2 is utilised during a moderate storm, where some water will need to be diverted to the tunnel and confined to the lowest drainage chamber in the tunnel.