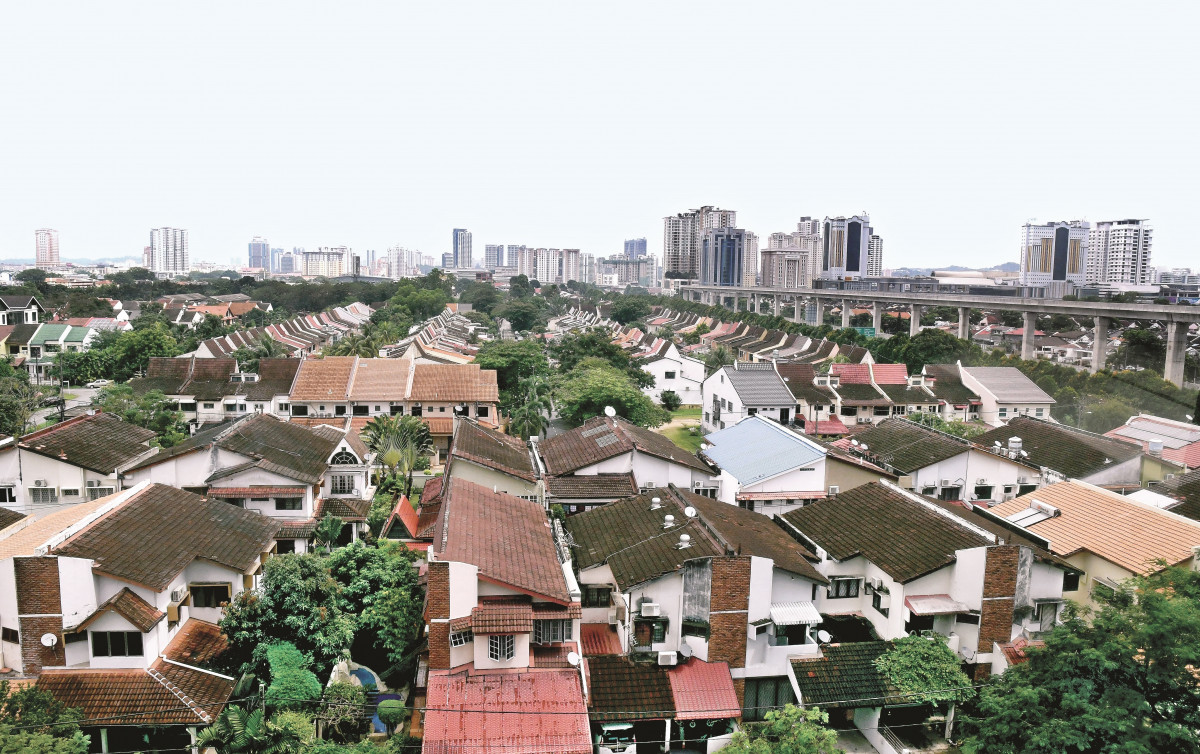 Universities and schools, good food, and heavy traffic are probably amongst the top three things that come to mind when Subang Jaya is mentioned.
For property hunters and homebuyers, this vibrant suburban town in the state of Selangor — first developed over four decades ago — would be at the top of their list of desirable locations. One of the main factors supporting this demand is the existence of the many educational institutions in the area.
Henry Butcher Malaysia chief operating officer Tang Chee Meng tells EdgeProp.my that Subang Jaya always appears on the radar of those looking for a home or a property to invest in, primarily due to its self-sustaining components, which are constantly refreshed with new elements such as new purpose-built offices, hipster hangouts and shopping malls that regularly have something new for visitors.
Hartamas Real Estate (M) Sdn Bhd property advisor Teh Boon Keat says Subang Jaya has earned the moniker 'University Town' due to the number of private universities that have set up campuses here.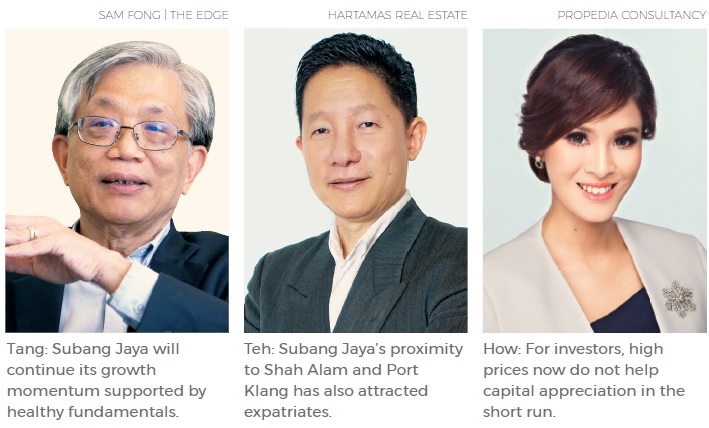 The cluster of tertiary educational institutes that makes Subang Jaya well known as an education hub includes INTI International University & College Subang, Sunway University, The One Academy, Monash University Malaysia, Taylor's University Lakeside Campus and Segi College.
Overall, there are at least 14 tertiary institutes in Subang Jaya offering various courses that attract not only locals but also foreign students.
"Subang Jaya is blessed with a large number of schools both local and international, as well as tertiary education institutes which have attracted many residents to the township.
"The large student and working populations have also provided support for commercial activities and created a healthy rental market in SS12 to 19, USJ and Bandar Sunway areas," says Tang.
For example, Asia Café in SS15 was an iconic food haven in Subang Jaya. The 2.05-acre food court offered over 100 food stalls and was a favourite haunt for students, young working adults and foodies in general before it ceased operations at end-2017 to give way to the Grand Subang Jaya development by Mediaraya Sdn Bhd, the landowner and boutique developer.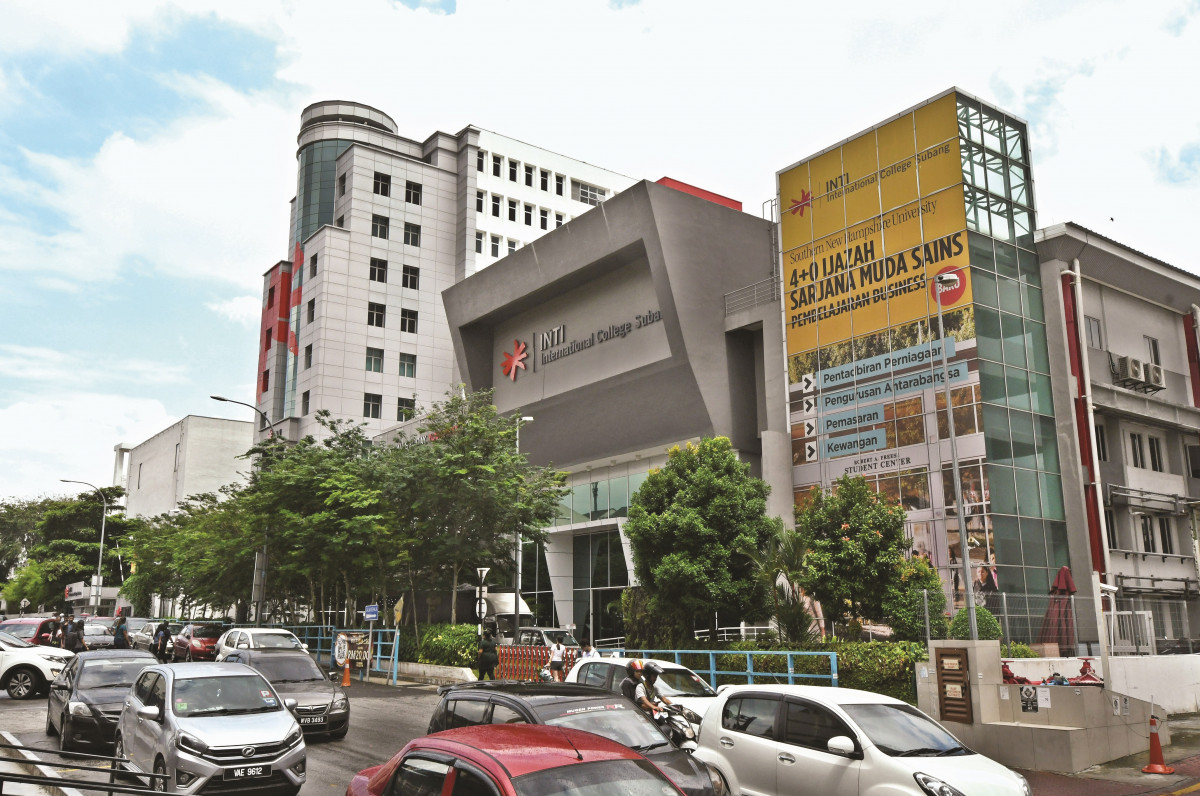 The site will be redeveloped as a small office/home office (SoHo) project which caters to young working adults and students. It will offer 483 SoHos, with a standard built-up area of 563 sq ft housed in two 21- and 14-storey towers, and 770 parking bays.
Tang describes Subang Jaya as a good model of a sustainable township with its ample amenities and facilities, and vibrant commercial component that continues to attract traffic to the area.
He says that this model may be replicated, as long as supporting amenities such as shopping malls, eateries, entertainment centres, housing accommodation and a good public transport system are available to cater to the younger demographics.
From rubber estate to thriving township
Located in the Southwest of Kuala Lumpur, Subang Jaya was originally a rubber estate until the then Sime UEP Properties Bhd, a subsidiary under Sime Darby Bhd, kicked off the housing development in 1976 on the tracts close to SS7 in Petaling Jaya and U1 Shah Alam (the area currently known as SS12 to SS19). Thanks to the strategic location, this area soon became a popular address for new homebuyers.
Subang Jaya municipality comprises areas administered by the Petaling District Council and Shah Alam City Council. Areas carrying the Subang Jaya address include USJ, Putra Heights, Batu Tiga and Bandar Sunway. Based on Subang Jaya Municipal Council (MPSJ) data, the 70.41 sq km municipality is home to 642,100 people as of 2015.
MPSJ data also showed that the number of residents in Subang Jaya exceeded half a million in 2004 with annual population growth at an average of 2.1% or 12,233 people.
In addition to the well-connected road network formed by the Federal Highway, Persiaran Kewajipan and Persiaran Tujuan as well as the Shah Alam Expressway (KESAS), North South Expressway Central Link (ELITE), Damansara-Puchong Highway (LDP) and New Pantai Expressway (NPE), Subang Jaya is also served by several light rail transit (LRT) stations including Subang Jaya, USJ 21, SS15, USJ 7 and Taipan stations, as well as one BRT station in USJ 7.
Teh says the mature infrastructure development and public transport system is certainly a growth factor for the area.
Compared to other popular locations in the Klang Valley such as Petaling Jaya, Bandar Utama and Taman Tun Dr Ismail (TTDI), secondary property prices in Subang Jaya are relatively lower. For instance, one could find a landed freehold double-storey terraced house measuring 20ft by 60ft for around RM650,000, he adds.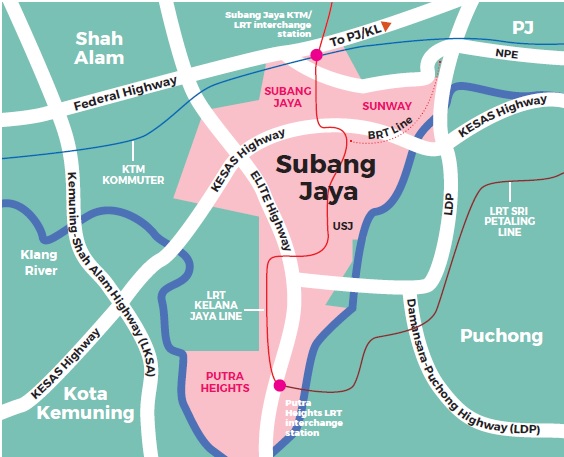 EdgeProp.my data shows that the transaction price of semidees in Subang Jaya averaged RM432 psf based on land size in 1H2018, while the average selling price of semidees in Petaling Jaya was around RM534 psf in the same period.
Meanwhile, the transaction price of condominiums in Subang Jaya averaged RM441 psf in 1H2018, lower than the average selling price of condominiums in Petaling Jaya which stood at RM482 psf.
Teh notes that besides the education element, Subang Jaya's proximity to Shah Alam and Port Klang has also attracted expatriates who prefer to live in high-rise residences close to their workplaces.
"Compared with Shah Alam and Port Klang, Subang Jaya has more rental offerings with easy reach to all kinds of amenities. This is definitely a pull factor for expats," he says.
Housing prices continue to climb
Subang Jaya property prices have enjoyed steady growth over the years. The non-landed residential segment has seen significant capital appreciation over the past six years from 2012 to 2017.
The average transaction price of serviced apartments have risen 49.6% to RM585 psf in 2017 from RM391 psf in 2012 while condominiums have seen their average selling price rise to RM448 psf in 2017 from 330 psf (2012), a capital appreciation of 35.7%.
Landed housing prices have also been on the uptrend, though not as steeply as non-landed homes.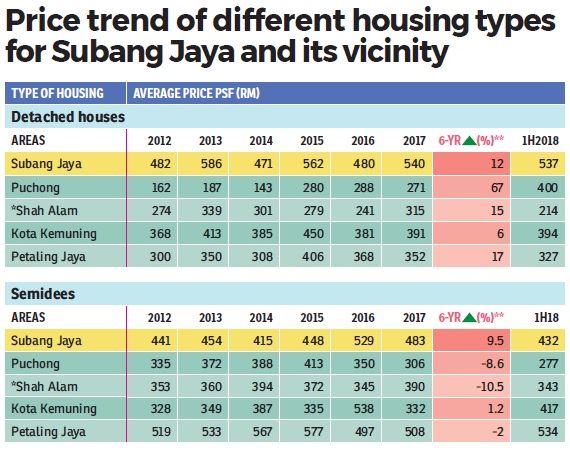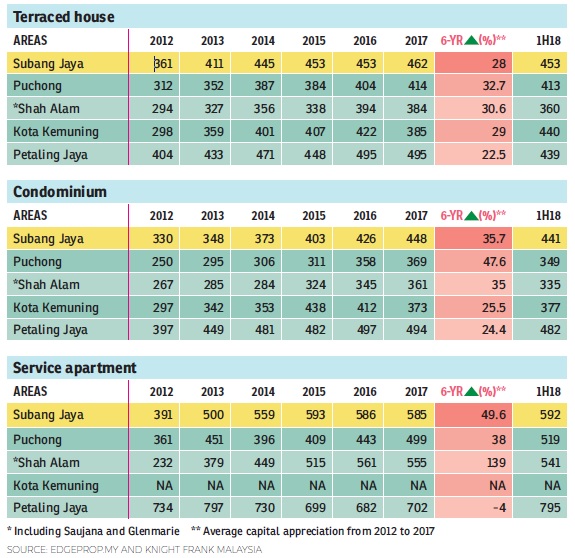 Terraced homes in Subang Jaya have seen their average transaction psf (based on land size) in 2017 rise by 28% to RM462 psf from RM361 psf in 2012 while detached homes were up 12% to RM540 in 2017 from RM482 in 2012. Of all residential types, semidee homes had the lowest capital appreciation growth of 9.5% over the same period with average selling price of RM483 psf in 2017 compared with RM441 psf in 2012.
Despite its good accessibility and amenities, real estate agency Propedia Consultancy founder and principal Vicky How observes that current demand for residential properties in Subang Jaya will not be as good as five to six years ago due to the high entry cost.
"Housing prices (in Subang Jaya) have been escalating. For investors, high prices now do not help capital appreciation in the short run, unless one could find some properties selling under market price," she explains.
Nevertheless, for homebuyers looking for own-stay, the convenience of the road network, public transportation and access to amenities offered by Subang Jaya will continue to make the place attractive.
However, traffic congestion poses the biggest concern for homebuyers, unless they are working within the neighbourhood or if their parents stay nearby. Others may be deterred by the congested traffic.
Rental-wise, How says with the large student and working population, demand for smaller housing units have remained strong.
"Most of them are looking for a one-bedroom unit or bedroom rental… a one-bedroom monthly rental may range from RM1,000 to RM1,500, while two-bedroom units can range from RM1,500 to RM2,500 depending on the furnishing and the quality of the development," she adds.
Despite the strong demand for rental units, she opines that rental yield may not be as good, since property prices in Subang Jaya are higher than other newer areas.
"Nevertheless, some owners have spotted opportunities in short-term rentals and turned their units into Airbnb units. This could generate higher rental income for them as demand for such rentals from business travellers are increasing," adds How.
Although prices are considered high at present, Tang from Henry Butcher opines that as a mature developed area that is well-connected to other cities or commercial hubs, Subang Jaya will continue its growth momentum supported by healthy fundamentals — location, amenities and a growing population.
"The good sales performance of recent new projects such as Lot 15 by Sime Darby Property Bhd and the Grand Subang Jaya shows that property buyers still like Subang Jaya," he says, adding that newer townships like Putra Heights offer cheaper options in Subang Jaya for homes with lifestyle elements and are close to the public transport system.
For investors, Tang advises them to look at terraced houses in older areas such as SS12, SS14, SS15, SS17 and SS19, for their strong rental market.
"For those who desire a quiet and classy neighbourhood, areas like USJ 5, USJ 11 and USJ 16 would be good options to consider," he adds.
Propedia's How observes that in USJ areas close to Shah Alam, housing prices are lower compared with areas close to Bandar Sunway, thus, the homes here could be a safe investment. However, she cautions that investments in this area should not be expected to fetch high capital appreciation in the medium term.
"Whether buying non-landed or landed properties, property buyers should compare the prices of different types of properties. Some of the landed properties in USJ are selling at a price equivalent to a condo. If that's the case, it's better to look into the landed property as there could be many undiscovered gems during this market slowdown as some owners may be desperate to let go," she advises.
This story first appeared in the EdgeProp.my pullout on Dec 7, 2018. You can access back issues here.