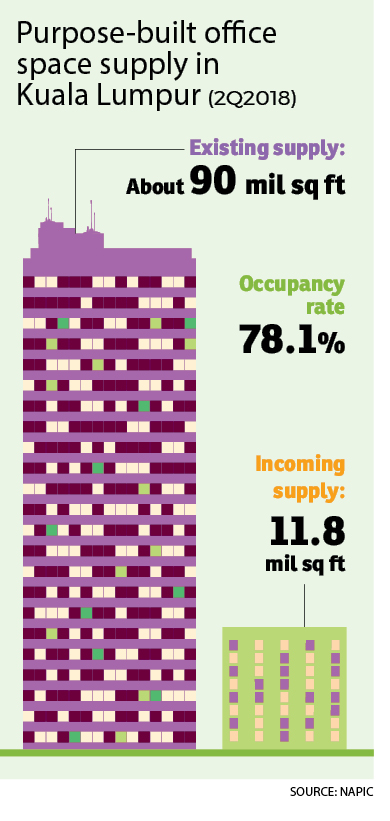 Kuala Lumpur City Centre (KLCC) has been the heart of the central business district (CBD) of Malaysia's capital since the completion of the Petronas Twin Towers in 1999. Over the last two decades, KLCC and its office buildings have benefitted tremendously from the once booming oil and gas (O&G) sector.
Against the backdrop of a commodity-driven economy, KLCC is a success story of the country's rapid growth and development.
"The CBD will expand further when more commercial developments are completed in the KL city. Among the notable upcoming new developments are Merdeka PNB 118, the Tun Razak Exchange and Bukit Bintang City Centre," says JLL Property Services (Malaysia) Sdn Bhd managing director YY Lau.
According to JLL's data, there is currently about 17.7 million sq ft of grade A purpose-built office space in KLCC alone, which is slightly more than half the total stock of KL.
"Net absorption in KLCC has been soft. The demand weakness correlates with the fall in oil prices in 2015 and 2016. Despite improving oil prices in 2017 and 2018, there was still no significant increase in demand," she notes.
Lau adds that both strata and purpose-built offices are expected to continue being affected by soft demand, which translates to high vacancy rates in the short- to medium-term.
Owing to this, dependency on the O&G sector has been reduced while new sectors such as high-technology industries and co-working spaces have been taking up office space in the city centre, says Lau.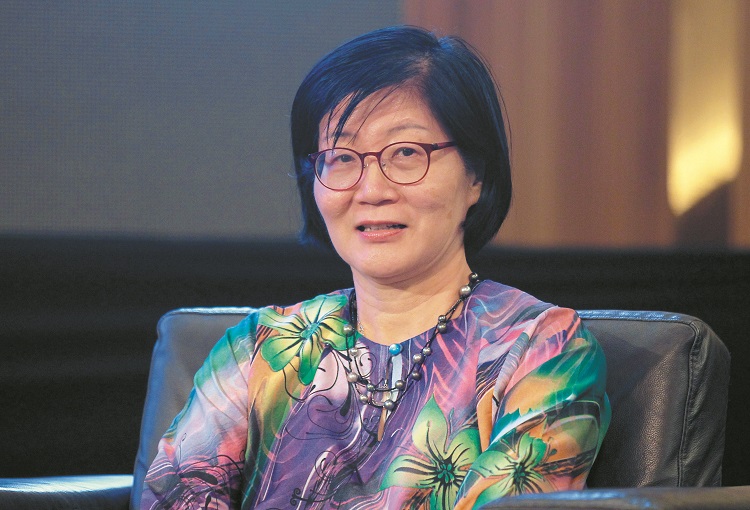 Light at the end of the tunnel?
However, looking at the performance of the overall KL office leasing market in 2017 and the first half of 2018, Zerin Properties managing director and CEO Previndran Singhe says it has been performing better than expected.
"Surprisingly, the office market has been rather strong. It recorded about 4 million sq ft (of take-up) in 2017 compared with 2.5 million sq ft to 2.6 million sq ft the previous year.
"The market slowed down a bit as we entered 2018, but we saw higher demand from the O&G and services sector, as well as SMEs (small and medium enterprises).
"KLCC will pick up again, supported by the recovering O&G sector and the enhancement of the overall traffic infrastructure in the city centre.
"Those who left the city for KL fringe locations due to complaints of traffic congestion in the city centre are now starting
to face similar (traffic) jams there.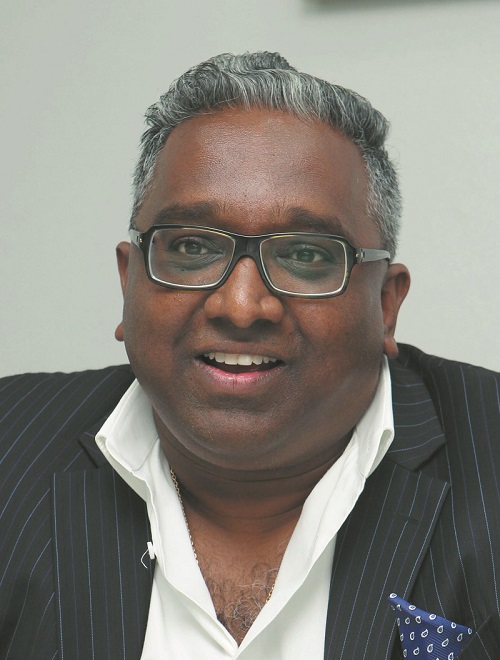 "So, they may think of coming back when their tenancy contracts end because KLCC is the corporate and financial hub of the country," Previndran says.
JLL's Lau agrees that the KLCC office market has been showing minute improvement in terms of occupancy rate and asking rents although they may not seem significant.
"Some of the well-managed premium offices have seen an improvement in occupancy rates. With the stronger occupancy, these premium buildings have started to raise their rents," Lau notes.
She says that the current overall average asking rent in KLCC has increased by 1.0% quarter-on-quarter and 2.7% year-on-year in 1Q2018 to RM7.72 psf per month.
While asking rents have remained resilient at the moment, its sustainability depends on further improvements in demand and actual completion of incoming supply, Lau highlights.
"As several new projects are slated for completion in KLCC over the next five years, higher vacancy rates can be expected and this will exert downward pressure on average asking rents. However, we may see some delays in project completions. Should that be the case, the vacancy rate will not be adversely affected," she reckons.
Both Previndran and Lau expect that demand for KL city office space will be better due to improved connectivity after the completion of the Sungai Buloh-Serdang-Putrajaya mass rapid transit line (MRT 2) in 2021. By that time, office rents in the city centre and those in KL fringe locations (such as KL Sentral and Mid Valley City) will be more competitive with each other.
"The increase in average rents in KLCC has been modest compared to other submarkets. As rents in the KL fringe continues to rise, the KLCC office market will become more competitive.

"In addition, the new developments in KLCC are modern integrated projects incorporating retail, F&B, leisure and residential components that promote the "live, work, and play" concept, thus raising their attractiveness," Lau says.
Previndran also believes that KLCC will remain attractive given the fact that it is the financial hub of the country and the KLCC address is one of the key considerations when foreign companies venture into the Malaysian market.
"It is about the corporate image. MNCs (multi-national companies) take the address more seriously than you think. Furthermore, almost all the country's top banks and corporations have their headquarters in KLCC. It makes more sense to set up their offices here," Previndran notes.
Nonetheless, in the short term, he expects KLCC office rents to remain flat due to substantial incoming supply.
"The market is recovering. We see more activity going on but I do not think we will see a tremendous improvement in pricing if there is more supply. In terms of occupancy rate, I think it will not go any lower than 74%, but it may not break through 80% in the near future," he says, adding that the current occupancy rate for KLCC offices is close to 80%, compared with 78% in 2016/2017.
Meanwhile, Savills Malaysia's director of research and consultancy Amy Wong says some 9.4 million sq ft of office space is expected to be completed in KL city over the next three years, or an average of 3.1 million sq ft per year.
"In a very good year, we have seen about 1 million sq ft being absorbed in KL city. However, office net absorption space averaged 330,000 sq ft from 2014 to 2016.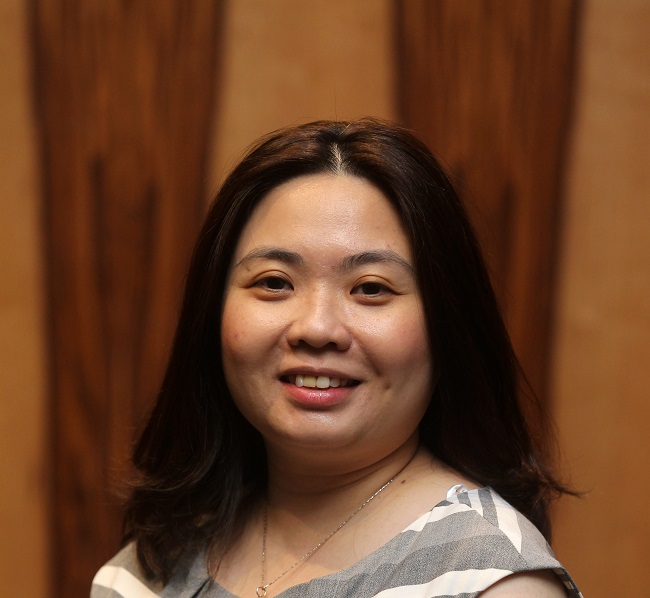 "The continued supply and demand imbalance will inevitably push up the KL office vacancy rate which is currently at 19%. It is worth noting that 45% of incoming office space is pre-committed space, which leaves about 5 million sq ft on the open market," Wong notes.
She also points out that office space demand is largely controlled by economic growth. Such demand is indicated by new international or foreign companies coming into Malaysia and the emergence of new trends such as co-working spaces.
"All of these are evident in Malaysia, but remember that demand normally comes from growth. It is very rare for a company to uproot and relocate wholesale to another country," she notes.
Flexible workspace
Savills' Wong also notes that the rise of flexible workspace operators and tech companies are taking up large spaces, some as anchor tenants in prime office buildings in the city.
These include Colony located at Vipod Residences, Jalan Kia Peng and Common Ground located at KL33, Jalan Sultan Ismail.
In December, New York-based WeWork also announced its first branch in KL which will officially open in 1Q2019.
It will be taking up five storeys at Equatorial Plaza, KL, for a total space of 100,000 sq ft.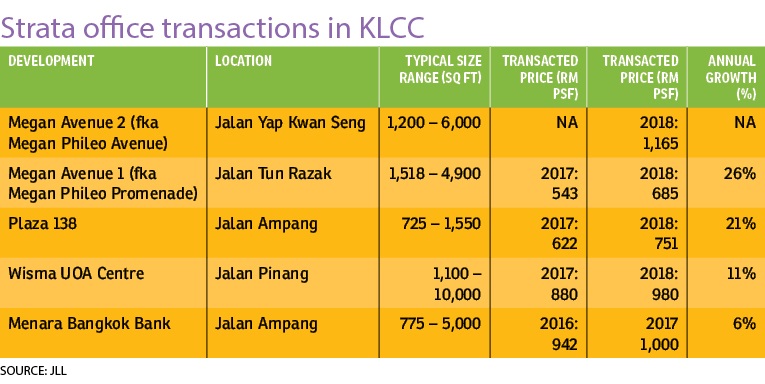 Currently, WeWork operates across 83 cities in 24 countries with more than 320,000 members around the world ranging from start-ups to household names.
According to Previndran, there are about 62 co-working centres in the Klang Valley and most of them are independent companies. In comparison, there are more than 330 co-working centres both in Hong Kong and Singapore.
"The rapid growth of co-working spaces will benefit the tenant. They don't have to be locked into a long-term contract, especially if they are start-up companies or they are here just for a few months to study the market before setting up a branch in Malaysia.
"I believe the growth of co-working space will impact the overall office market, but in a positive way, as it will encourage more market activity in the office segment,"
Previndran concludes.
The completion of new high-specification premium office buildings that offer good connectivity and integrated concepts may attract more technology and co-working space providers, says JLL's Lau.
Strata offices
Despite the current subdued KL office market overall, Previndran has observed a relatively healthy demand for strata offices.
"There are many purpose-built offices around that are not really suitable for small users or new companies because it may be too much to commit to, especially in the current uncertain market environment. So, smaller strata office units could be a good option.
"Strata office unit owners are targeting SMEs as they offer the strongest demand (for offices) at all times," Previndran shares.
According to Previndran, there are only a few existing strata office buildings in KL's Golden Triangle such as Menara Bangkok Bank and Megan Avenue. As such, he believes there is good investment potential in strata offices going forward, due to their limited supply.
Savills' data shows that there are 3.03 million sq ft of stratified office space in the KLCC area which makes up about 6.5% of the total market share.
"Average vacancy rate recorded is about 37.6%," says Savills' Wong.
However, larger companies like MNCs would still prefer to rent office spaces in purpose-built office buildings.
"Not many companies are willing to buy office suites, especially MNCs. Generally speaking, MNCs would rather lease space in purpose-built offices as they offer the flexibility to expand or downsize," says Lau.
This story first appeared in the EdgeProp.my pullout on Dec 21, 2018. You can access back issues here.