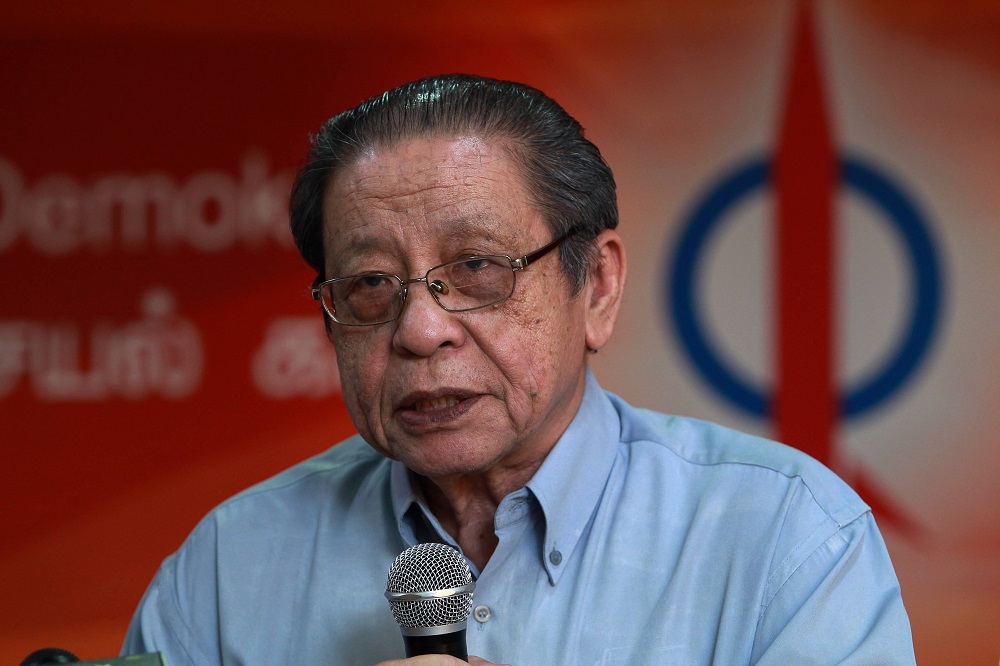 KUALA LUMPUR (Dec 31): All political parties and politicians, including Member of Parliaments (MPs) of the 13th Parliament, should return to public coffers any funding and donations they had received from the 1Malaysia Development Bhd (1MDB) scandal, says DAP lawmaker Lim Kit Siang.
Kit Siang, who is MP for Iskandar Puteri, pointed out that the state development fund's scandal, as well as other 1MDB-like scandals such as the Federal Land Development Authority, the Federal Land Consolidation and Rehabilitation Authority, Lembaga Tabung Haji and Majlis Amanah Rakyat are not any closer to a closure despite close to eight months since the historic Pakatan Harapan's win in the 14th general election on May 9, ending 60 years of Barisan Nasional (BN) coalition rule.
As a step closer to closure of the 1MDB scandal, Kit Siang called on those who had aided and abetted former prime minister Datuk Seri Najib Razak – including former ministers and MPs -- to apologise to all Malaysians for being "enablers of Najib kleptocracy".
"They have two days to make a clean breast of their past as enablers of Najib kleptocracy, and to declare and demonstrate their regret and contrition for not standing up to the crime of global kleptocracy and failing the nation – or they will carry the cross of being enablers of Najib kleptocracy into the new year," he said.
"It is a terrible indictment on what is left of the three BN coalition of Umno, MCA and MIC, as well their former political parties that in the past seven months – whether in Parliament or outside -- none of them had conceded that the 1MDB scandal was a national catastrophe or repudiated Najib for the monstrous kleptocracy when he was prime minister, and to express their apologies and contrition for their role as enablers of Najib kleptocracy," added Kit Siang.
He cited the recent appointment of Najib to the Umno advisory committee as a clear sign of the political party's unrepentant role of its kleptocratic past, and why the 1MDB scandal and Najib's kleptocracy record should continue to be kept in the public limelight until the country develops a culture of "zero tolerance for corruption".
"Every one of the BN MPs, including MCA's sole MP Datuk Seri Wee Ka Siong, had been tarred with Najib's kleptocracy, and they have not repented. The same applies to the PAS MPs as well," Kit Siang noted.
"In fact, during the 50-day meetings this year of the 14th Parliament, not a single one of the BN MPs be it Umno, MCA or MIC – and this includes the PAS MPs – had given a speech on the 1MDB corruption scandal, although it is the single biggest global scandal confronting Malaysia.
"Can these opposition MPs explain why?" he asked.
In September, Deputy Inspector General of Police Tan Sri Noor Rashid Ibrahim had revealed that more than 50 people received money that can be traced to the billions of ringgit of 1MDB-linked funds that went into Najib's bank account, and political figures were among the recipients.
That same month, Najib was slapped with 25 charges of graft and money laundering relating to transactions amounting to RM2.3 billion that are linked to 1MDB -- a fund the former prime minister founded.
In December 2017, US Attorney General Jeff Sessions had described the multi-billion dollar corruption scandal involving 1MDB as "kleptocracy at its worst".
It was reported then that US investigators believed US$4.5 billion has been misappropriated from the fund by high-ranking Malaysian officials and their associates since 2009, making it one of the world's largest ever financial fraud cases and the biggest action ever brought under the US Department of Justice's Kleptocracy Asset Recovery Initiative. — theedgemarkets.com