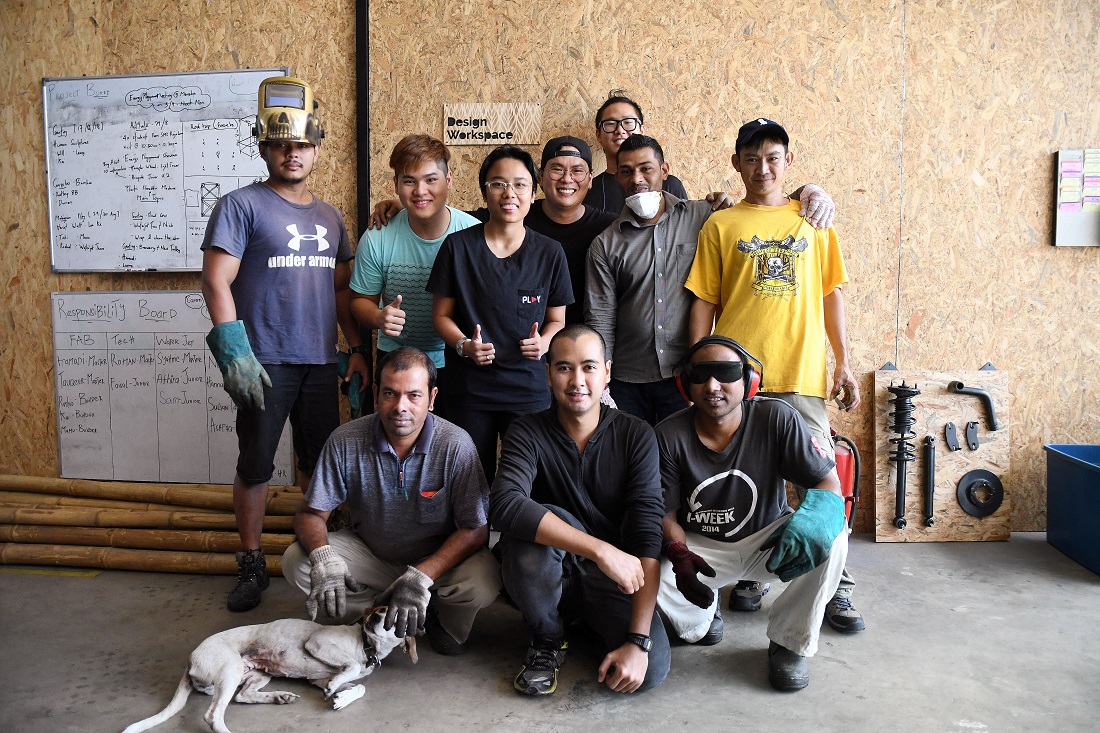 Industrial revolutions over the past three centuries have transformed human lives. Mass production, increased efficiency, and reduced average cost have made the ease of acquiring goods so ubiquitous, it is taken for granted in many parts of the world.
The downside, however, is that the resulting volume of waste produced has exacted a heavy toll on the environment. We have overloaded the planet with our trash and it is time for a solution.
All over the world, movements have begun to mushroom, tackling the issues from various angles. Recycling is becoming commonplace, as is reducing dependency on single-use items in favour of reusable goods.
Then there's upcycling.
Unwanted, discarded items transformed into objects of higher value, given a brand new repurposed lease on life. Biji-biji Initiative creator and builder William Kong and his team put this into practice with passion, and turn a wide variety of what was once trash into bags, furniture or even pieces of art.
"It's different from the recycle and reuse concept, where the value of the item remains the same," Kong explains. "It's a process of rethinking and creating. We are adding new value to unwanted items and turning them into high-value items."
Anything can be bought, he notes. The ease of simply buying new items to replace anything that breaks has resulted in an overwhelming amount of garbage polluting our environment.
The source of their materials draws from this well, with items that are either donated, bought from scrap collectors or scavenged in junkyards.
A giant bird crafted from scrap metal once adorned the helipad at Genting Highlands, towering above, capturing the imaginations of Malaysians who attended the arts and music festival Urbanscapes and Biji-biji's Art Attack event in 2015. Art installations were also on display, featuring works made from discarded casino chairs and reclaimed timber beams.
Always drawing a crowd at exhibitions are their giant hamster wheel, merry-go-round and bicycle with a blender, that feature in Biji-biji's energy playground.
Upcycled creations like these demonstrate how innovation can turn waste into useful, beautiful things and reduce waste to protect our environment.
"Humans are born to design and invent things, but we are losing this ability because of the comfort of getting new things," Kong laments. "Some of us don't even know how to change a light bulb or fix a leaking pipe, and all these are basic knowledge."
This insight into the crux of the problem with our current lifestyles is what draws like-minded youth to come together, and work with Biji-biji Initiative.
The team has also partnered with private companies, shopping malls and public spaces for art installation programmes, working with Sime Darby Property Bhd in their Beyond Bins Recycling Program in Bandar Bukit Raja and EcoWorld EcoFestivals to showcase upcycled furniture, as well as organising educational talks and workshops for the public.
In a new three-storey factory in Pandamaran, Klang, Selangor, the collective's Ethical Fashion unit is housed, alongside the art installation item production department. Unusual and fashionable handbags, coin pouches, recycled bags and document folders are produced, crafted from unused safety belts, used kimonos and advertisement banners.
The safety belt and kimono handbags are hot sellers on their online store, while their recycled bags made of advertisement banners are in demand as corporate gifts by private companies.
The social enterprise has also developed Me.reka Makerspace, located at Publika in Kuala Lumpur, in
an effort to promote Biji-biji Initiative in an innovative and alternative education space.
In the Me.reka Makerspace, as with all their efforts, the underlying goal is to tap into that lost element of the human faculty — to design and invent, and to plant and nourish the seeds of creativity.
Biji-biji Initiative
Contact: (03) 6419 4755
Facebook: bijibijiinitiative
Website: www.biji-biji.com
This report is part of the "Apprentices Oh Hope" segment in Live! 2019.
This story first appeared in Live! 2019 magazine. Download your copy of the magazine here.