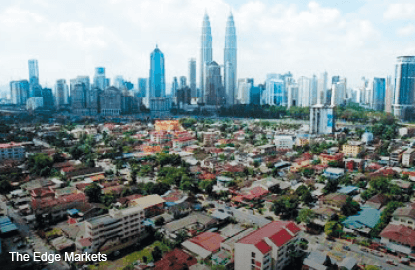 KUALA LUMPUR (Jan 3): A fresh proposal on the long-delayed redevelopment plan on Kampung Baru is expected to be presented to the government by the end of this month, said its coordinating agent, Kampung Baru Development Corp (KBDC).
The new proposal is based on the result of a survey conducted in November by KBDC, its CEO Zulkurnain Hassan was reported saying in Malaysian Reserve today.
The redevelopment of the Malay enclave in the heart of Kuala Lumpur has failed to take off due to decades of numerous unresolved issues on onwership, land titles and price valuations.
The heritage village has been envisioned to be transformed into a modern "21st century Kampung Melayu". Sitting on 121.41ha plot of land, the 20-year-project was planned to include 17,500 residential units to cater up to 77,000 people with an estimated cost of RM43 billion. It is slated for completion by 2035.
To acquire the plots, KBDC, since April 2012, has had to deal with more than 5,000 landowners of 1,355 lots, most of whom had inherited the plots from their ancestors.
Previous negotiations among KBDC, developers, landowners and other stakeholders had not borne any resolution as it did not represent the real aspiration of the Kg Baru residents, said Zulkurnain.
As such, KBDC had released almost 5,700 questionnaires to registered heirs and landowners, asking, among others, their views on the activation of the Land Acquisition Act 1960, which would allow the government to take over their assets by force.
He added the survey also served to gauge the sentiment of the Malays in loosening up the Kg Baru "Malay Agriculture Settlement" (MAS) status to allow non-Malay buyers to own properties there. This is to avoid overhang, which has been a concern among developers.
"We have about 8,000 names for the land that sits under the Kampung Baru MAS and three flats areas. Of the total, more than 2,000 names do not have the proper address and identification numbers, and we have to exclude them.
"Hence, we only send 5,697 survey forms. However, 1,200 of the forms did not reach the recipients due to wrong address or because they are deceased. As a result, only 1,287 of them have responded so far," Zulkurnain said.
The survey covered 89.8ha of MAS designated land and about 800 units of flats (8.1ha).
"Prior to this, we had only received negative feedback rejecting the redevelopment plan. However, we feel that the sessions were represented by just a handful of them (residents). The silent majority may also have their own views, but they just kept quiet. That was how the survey came about," Zulkurnain revealed.
"After we present these data to the Federal Territories Ministry, it is up to the government to decide on the next course of action," he added.
Zulkurnain opined that any further residents' engagement, including the proposed Kampung Baru Development Congress, may only be held after a firm decision by the government.
He is confident that the data collected by KBDC would be sufficient to represent the voice of the Kampung Baru residents.
"The Department of Statistics Malaysia only use a minimum of 10% respondents to represent the whole data, while other parties set a benchmark of 20%. As for us, ideally we want to get a 100% feedback, but we cannot force people to take part in the survey.
"However, we already have more than 20% of the total number of respondents. That should be enough," he concluded.