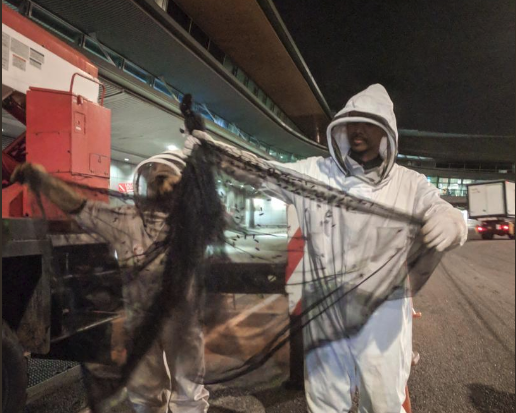 PETALING JAYA (Jan 11): The second installment of the bee saga at Kuala Lumpur International Airport (KLIA) came to a bee-utiful conclusion today when a second swarm found at the main airport terminal was humanely dealt with.
Malaysia Airports Holdings Bhd (MAHB), which came under fire for fumigating the first swarm of bees that appeared on Jan 8, had apparently learnt is lesson and called upon MY Bee Saviour, an initiative by the Malaysian Agricultural Research and Development Institute (MARDI), to relocate the second swarm.
The airport operator's acting CEO and CFO Raja Azmi Raja Nazuddin tweeted about the rescue attempt:
We will save you bees! Don't worry, the experts, @penyelamatlebah are here. Good luck team, let's work together as one. This afternoon, my team reported the sighting of another swarm of bees at KLIA. So we contacted the experts to help relocate these bees safely. #saveMYbees pic.twitter.com/Pg33PEQq3p

— Raja Azmi (@YMRajaAzmi) January 10, 2019
The rescue mission which continued late into the night went well.
Last night's bee rescue mission at KLIA was a success, thanks to our new found friends from @penyelamatlebah. These bee saving specialists are definitely night time superheroes in disguise. We will continue to care for all at the airport, including bees. Have a bee-utiful Friday! pic.twitter.com/ev3vr2jHxq

— Malaysia Airports (@MY_Airports) January 11, 2019
Local netizens had earlier condemned the fumigation of the first bee swarm, which were found at Bay Q4 of the Kuala Lumpur International Airport 2 (klia2), but now applauded MAHB and MY Bee Saviour for saving the bees.
@MY_Airports gives me hope @penyelamatlebah #saveMYbees

— Ee Cheam Brand (@smellicatfish) January 11, 2019
When reports of the first swarm of bees at klia2 first emerged, some of them were bee-sy making jokes:
There are bees in Klia 2 now. They must be preparing for their. "Honey" moon....

— Priangka Elizabeth (@Priangka_Eliza) January 8, 2019
Geng lebah tgh transit la ni kat KLIA tu. https://t.co/tqHQNHAhBO

— Momoa (@Aliif_Ihsaan) January 9, 2019
Thankfully, this time the bees have a happy ending!