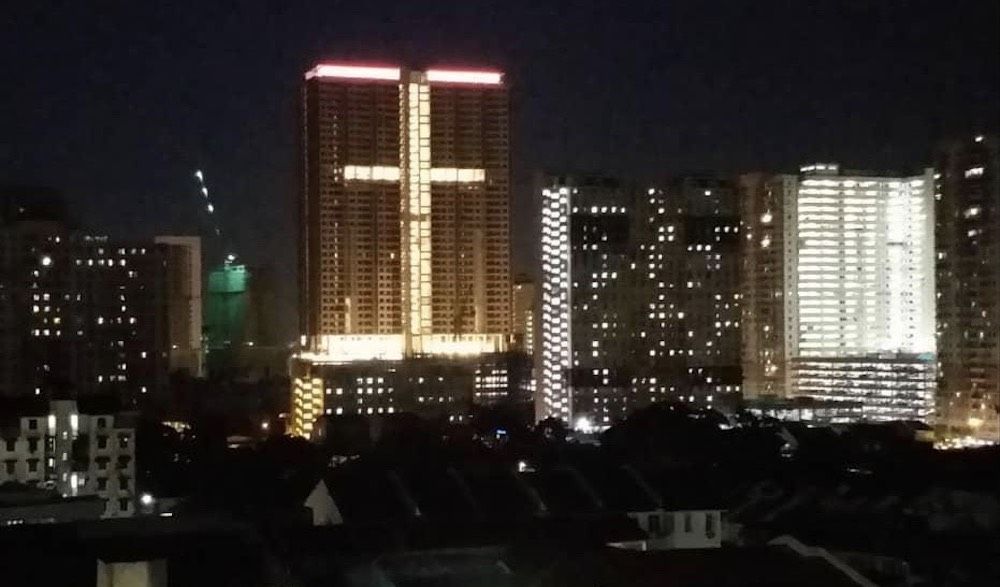 The recent uproar over what looked to be a cross in lights on the Grace Residence building in Jelutong, Penang, were actually a Chinese character for 'royal'.
The Malaysian Insight reports that a spokesperson for developer Nova Mulia Development Sdn Bhd said the lights at the apartment, which was near 90% completion, were being tested.
"Perhaps when pictures were taken, the lights had shown a cross. But the lighting is not meant to show a cross.
"We have lights on the top floor and at the car park level too, but the photographs did not show the two top and bottom rows of lights turned on at the common areas.
"So all that was shown are the lights that form a cross," she said to the news portal.
When all the lights on the top floor and car park level are turned on, it will appear as the Chinese character 'wang' (王), which means "king" or "royal".
It is also a common Chinese surname, which is read as "ong" in dialects like Hokkien.
"That is what the lights would normally show at night," the spokesperson was quoted as saying.
Viral images of what appeared to be a cross formed by the lights on the building led to outcry from some Muslims.
The news portal reports that Chief Minister Chow Kon Yeow said the state had asked the developer for an explanation, and that the developer was testing the lights at the apartment.
He reminded all parties to respect the sensitivities of others.
The spokesperson of the developer said that the developer had informed the Penang Island City Council and the state regarding the situation.
"Even this morning we had a meeting with the local authorities. They understand the situation," she was quoted as saying.