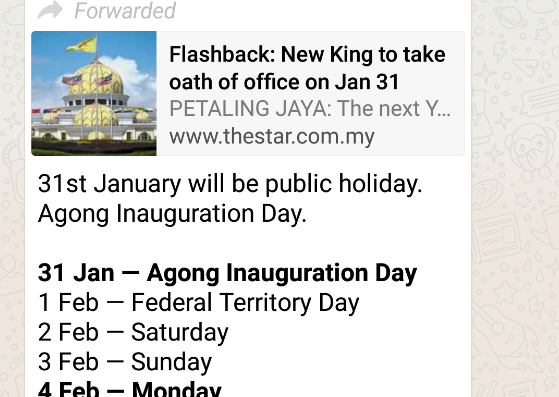 PETALING JAYA (Jan 15): Jan 31 has not been declared a public holiday yet, according to a report by The Star.
The daily had checked with the Keeper of the Rulers' Seal and discovered that no public holiday has been declared for that day.
This is in contrast with a viral message making the rounds on social media and messaging apps declaring Jan 31 a public holiday with a link to the daily's story about the Yang di-Pertuan Agong taking his oath of office on Jan 31.
The message further recommends taking Feb 4, 7 and 8 off to enjoy an 11-day holiday from Jan 31 to Feb 10.
According to the report, the Malay Rulers will meet on Jan 24 to decide who the next supreme ruler will be and reconvene at the end of this month for the oath-taking ceremony.
Sultan Muhammad V of Kelantan abdicated on Jan 6, just over two years into his term. The Yang di-Pertuan Agong typically rules for five years according to the constitutional monarchy system.
He is the first supreme ruler to resign from office.