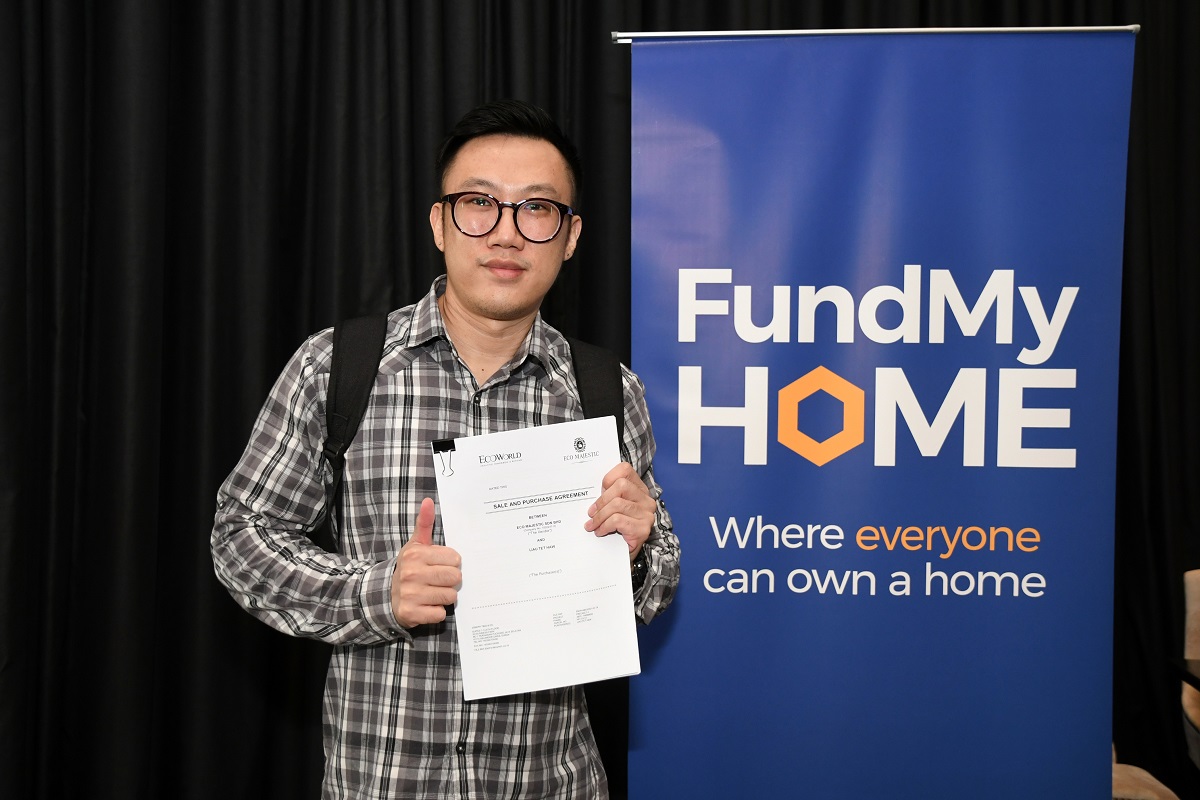 SEMENYIH (Jan 17): Thirty-five-year-old Liau Tet Haw has finally fulfilled his long-time dream of owning a home – thanks to innovative property funding platform FundMyHome (FMH).
"I'm so excited to finally have a place to call my own!" beams Liau, who hails from Sabah. "I have always wanted to buy a property in West Malaysia where I have been working for years, Liau shared with EdgeProp.my after signing the sales and purchase agreement here today.
Liau is buying a unit at the Harmoni Apartment at Eco Majestic, an up-and-coming township by Eco World Development Group Bhd.
The freehold 900 sq ft unit costing RM300,000 offers 3 bedrooms, 2 bathrooms and two parking bays. Some of the common facilities provided include a function room, swimming pool, multipurpose court, children pool, playground and anti-climb fencing.
Although FundMyHome is a newly-introduced platform, Liau said he is very positive and confident with the scheme as it collaborates with reputable developers in Malaysia.
"My friends and family members had asked if I really want to take the 'risk' because the FundMyHome scheme seems too good to be true.
"They said it could be a scam!" he recalled with a laugh. "I'm grateful that I made the right decision. Today, I have am finally the owner of an apartment unit in Eco Majestic," he added.
Liau, like many other prospective homebuyers, had made several attempts but failed to get a bank loan to buy his first home.
"I want to settle down in West Malaysia... It is not easy to get a bank loan. Without FundMyHome, I probably can only continue to rent the unit I am now staying in OUG (Overseas Union Garden, KL) and get nothing at the end of the day.
"FundMyHome has made my dream come true," adds Liau.
Under FundMyHome, Liau just had to pay 20% of the purchase price of the Harmoni Apartment to move in. There is no need for a bank loan as the 80% of the purchase price is funded by institutions. Hence, Liau has no mortgage payments to worry about for the next five years at the end of which he would decide whether to own the entire 100% of the unit or sell it.
"Since Harmoni is already completed, I can do the renovation now and move in soon after the renovation is done. I'm ready to take-up the 80% share of this unit five years later so I'm ready to invest money to renovate this unit," said Liau.
Launched two months ago, FundMyHome enables a person to buy a property listed on the platform by paying 20% of the price. The remaining 80% will be contributed by institutions keen to fund the acquisition in exchange for a pre-determined yield and a share of the potential value appreciation of the home.
EcoWorld is one of the developers participating in FundMyHome. The developer is exploring the possibility of expanding its portfolio of units on the platform.
FundMyHome is powered by EdgeProp.my Find out more at www.FundMyHome.com