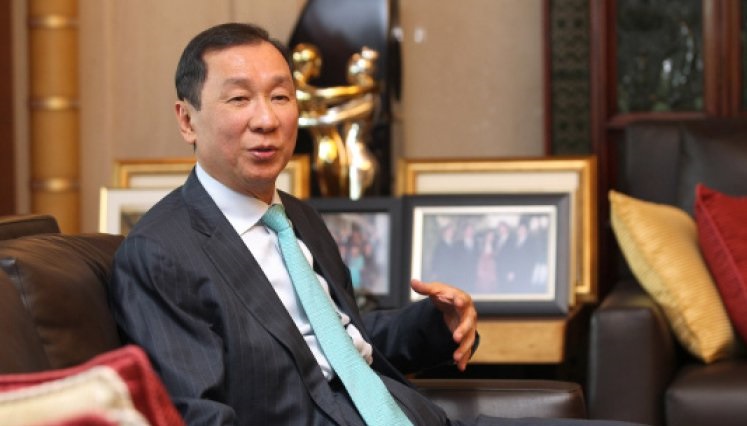 PETALING JAYA (Jan 26): Back at the helm of developer Tropicana Corp as executive vice chairman, Tan Sri Danny Tan Chee Sing is rearing to go.
"I have to come back to kick off all these plans. I want to get involved in everything. I want us to make the right decisions faster. That's the life of a businessman. We can hire as many professionals as we want, but if the boss is more involved, the employees will have to work harder and do a better job," Tan told The Edge Malaysia.
Tan had announced his retirement from the day-to-day management of Tropicana in June 2015.
*Tycoon Danny Tan takes back reins of Tropicana
*Danny Tan to inject landbank worth RM1.85b into Tropicana
He is a major shareholder in the company with a 63.56% stake.
It was also announced a couple of days ago that he is injecting into the group what is left of his privately-owned land bank worth RM1.85 billion — representing a 17.9% discount as compared to the indicative market value.
The landbank of 1,116.88 acres (451.98ha) under 12 real estate holding companies are located in the Klang Valley and Johor, with the potential gross development value (GDV) of RM24.82 billion.
"After this injection, I will have no more privately owned commercial land. 1,000% no more. The only thing left will be my residence," he jokingly told the business weekly.
Tropicana is also proposing to enter into joint ventures (JVs) with Cenang Resort Sdn Bhd, Sinaran Ramah Sdn Bhd, Pantai Kok Resort Development Sdn Bhd, Suci Padu Sdn Bhd and Ibarat Indah Sdn Bhd to jointly develop four plots of land totalling 1,328.76 acres the five companies own in Pulau Langkawi and Pekan Nenas, Johor. The total estimated GDV for the proposed JV developments is RM6.7 billion.
The company said the proposed acquisitions are expected to facilitate the continuing growth of its core business as a property developer by increasing its existing land bank in Johor and Kuala Lumpur.
Tan said some of the proposed JV developments will be launched around June and July this year.
According to him, "the two most important projects to be unveiled this year are the one in Genting and the resort in Sabah".
He also explained that the two projects are "not related to the latest asset injection and proposed JVs".
"Last year was bad for the property market. I expect this year to be good. That's why I think it is a good time to launch the Genting project and the Sabah project, which are already under the group," he was reported saying.
On a personal note, he said his children must strive harder and "should not take things too easy".
"The second generation are still learning. They need some time, but I believe in them," he said.
Tan is reported by Forbes to be the country's 19th richest man with a fortune of US$990 million (RM4.08 billion).