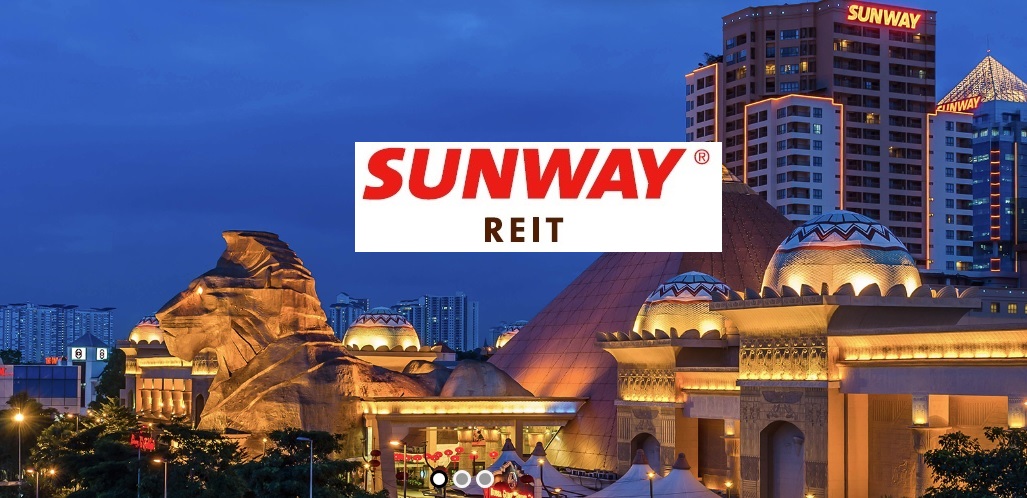 Sunway Real Estate Investment Trust (Feb 15, RM1.75)
Maintain hold with a target price (TP) of RM1.88: Sunway Real Estate Investment Trust (Sunway REIT) posted a realised net profit of RM139.5 million in first half of financial year 2019 (1HFY19). Results came in within expectations, accounting for 47% and 49% of our and consensus full-year estimates respectively.
A distribution per unit (DPU) of 2.25 sen (-5.5% year-on-year [y-o-y]) was declared for this quarter, bringing the total year-to-date FY19 DPU to 4.73 sen (-6.3% y-o-y). This translates into an annualised distribution yield of 5.4%, based on last Friday's closing price.
*Sunway REIT 2Q net property income flat; company declares 2.25 sen DPU
*Francis Yeoh promoted to chairman of YTL Hospitality REIT
In comparison, Sunway REIT's 1HFY19 net property income (NPI) widened 0.2% to RM214.7 million, in tandem with a 0.2% increase in revenue. The slightly better performance was mainly attributed to the higher performance of all segments but partially offset by a weaker performance from the hotel segment.
However, the 1HFY19 realised net profit fell 6.3% y-o-y to RM139.4 million, largely impacted by higher finance cost (+19.7%) due to a drawdown of loans for new acquisitions and capital expenditure, as well as the higher average cost of debt following the increase in the overnight policy rate by 25 basis points in January 2018.
In terms of segmental performance, the retail segment's NPI increased 3% y-o-y as revenue advanced by 1.4% y-o-y. The higher NPI was attributable to lower advertising and promotional expenses at Sunway Pyramid. Sunway Pyramid recorded revenue growth of 3.4% y-o-y as the mall achieved better turnover rent during the period under review. However, Sunway Putra Mall's revenue dipped 2.2% y-o-y due to attractive rental packages offered to selected tenants as a strategy to maintain the vibrancy of the mall.
The hospitality segment revenue and NPI decreased 12.5% y-o-y and 17.2% respectively, primarily due to lower overall average occupancy rate on the back of the soft market condition within the hospitality industry. Notably, Sunway Resort Hotel & Spa's revenue and NPI plunged 67% and 69% respectively in 1HFY19 which was largely due to a lower average occupancy rate of 64.2% versus 82.1% a year ago. This follows the closure of the hotel's grand ballroom, meeting and function rooms for refurbishment.
The office segment's revenue and NPI increased by 16% y-o-y and 34.4% y-o-y respectively in 1HFY19. The better performance was mainly contributed by Menara Sunway and Sunway Putra Tower with higher occupancy rates.
There is no change to our dividend discount model-derived TP of RM1.88 per share. Sunway REIT's share price has appreciated 6.1% since we upgraded the stock to "buy" in December 2018. With a potential upside of only 8%, we downgrade Sunway REIT to "hold" from "buy" previously. — TA Securitie, Feb 15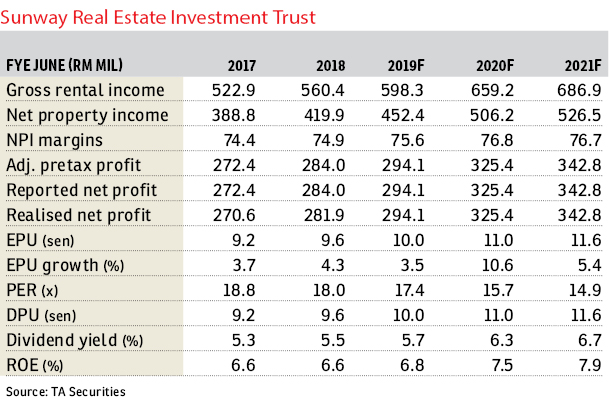 This article first appeared in The Edge Financial Daily, on Feb 18, 2019.