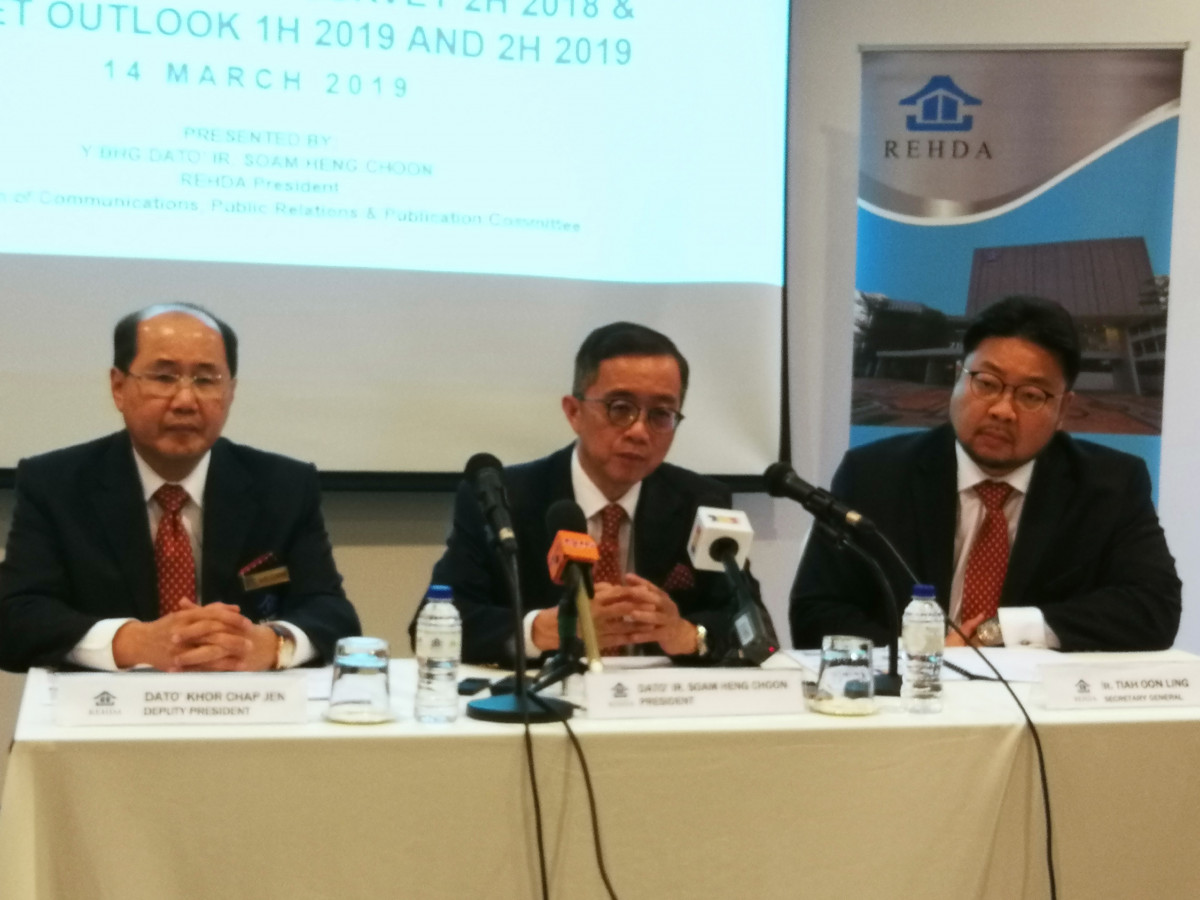 PETALING JAYA (March 14): Some 496 units worth RM285 million were booked at the recent Home Ownership Campaign 2019 (HOC 2019) Expo held at the Kuala Lumpur Convention Centre from March 1 to 3.
"The expo also recorded a total of 43,000 visitors over the three days," said expo organiser Real Estate and Housing Developers' Association Malaysia (Rehda) president Datuk Soam Heng Choon at a media briefing on Rehda's Property Industry Survey 2H2018 and Market Outlook for 2019 today.
According to a HOC Expo visitors' survey, 99% of the 1,747 respondents were Malaysian, with the majority (75%) aged 39 years and below. More than half of the visitors were married (54%).
"Half (50%) of the visitors were first-time homebuyers who were mostly looking to buy a home for self-dwelling (39%).
"One thing that showed up in the survey was that the buyers were realistic people. We can tell this from the budget they have and the property type they were looking for," Soam added.
In the survey, 62% of respondents were looking to buy property priced between RM201,000 and RM500,000 while 41% wanted to buy an apartment or condominium unit.
"We would be worried if they wanted to buy a bungalow with a budget of RM500,000. We can tell buyers are more realistic now and they had done their homework," Soam noted.
The majority of respondents preferred units with built-up sizes of 1,001 sq ft to 1,500 sq ft, as well as 3-bedroom 2-bathroom units. Only 1% chose studio units while another 1% chose 1-bedroom units.
"I think the shoe box unit is no longer attractive to buyers today," he said.
The survey also found that the top three preferred locations for home buyers in the Klang Valley were Petaling Jaya in Selangor, Cheras and Wangsa Maju in Kuala Lumpur.
The top five factors influencing the choice of locations were good transport network, being close to commercial centres, availability of public transport, close to family and friends, and close to the workplace.
The campaign, which runs from Jan 1 to June 30, 2019, is organised in collaboration with the Housing and Local Government Ministry (KPKT) and aims to encourage home ownership among Malaysians.
During the campaign period, all homebuyers of participating projects will get a minimum 10% discount on the price of the homes and stamp duty waivers on the instrument of transfer (up to RM1 million) and loan agreement (up to RM2.5 million).
"Almost 77% of respondents said they would buy a house within the HOC period. In fact, 44% of them visited the HOC [email protected] because of the incentives such as stamp duty exemption (8%), at least 10% discount by developers (19%) and attractive packages (17%)," Soam revealed.
HOC [email protected] is the flagship expo of the HOC. Participants included 55 property developers and government affordable housing agencies.
When asked about the estimated sales target for the entire HOC 2019 period, Soam is confident of achieving the RM3 billion target within the 6-month HOC period.
"Some property consultants think RM3 billion is not achievable but we (Rehda) are very confident. We are not only looking at these three days of sales (HOC Expo) but over six months," he emphasised, adding that many visitors only make their buying decision after the expo.
"Our members have reported that their sales galleries have more footfalls the week after the expo. Not forgetting the fact that HOC [email protected] is just one of the many expos that will be held during the HOC period. Each Rehda branch in various states will hold at least one HOC expo locally.
"We are very confident that HOC 2019 can achieve at least RM3 billion sales,"he said.
He added that Rehda will not be requesting for an extension of the HOC period for now.
"We hope people looking to buy a home will act now. However, if there is a need for an extension at the end of the HOC, we will see what we can do."