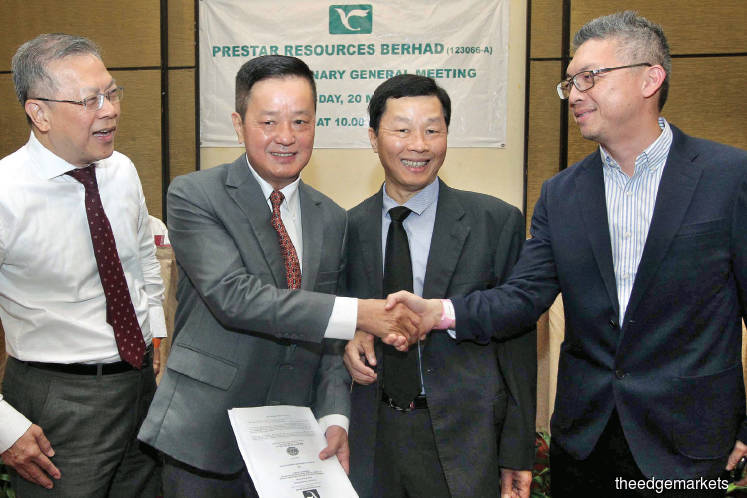 KUALA LUMPUR (March 21): Prestar Resources Bhd is eyeing highway and associated road projects to deal with the margin squeeze it is currently facing, and the future earnings dilution from the proposed listing of its flat steel manufacturing unit Tashin Holdings Bhd.
"We believe that the government will continue to carry out infrastructure jobs," said Prestar group managing director Datuk Toh Yew Peng after the group obtained shareholders' approval for the listing of Tashin.
"All this will benefit Prestar, being the biggest manufacturer of guard rails in Malaysia," said Toh, stressing Prestar's track record of having supplied some 50% of the country's demand for guard rails over the last 25 years.
Toh referred to ongoing projects such as the Damansara-Shah Alam Elevated Expressway (DASH) and Sungai Besi-Ulu Klang Elevated Expressway (SUKE), as well as the continuation of the Central Spine Road and the West Coast Expressway (WCE) recently approved by the federal government.
"Eventually, there will also be the spillover effect from future development of country roads to connect the highways to the smaller towns," he added.
The group already has exposure in some projects such as the WCE. As for newer projects, Toh said the packages involving guard rails may only be churned out over the next one or two years.
Apart from guard rails, Prestar is also involved in the manufacturing and trading of racking systems and steel pipes, among others. About 90% of Prestar's guard rails are sold locally. but 80% of its racking products are exported.
"It is our hope to balance [the ratio for the guard rail segment]," said Toh. "We actively participate in [road] projects in Cambodia, Myanmar and Brunei," he said.
As for its racking system segment, Prestar plans to extend its outreach among businesses, particularly in the booming third-party logistics segment, by utilising business-to-business e-commerce platforms, among others.
Prestar has proposed to list its 51%-owned Tashin Holdings on the ACE Market, which will see its equity stake in the latter diluted to 34%. Tashin, which sells its products locally, traditionally contributes about a third of Prestar's bottom line.
Commenting on the proposed listing, Toh said it will "definitely" be launched in 2019. "But we will have to properly manage in terms of the timing of the launch."
Prestar continues to suffer profit margin squeeze in recent quarters from oversupply and price fluctuations that has affected steelmakers' bottom line globally.
For the year ended Dec 31, 2018, Prestar's net profit fell 70.76% to RM12.61 million, from RM43.13 million a year earlier, as revenue climbed 4.95% to RM508.12 million from RM484.15 million. Prestar attributed the decline to "substantially low sales margin".
"As you know, the steel industry is cyclical in nature," commented Toh. He said the US-China trade war has put some pressure on steel product prices where China has excess capacity, resulting in depressed prices.
Prestar's share price closed 0.5 sen higher at 67 sen yesterday, upon receiving the shareholders' nod for Tashin's proposed listing.
At an indicative price of 65 sen per share, the proposed listing entails Tashin's initial public offering of 59.33 million new shares, representing 17% of its enlarged issued share capital to raise RM38.56 million, mainly to fund its expansion into the steel wire mesh segment.
Concurrently, Prestar is also offering for sale 29.07 million Tashin shares representing around 8.33% of the latter's enlarged share capital to raise RM18.9 million in order to pare down its borrowings.
This article first appeared in The Edge Financial Daily, on March 21, 2019.