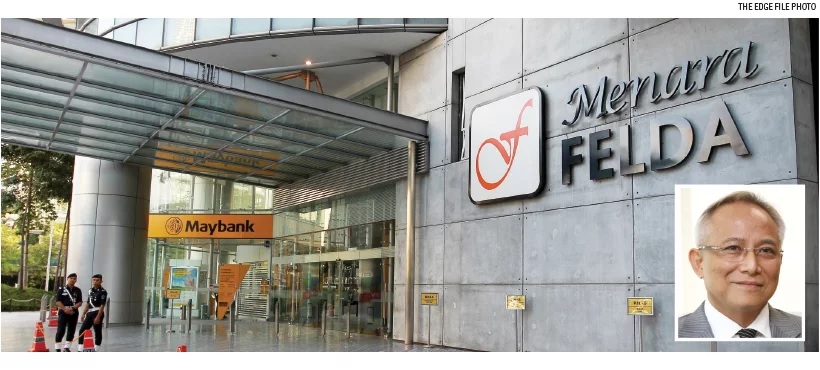 KUALA LUMPUR (April 10): Ahead of the tabling of the White Paper on the Federal Land Development Authority (Felda) in the Dewan Rakyat today, the agency lodged a police report, claiming it was cheated into signing a one-sided deal in its purchase of PT Eagle High Plantations Tbk (EHP) from Indonesia's Rajawali Group.
In the report lodged with the police commercial crime unit on Monday, Felda director-general Datuk Dr Othman Omar said Felda was directed by then prime minister and finance minister, Datuk Seri Najib Razak, to take up a 37% stake in EHP, and this was revealed in a finance ministry letter to Felda dated Dec 8, 2015.
EHP had total debts of US$547.4 million in 2014 and its liabilities stood at US$676.9 million in 2016.
Othman said the purchase of EHP stake, owned by Tan Sri Peter Sondakh, the head of Rajawali Group and a friend of Najib, was done through Felda's special purpose vehicle FIC Properties Sdn Bhd.
The director-general said attempts had been made to get several other groups, including FGV Holdings Bhd, Malaysian Palm Oil Board and Malaysian Rubber Board, to buy the stake before it was "forced" on Felda.
Today's White Paper will expose Felda's real financial situation and probe the plantation giant's past wrongdoings, Bernama quoted Economic Affairs Minister Datuk Seri Mohamed Azmin Ali as saying on Monday night.
Azmin said Felda settlers needed to know that the previous management was insincere, irresponsible and veered far away from the original objective of the agency's formation.
Othman, in his report, claimed that the agreement to purchase the EHP stake was one-sided and to Rajawali's benefit as it involved payment of more than US$505 million, even though the finance ministry and Felda realised that there were many risks involved in the deal.
He said another factor making it a one-sided affair was that EHP did not possess a Roundtable on Sustainable Palm Oil (RSPO) accreditation and according to documentary evidence, the company would not be able to achieve RSPO certification even after 10 years.
Price inflated by over 300%
Othman further claimed that the purchase of the non-controlling EHP stake, as approved by Felda, was at a more than 300% inflated price of US$505 million when the market value of the stake was only US$114 million.
He said the Felda purchase was against consultancy advices by KPMG Malaysia dated Feb 16 and Nov 11, 2016, BDO Malaysia in an evaluation report dated April 29, 2016, and Indonesian law firm Hiswara Bunjamin dated Nov 10, 2016, as well as JPMorgan's slides tabled on Dec 23, 2016.
As such, Othman said Felda and its subsidiaries should not have entered into the deal to purchase the EHP stake for US$505 million as it did not have the financial capacity.
The director-general further claimed that Najib and his allies at the Prime Minister's Office, finance ministry, and Felda board of directors had caused Felda to get a RM2.5 billion loan from GovCo Holdings Bhd, a subsidiary of the finance ministry under Najib's watch.
Othman further alleged that as a result of having to take the loan, Felda suffered RM1.576 billion losses as of Dec 31, 2017, and this affected Felda's and its subsidiaries' performances.
"As a result of the purchase at RM2.3 billion by Felda, it has suffered losses when the value of purchase is now just RM555 million as of last month", he said.
The director-general suspects that the EHP agreement which resulted in losses for Felda was due to Najib directing Felda for its investment in Sondakh's interests in EHP and that Sondakh used his influence on Najib, resulting in Felda purchasing the stake at an inflated price.
Othman said former Felda chairman Tan Sri Mohd Isa Samad played his role in signing the EHP agreement due to his position as FIC Properties chairman.
The director-general also claimed that several senior finance ministry officials along with former second finance minister Datuk Seri Johari Abdul Ghani and former deputy minister in the Prime Minister's Department Datuk Seri Razali Ibrahim had wielded their influence to go ahead with the purchase.
He suspects that some of the previous Felda directors were involved in criminal conspiracy to cheat and cause the agency to suffer losses through the EHP agreement resulting in Felda entering a deal to get a loan from GovCo.
Othman added that as Isa was replaced by Tan Sri Shahrir Samad, as Felda chairman, he suspects that Shahrir had also caused the US$505 million payment to be made in 2017.
He further named seven individuals who he claimed were involved in criminal conspiracy, criminal breach of trust, possible graft involving public officers and cheating, and asked the authorities to investigate them.
The director-general also believes that some might be involved in money laundering.
The Edge Financial Daily and The Edge Malaysia weekly had since last June questioned the purchase of EHP stake. FGV had also filed a suit against Isa, its former chief executive officer and president Datuk Emir Mavani Abdullah and 12 of its former directors for breach of fiduciary duty where the suit is pending at the High Court.
Earlier this year, several media reported that Felda wanted to dispose of its stake in EHP.
Othman also lodged a separate police report over the Kuala Lumpur Vertical City project, which he claimed also caused losses to Felda and where he suspects there are similar offences as stated above.
Najib wants agreement to be revealed
Meanwhile, Najib responded to the police report on the EHP stake purchase by urging the current government to reveal the purchase agreement. He said the agreement came with a put option for Felda to sell back EHP shares to Sondakh at the purchase price of US$505.4 million plus a 6% annual interest return.
Under the agreement, Felda could exercise the put option if EHP fails to get RSPO certification by 2019.
In a Facebook post yesterday, Najib defended the stake purchase, saying it was a good deal given that if Felda decided not to continue with the investment in EHP, it could exercise the put option.
"Pakatan Harapan has accused me of cheating Felda to buy the stake in EHP, causing them to suffer losses. I have expected that [Pakatan] will use this issue against me", said Najib, adding that he in early February called on Putrajaya to disclose the put option but the government remained silent.
It has been widely reported that Felda's board of directors exercised the put option in a letter dated Jan 3, on grounds that Rajawali failed to meet key conditions, including securing the RSPO certification by the end of 2019.
However, Rajawali has since informed Felda that it intends to challenge the put option in court. In short, it appears that Felda wants to exercise the put option but Rajawali is disputing its decision. Felda and Rajawali are now in a legal tussle over the exercise of put option.
In February, the government announced that it would not interfere in the dispute on the put option.
This article first appeared in The Edge Financial Daily, on April 10, 2019.