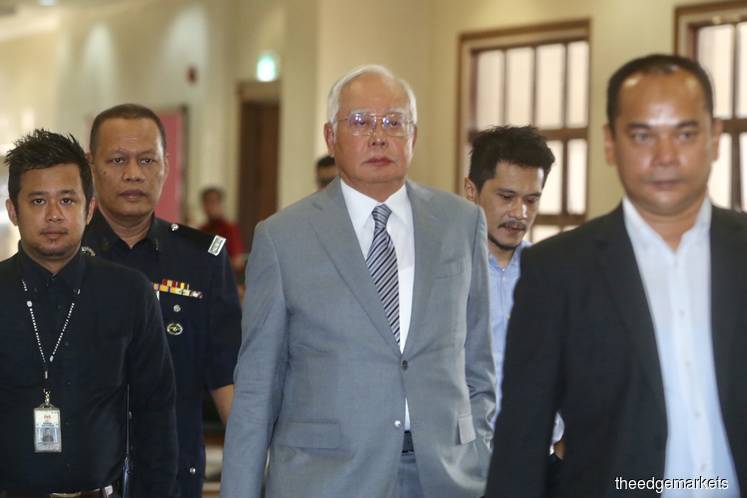 KUALA LUMPUR (April 19): A total of RM156,500 from money deposited in Datuk Seri Najib Razak's bank account — which allegedly originated from SRC International Sdn Bhd — was used to pay for renovation and plumbing works at the former Prime Minister's Jalan Langgak Duta home, the High Court was told yesterday.
The prosecution brought in interior designer Zulkarnain Mohamad, a 46-year-old Indonesian with permanent resident status, as its sixth witness to testify on the renovation.
Najib's lawyers Farhan Read, Tan Sri Muhammad Shafee Abdullah and Harvinderjit Singh objected, claiming that Zulkarnain's testimony was not relevant to Najib's money laundering charges.
Deputy Public Prosecutor Muhammad Saifuddin Hashim Musaimi, noting that the former premier was charged with receiving RM42 million under the Anti-Money Laundering, Anti Terrorism Financing and Proceeds of Unlawful Activities Act 2001, pointed out that under Section 4(1)(b)of the Act the former premier was charged for receiving the money, and the prosecution can under Section 4(2) render other evidence to show the transactions.
Attorney-General Tommy Thomas also said the prosecution cannot be stifled in calling its own witness and that the defence's demand was not proper.
"How can the court rule that the prosecution cannot call a witness? The prosecution cannot be stymied in calling a witness," he added.
In the end, Justice Mohd Nazlan Mohd Ghazali ruled that the prosecution may call witnesses to testify about the monies that they received.
Zulkarnain, of ABS Trend Master Sdn Bhd, then testified that Najib's property manager for the residence, Amirul Hadi, had contacted him to do a job in a house on Jalan Duta. He said they met some time in September or October 2014 at the Shell station just after the Jalan Duta toll plaza.
"I was shown Najib's house on Jalan Langgak Duta, and I was asked by Amirul to build a storeroom for the couple. I took the measurements and gave a quotation.
"Then I was also asked to do renovation works to the police guardhouse and the place where garbage is placed," he said, adding that he charged Najib a sum of about RM243,000 or RM234,000.
Zulkarnain said Najib paid ABS Trend Master RM100,000 via a cheque on Dec 12, 2015.
It was not clear when the balance amount was settled.
The RM100,000 cheque was one of the 16 cheques produced in court whereby 15 of those were from Najib's accounts and one from SRC International.
The cheques were earlier produced by AmBank officer Badrul Hisam Mohamad, 42, where 15 of the cheques from Najib's accounts totalled RM10.77 million.
The prosecution's seventh witness, Mohamad Zakariya Zearat Khan, told the court that his plumbing company MOZ (M) Sdn Bhd, which is also a Syabas contractor was called to look into frequent water disruption at Najib's home.
The witness said the problem arose as Najib's house is on top of a hill and the disruption could be rectified by building a water tank on the ground.
"The work to install the water tank was done in early 2015," he said adding that the tank is made of fibre and can store about 6,000 liters of water.
For that work, a cheque of RM56,500 was issued dated Feb 26, 2015.
Mohamad Zakariya identified the cheque and said that it was cashed at his RHB Bank in Ampang.
There was also a moment in court when Muhammad Saifuddin asked Mohamad Zakariya to identify Najib in court and he pointed to the former premier who was seated in the dock.